2015 starts this week!  What better time to be intentional about menu planning?  Try this MONTHLY menu plan!  I've put together a plan for this month based upon common meals that we have at my house.  This month I've focused on more frugal meals in case your wallet wants an extra break after the holidays.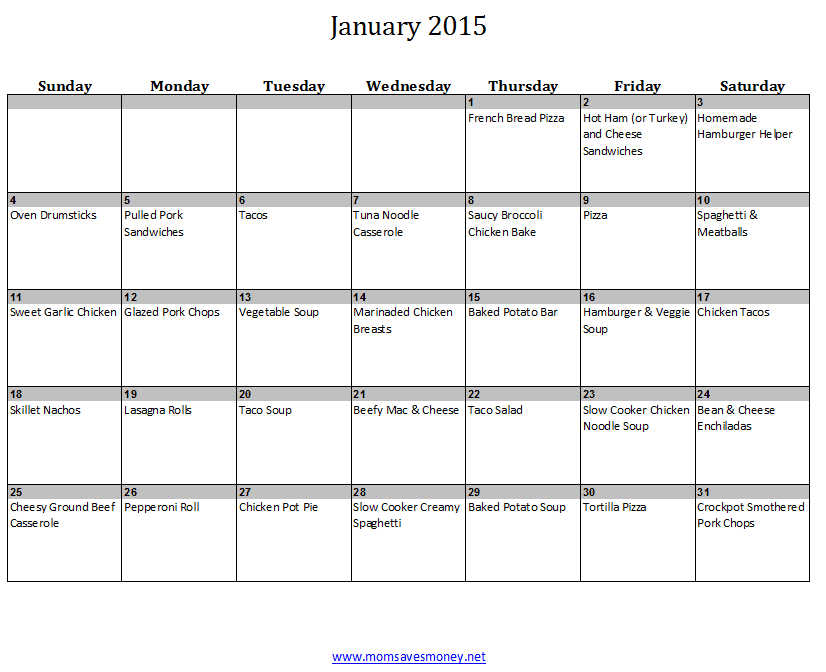 What if I don't cook every night?
Awesome!  I don't either – we often have leftovers 2-3 night/week.  Just take this basic plan, cut out some meals and make leftovers part of your plan!
What if I don't want a particular meal on a specific night?
Awesome!  Just take this basic plan and swap meals around.
What if I want to see the Excel version?
Awesome!  You can download it here.
What if I don't eat beef?  Or chicken?  Or pork?
Awesome!  Just take this basic plan, remove the foods you won't eat and put in foods you will eat.
What if I don't know how to make that meal?
Awesome!  Here are the links for the recipe that I usually use.
What if we always have pizza on Friday nights?
Awesome!  (Can I come over?)  Just remove my Friday meals and put in pizza.
What if I want to plan for more than just dinner?
Awesome!  Feel free to print this out, write out breakfast & lunch meals.  Or you can edit it in Excel and make it your own!
What if I don't like your recipe?
Awesome!  Use which ever recipe you normally use and just use this basic plan as a suggestion.
What if I have my own monthly menu plan?
Awesome!  Care to share it?  Share it down below in the comments so that we all can see it and be inspired!
What's cool about this menu plan?
I tried to have a variety of meals each week – some beef, some chicken, some pasta, some soups.  That way you won't get too bored.  But there are also plenty of ways to save time when using this menu plan.  Examples:  When prepping chicken at the beginning of the month, make enough for the other recipes and freeze it for future use.  When making ground beef, brown 2-3 times the normal amount and freeze that.  It makes it super quick to pull meals together!
Recipes in this menu plan:
French Bread Pizza
Hot Ham & Cheese
Homemade Hamburger Helper
Oven Drumsticks
Pulled Pork Sandwiches
Tacos
Tuna Noodle Casserole
Saucy Chicken Broccoli Bake
Pizza
Spaghetti & Meatballs
Sweet Garlic Chicken
Glazed Pork Chops
Vegetable Soup
Marinaded Chicken Breasts
Baked Potato Bar
Hamburger & Veggie Soup
Chicken Tacos
Skillet Nachos
Sausage Lasagna Rolls
Taco Soup
Beefy Mac & Cheese
Taco Salad
Chicken Noodle Soup
Bean & Cheese Enchiladas
Cheesy Ground Beef Casserole
Pepperoni Roll
Chicken Pot Pie
Slow Cooker Creamy Spaghetti
Baked Potato Soup
Tortilla Pizza
Crock Pot Smothered Pork Chops
Jayme is a wife to 1 and, so far, a mother to two little boys. She coupons, but isn't super extreme about it. She price matches and loves it! While she likes to cook, she's in the stage of life where simple is usually better! She never knows how many hands she'll have free at dinner time! You can find her at No Regrets Living.