November.  That means:
Less than 2 months until the major gift-giving holidays start.
Turkey!
Black Friday Shopping!
The end of Friday Night Lights for high school football and the start of fluorescent gym lights for basketball.
Have you started preparing?  I barely have.  I know that I'll be hosting Thanksgiving.  And I guess technically Christmas?  But it will not be a normal Christmas for us.  This year, we're spending it in Hawaii!  Yup – aloha Hawaii!  For over a week, my husband's family and I will be descending on the Big Island for fun and sun!  There will be 13 of us staying at a rental house with a separate little house just for my husband and I and 4 boys.  It will definitely be an atypical holiday (NO chance of snow!), but I'm excited.
But first I gotta get through November.  I'm mentally preparing for much colder weather (although we've already seen snow, but then it warmed up).  And colder weather usually means more comfort foods.  Bring it on!  I got my menu plan ready – how about you?
Use this one to get a great start on your month!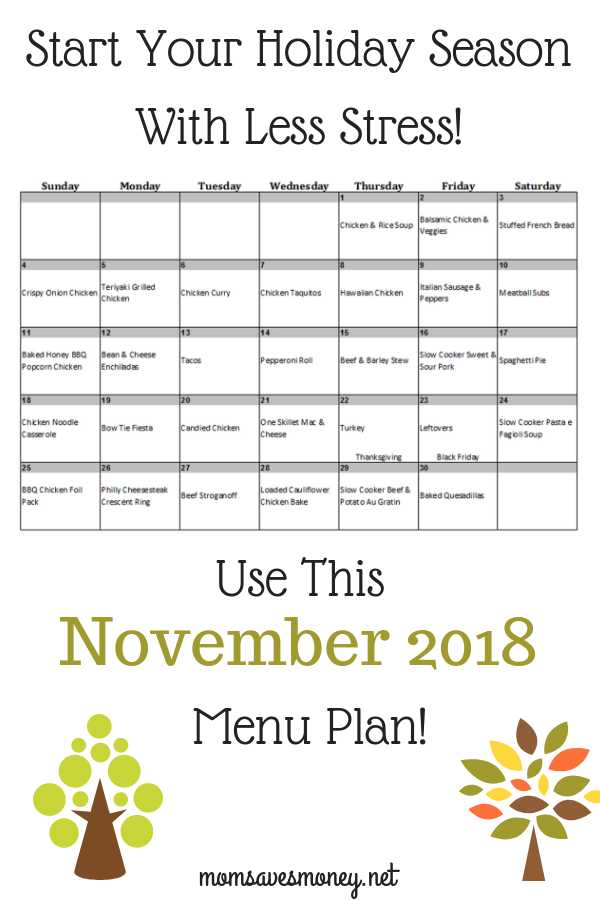 Available Formats: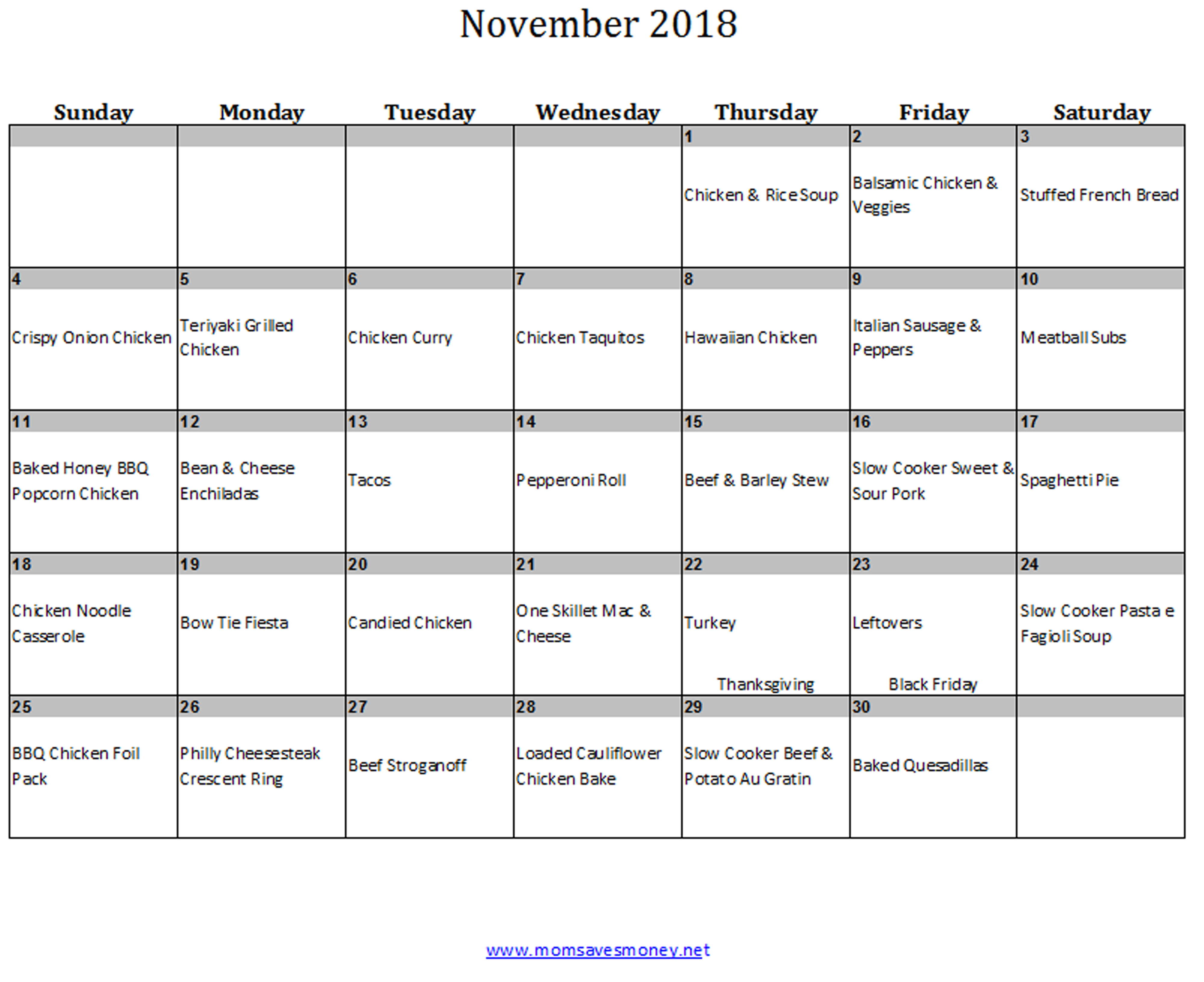 Recipes in this menu plan:
Chicken & Rice Soup
Balsamic Chicken & Veggies
Stuffed French Bread
Crispy Onion Chicken
Teriyaki Grilled Chicken
Chicken Curry
Chicken Tacquitos
Hawaiian Chicken
Italian Sausage & Peppers
Meatball Subs
Baked Honey BBQ Popcorn Chicken
Bean & Cheese Enchiladas
Tacos
Pepperoni Roll
Beef & Barley Stew
Slow Cooker Sweet & Sour Pork
Spaghetti Pie
Chicken Noodle Casserole
Bow Tie Fiesta
Candied Chicken
One Skillet Mac & Cheese
Chicken, Green Chile, & Cheese Enchiladas
Turkey
Leftovers
BBQ Chicken Foil Pack
Philly Cheesesteak Crescent Ring
Slow Cooker Beef StroganoffLoaded Cauliflower Chicken Bake
Slow Cooker Beef & Potato Au Gratin
Baked Quesadillas
Jayme is a wife to 1 and a mother to four little boys. She tries to coupon, builds a smart stockpile, and always meal plans. While she likes to cook, she's in the stage of life where simple is usually better – she never knows how many hands she'll have free at dinner time! You can find her on Instagram.