Enjoy this February meal plan with a printable calendar and easy, family-friendly recipes.
Well, looky here! It's February already. It really seems like New Year's Eve was just last week. January flew by – unlike some months in 2021. I blame the days off my kids had from school as well as the 12+ inches of snow we got lately. That kept us busy. When I looked up from all that, the calendar was about to read February. Crazy.
The snow has been fun for us this year. All of my kids can put on (and take off) their own snow gear, which is just incredibly nice. I love this milestone! Two of my kids can happily spend hours outside building tunnels and caves in the snow. One likes the snow, but he doesn't stay out nearly as long as they do. The youngest? He tires of the snow quite quickly. He wants the warmth of home.
That's okay – each boy has their own personality. Their own likes and dislikes. The same is true of home cooks. Some hate menu planning. Some love it. I fall into the "love it!" category as it greatly reduces my stress levels. I just get flustered and panicky if the dinner hour is getting closer and I don't have a plan. No like. Making a menu plan is 1000% worth it for me. Want a menu plan that's even more simple? AND includes a shopping list? Try this one: 'Incredibly Easy 5-Ingredient Meal Plan and Cookbook' available on Amazon!
Available Formats: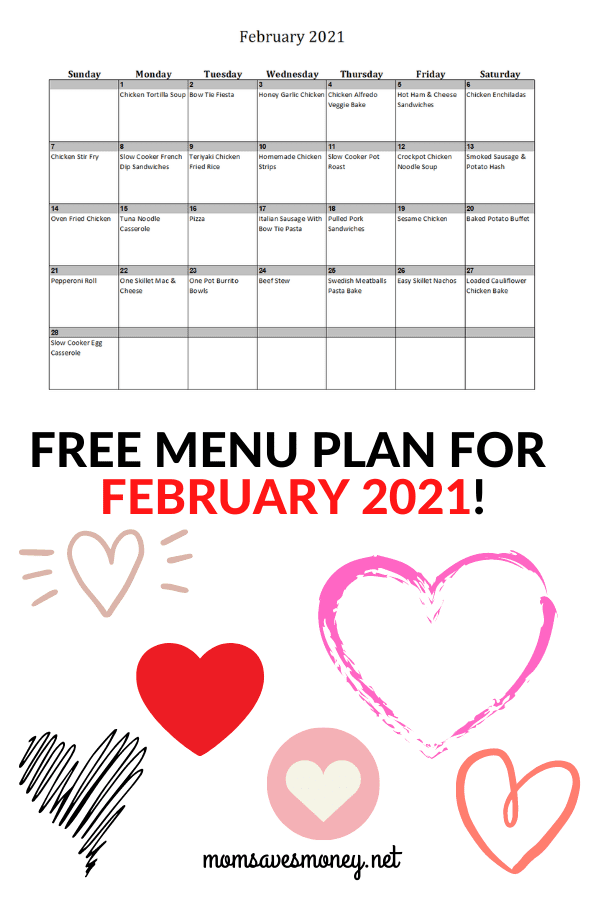 Chicken Tortilla Soup
Bow Tie Fiesta
Honey Garlic Chicken
Chicken Alfredo Veggie Bake
Hot Ham & Cheese
Chicken Enchiladas
Chicken Stir Fry
Slow Cooker French Dip Sandwiches
Teriyaki Chicken Fried Rice
Homemade Chicken Strips
Slow Cooker Pot Roast
Crockpot Chicken Noodle Soup
Smoked Sausage & Potato Hash
Oven Fried Chicken
Tuna Noodle Casserole
Pizza
Italian Sausage With Bow Tie Pasta
Pulled Pork Sandwiches
Sesame Chicken
Baked Potato Buffet
Pepperoni Roll
One Skillet Mac & Cheese
One Pot Burrito Bowls
Beef Stew
Swedish Meatballs Pasta Bake
Easy Skillet Nachos
Loaded Cauliflower Chicken Bake
Slow Cooker Egg Casserole
Jayme is a wife to 1 and a mother to four little boys. She tries to coupon, builds a smart stockpile, and always meal plans. While she likes to cook, she's in the stage of life where simple is usually better – she never knows how many hands she'll have free at dinner time! You can find her on Instagram.