Enjoy this February 2022 meal plan with a printable calendar and easy, family-friendly recipes.
February is here! I was just in the grocery store picking out Valentines for my boys to give to their classmates. Time is flying around here! I'm already thinking of what we're going to do this summer for childcare. Camps are starting registrations. TIME IS FLYING, I tell ya. Time is flying.
I definitely can notice a difference in what I'm cooking now vs. several years ago. As my kids are no longer babies and toddlers, I have more time I can spend in the kitchen. I have more brain power to dedicate to meals. I can make meals that have more than one step. I can make meals that are more complicated and have more flavors. A menu plan is just as important as it's ever been for me; I just get to plan more complicated things.
And here's a menu plan for you. Take this one as is, if you want. Or just using it as a starting off point. Take what you like and delete the rest. Make it work for you!
February 2022 Meal Plan
Available Formats: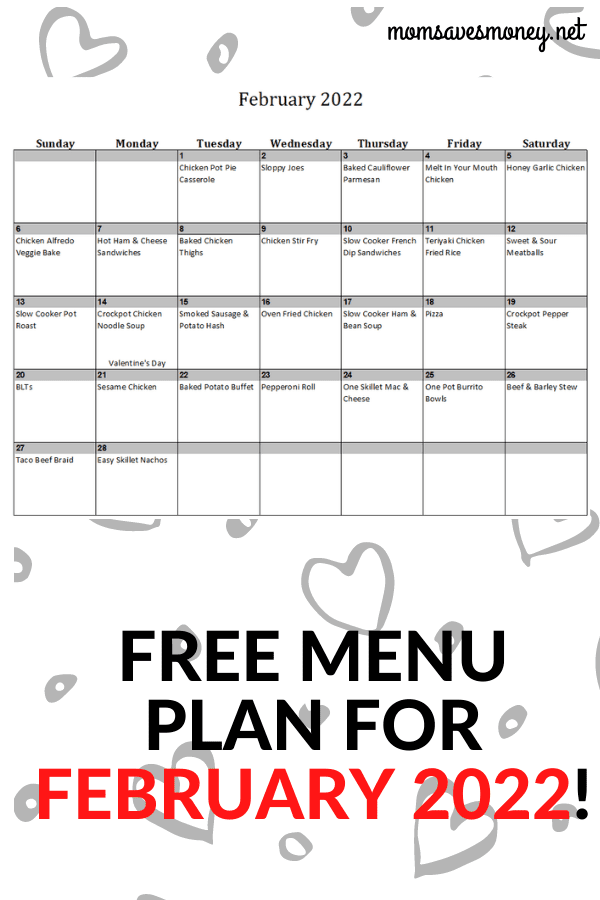 Recipes in this menu plan:
Chicken Pot Pie Casserole
Sloppy Joes
Baked Cauliflower Parmesan
Melt In Your Mouth Chicken
Honey Garlic Chicken
Chicken Alfredo Veggie Bake
Hot Ham & Cheese
Baked Chicken Thighs
Chicken Stir Fry
Slow Cooker French Dip Sandwiches
Teriyaki Chicken Fried Rice
Sweet & Sour Meatballs
Slow Cooker Pot Roast
Crockpot Chicken Noodle Soup
Smoked Sausage & Potato Hash
Oven Fried Chicken
Slow Cooker Ham & Bean Soup
Pizza
Crockpot Pepper Steak
BLTs
Sesame Chicken
Baked Potato Buffet
Pepperoni Roll
One Skillet Mac & Cheese
One Pot Burrito Bowls
Beef & Barley Stew
Taco Beef Braid
Easy Skillet Nachos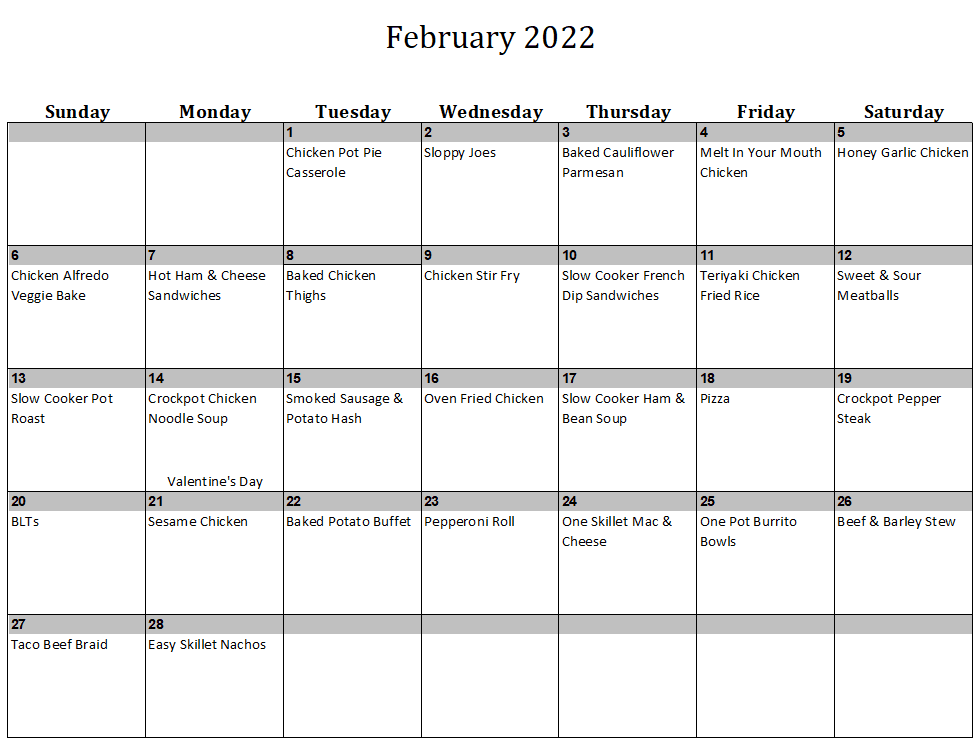 Jayme is a wife to 1 and a mother to four boys. She tries to save money in the kitchen by building a smart stockpile and meal planning. While she likes to cook, she's in the stage of life where simple is usually better – she never knows how crazy it'll get at dinner time. You can find her on Instagram.