Enjoy this February meal plan with a printable calendar and easy, family-friendly recipes.
I was talking to my kids the other day about how we'll need to go to the store soon and pick out their Valentines for their class' Valentine's Day parties. And it hit me that my oldest will only have 2 more of these – this year and next. Time does go by fast, doesn't it? It's like your senior year of high school takes f-o-r-e-v-e-r, but then you wake up one day and it's time to go to Graduation. Time both crawls by and it flies by.
Things are changing for us in our house. Last April, my husband left his job and became a stay-at-home dad. We weren't sure if that would be just for a summer – or for longer. School went back and he decided to stay with the Stay-At-Home Dad role. He's fallen into a good rhythm of taking the boys to school, then volunteering somewhere and picking them up when schools out. When my schedule allows it, I'll pick them up instead, allowing him to volunteer a little bit longer.
A few months later, in October, I gave notice and started a new job. In fact, Halloween was my first day. And now I'm changing jobs again – I gave notice last week and will start a new job in a couple of weeks. For the last almost 3 years I've been working from home, but with my new job I plan on going into the office most days. I think I'll eventually settle into a Hybrid schedule with some time in the office and some time at home, but at least initially – I want to meet people. I want to talk to people. I want to brainstorm with people. And if those people are also in the office, then that's where I want to be.
That will change how I plan meals a bit. No more "it's 2:00, let's step into the kitchen and get the slow cooker going". I won't be there to do that anymore. I'll start packing a lunch instead of making lunch in my own kitchen. It'll be an adjustment, but I'm excited for it!
That just makes it even more important that I meal plan – I do not need to introduce chaos into my day. And menu planning reduces that chaos. And that's something that I can get on board with! Want a menu plan that's even more simple than this one? AND includes a shopping list? Try this one: 'Incredibly Easy 5-Ingredient Meal Plan and Cookbook' available on Amazon!
Available Formats: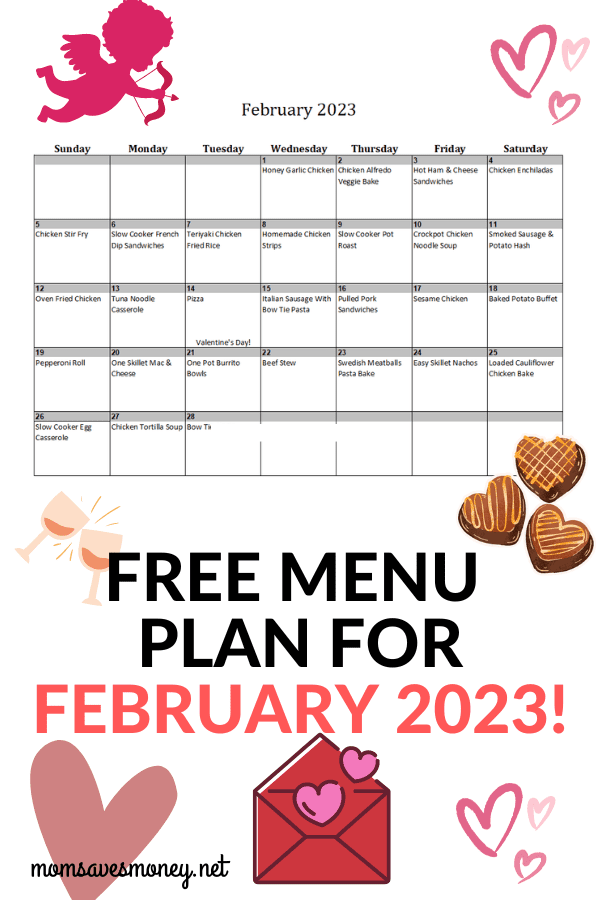 Honey Garlic Chicken
Chicken Alfredo Veggie Bake
Hot Ham & Cheese
Chicken Enchiladas
Chicken Stir Fry
Slow Cooker French Dip Sandwiches
Teriyaki Chicken Fried Rice
Homemade Chicken Strips
Slow Cooker Pot Roast
Crockpot Chicken Noodle Soup
Smoked Sausage & Potato Hash
Oven Fried Chicken
Tuna Noodle Casserole
Pizza
Italian Sausage With Bow Tie Pasta
Pulled Pork Sandwiches
Sesame Chicken
Baked Potato Buffet
Pepperoni Roll
One Skillet Mac & Cheese
One Pot Burrito Bowls
Beef Stew
Swedish Meatballs Pasta Bake
Easy Skillet Nachos
Loaded Cauliflower Chicken Bake
Slow Cooker Egg Casserole
Chicken Tortilla Soup
Bow Tie Fiesta
Jayme is a wife to 1 and a mother to four little boys. She tries to coupon, builds a smart stockpile, and always meal plans. While she likes to cook, she's in the stage of life where simple is usually better – she never knows how many hands she'll have free at dinner time! You can find her on Instagram.