Most of us want to eat healthier.  The problem is that one man's healthy is another man's unhealthy.  We all have different definitions of what healthy means.  Does that mean only vegetarian meals?  Only vegan?  Only chicken, no beef?  No butter or oil? Or butter, but not vegetable oil?
Everyone has different answers and that's great.  But I've taken recipes that I think are healthy and put them into a menu plan.  There's a variety of meats.  There are even a couple without meat.  There are some soups.  There are some casseroles.  There are Italian meals.  And Mexican meals.  There are Slow Cooker meals.  There are oven-baked meals.  There's just a variety so that I hope you find at least most of them work for you and your family!
And, if you want more types of menu plans, we can help with that too!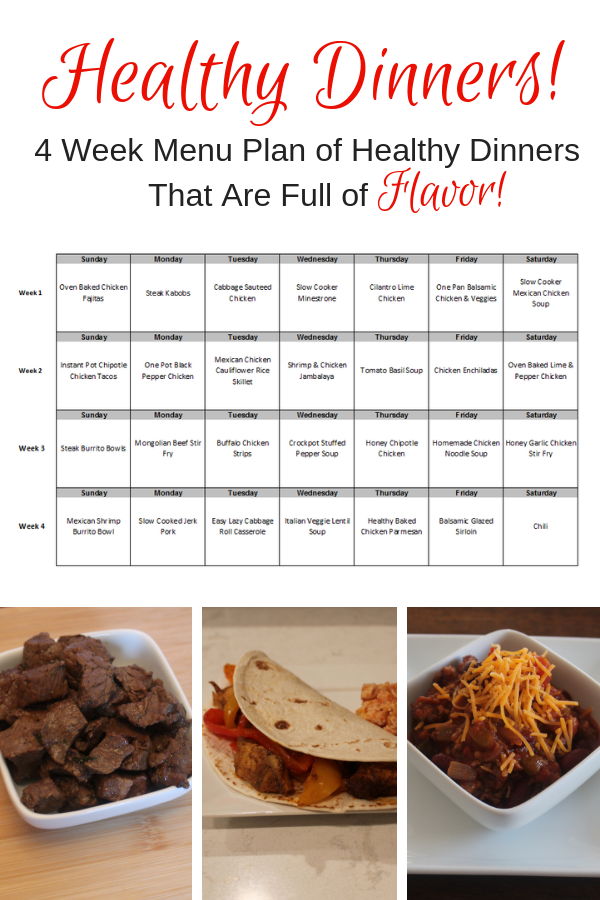 Notes:
The recipes that I suggest are linked below.
Recipes in this menu plan:
Week 1:
Oven Baked Chicken Fajitas
Steak Kabobs
Cabbage Sauteed Chicken
Slow Cooker Minestrone
Cilantro Lime Chicken
One Pan Balsamic Chicken & Veggies
Slow Cooker Mexican Chicken Soup
Week 2:
Instant Pot Chipotle Chicken Tacos
One Pot Black Pepper Chicken
Mexican Chicken Cauliflower Rice Skillet
Shrimp & Chicken Jambalaya
Tomato Basil Soup
Chicken Enchiladas
Oven Baked Lime & Pepper Chicken
Week 3:
Steak Bites Burrito Bowls
Mongolian Beef Stir Fry
Buffalo Chicken Strips
Crockpot Stuffed Pepper Soup
Honey Chipotle Chicken
Homemade Chicken Noodle Soup
Honey Garlic Chicken Stir Fry
Week 4:
Mexican Shrimp Burrito Bowl
Slow Cooked Jerk Pork
Easy Lazy Cabbage Roll Casserole
Italian Veggie Lentil Soup
Healthy Baked Chicken Parmesan
Balsamic Glazed Sirloin
Chili
Want more information on how to meal plan? Check out 'The Extraordinary Art of Meal Planning' for simple tips for busy families!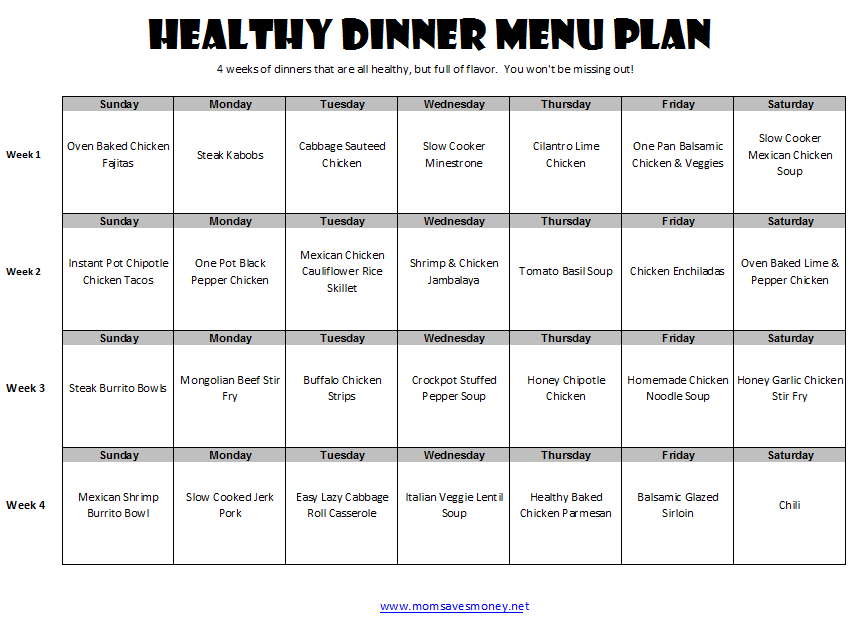 Jayme is a wife to 1 and a mother to four little boys. She tries to coupon, builds a smart stockpile, and always meal plans. While she likes to cook, she's in the stage of life where simple is usually better – she never knows how many hands she'll have free at dinner time! You can find her at No Regrets Living.