Enjoy this April 2022 meal plan with a printable calendar and easy, family-friendly recipes.
March was a weird month, weather wise. At least here in Nebraska. We had 70+ degree days. We had 20 degree days. And everything in between. Some days, I longed to break out the grill for a good steak. Other days, I just wanted a warm bowl of soup.
For my family, we're still doing our gluten-free, dairy-free experiment and it's going well. Really, really well. So we'll continue! (If you're diet is similar, check out these 50 gluten-free and dairy-free recipes.) I want a good baseline before we introduce some things back into our diets. When it comes to food sensitivities, what I want most is clarity. I really wish that, if something didn't agree with a body, the left pinky toe would turn green or something.
But here's a menu plan for those that aren't gluten-free or dairy-free. This is a menu for the gluten-loving. And the diary-loving. And the meat-loving. And the veggie-loving. And the fish-loving. There's a little something for everyone. Take this one as is, if you want. Or just using it as a starting off point. Take what you like and delete the rest. Make it work for you!
April 2022 Meal Plan
Available Formats: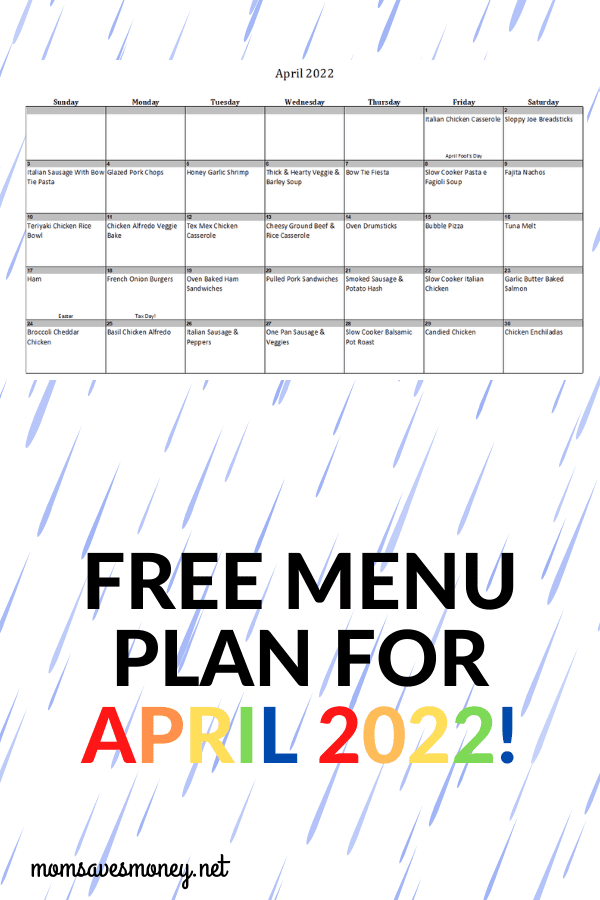 Recipes in this menu plan:
Italian Chicken Casserole
Sloppy Joe Breadsticks
Italian Sausage With Bow Tie Pasta
Glazed Pork Chops
Honey Garlic Shrimp
Thick & Hearty Veggie & Barley Soup
Bow Tie Fiesta
Slow Cooker Pasta e Fagioli Soup
Fajita Nachos
Teriyaki Chicken Rice Bowl
Chicken Alfredo Veggie Bake
Tex Mex Chicken Casserole
Cheesy Ground Beef & Rice Casserole
Oven Drumsticks
Bubble Pizza
Tuna Melt
Slow Cooker Ham
French Onion Burgers
Oven Baked Ham Sandwiches
Pulled Pork Sandwiches
Smoked Sausage & Potato Hash
Slow Cooker Italian Chicken
Garlic Butter Baked Salmon
Broccoli Cheddar Chicken
Basil Chicken Alfredo
Italian Sausage & Peppers
One Pan Sausage & Veggies
Slow Cooker Balsamic Pot Roast
Candied Chicken
Chicken Enchiladas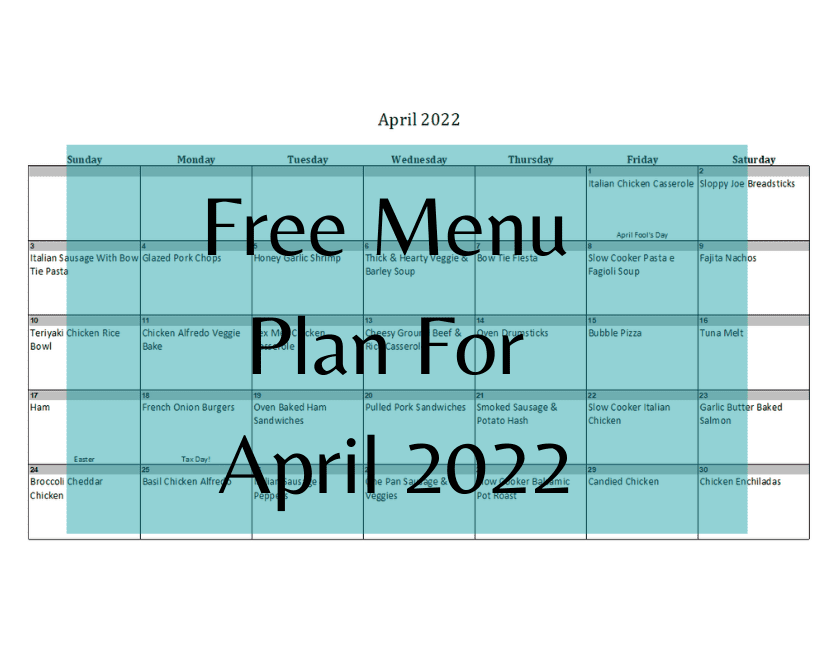 Jayme is a wife to 1 and a mother to four boys. She tries to save money in the kitchen by building a smart stockpile and meal planning. While she likes to cook, she's in the stage of life where simple is usually better – she never knows how crazy it'll get at dinner time. You can find her on Instagram.