Enjoy this May 2022 meal plan with a printable calendar and easy, family-friendly recipes.
Summer is almost here! We're going to have a summer unlike any other! My husband is going to be a stay-at-home dad for the summer. The boys will love it! We also have a big family vacation planned that will keep us busy. I'm excited!
Through the busyness of the summer, my menu plan game will remain strong. Sure, there might be a night where I have PB&J on the menu as we're heading out to the ball fields, but that's still a plan! Here's a menu plan for those that want to also be on the meal plan train. Take this one as is, if you want. Or just using it as a starting off point. Take what you like and delete the rest. Make it work for you!
May 2022 Meal Plan
Available Formats: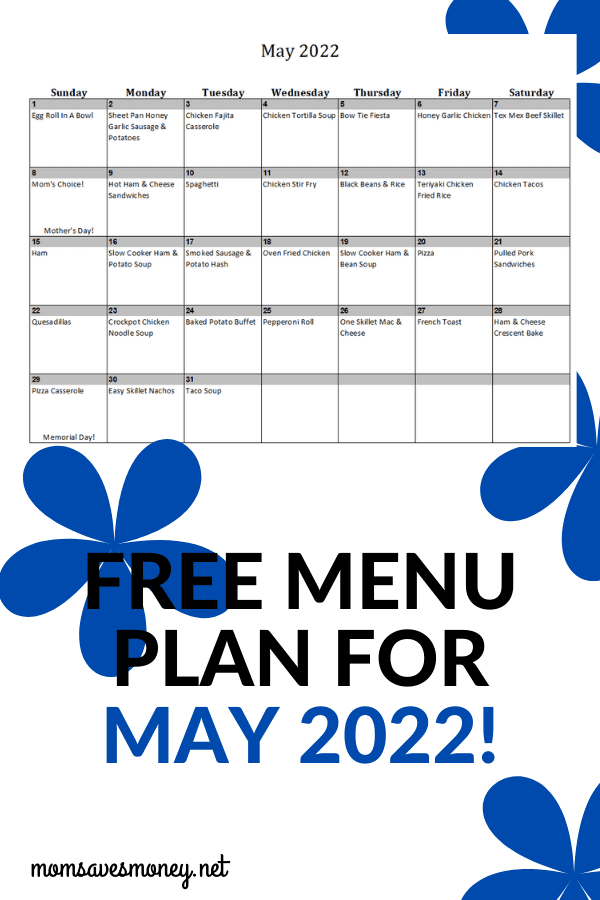 Recipes in this menu plan:
Egg Roll In A Bowl
Sheet Pan Honey Garlic Sausage & Potatoes
Chicken Tortilla Soup
Bow Tie Fiesta
Honey Garlic Chicken
Tex Mex Beef Skillet
Hot Ham & Cheese
Spaghetti
Chicken Stir Fry
Black Beans & Rice
Teriyaki Chicken Fried Rice
Chicken Tacos
Ham
Slow Cooker Ham & Potato Soup
Smoked Sausage & Potato Hash
Oven Fried Chicken
Slow Cooker Ham & Bean Soup
Pizza
Pulled Pork Sandwiches
Quesadillas
Crockpot Chicken Noodle Soup
Baked Potato Buffet
Pepperoni Roll
One Skillet Mac & Cheese
French Toast
Ham & Cheese Crescent Bake
Pizza Casserole
Easy Skillet Nachos
Taco Soup
Jayme is a wife to 1 and a mother to four boys. She tries to save money in the kitchen by building a smart stockpile and meal planning. While she likes to cook, she's in the stage of life where simple is usually better – she never knows how crazy it'll get at dinner time. You can find her on Instagram.