Seriously? The year is almost 1/2 over? That's CRAZY! I've heard it said "The days are long, but the years are short." Sometimes I think they're lying: the years are not THAT short. And yet, here I am: looking right into the eyes of June already. Crazy!
School year is done. Summer activities are starting. We've started having houseguests (the first of 3 batches this summer). Ready or not, here we go!
Here's my monthly menu plan in hopes that it makes your month of June a less busy one. A month where you can focus on the fun of family and friends and less on the food!
Want more detailed information on how to meal plan? Check out 'The Extraordinary Art of Meal Planning' available on Amazon and Kindle Unlimited.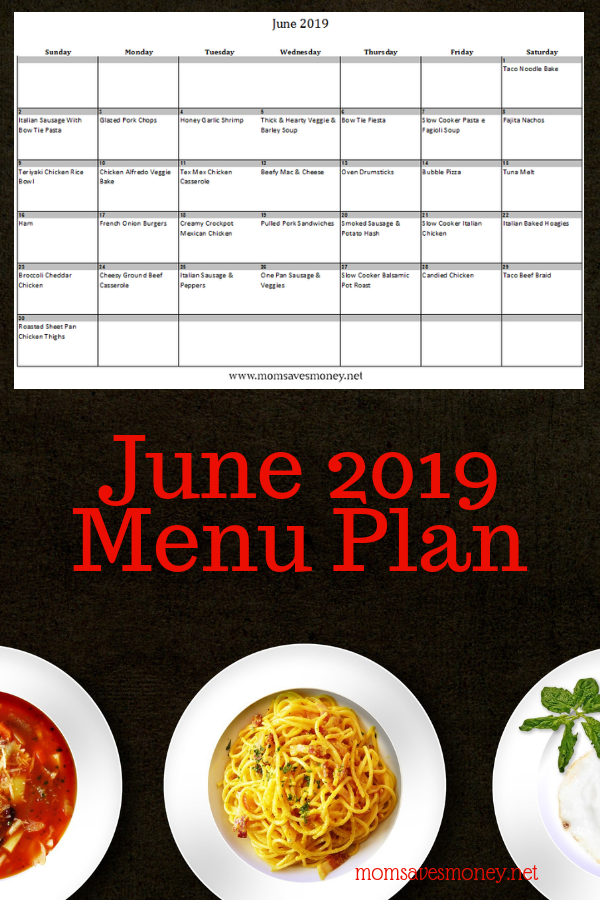 Available Formats:
Recipes in this menu plan:
Taco Noodle Bake
Italian Sausage With Bow Tie Pasta
Glazed Pork Chops
Honey Garlic Shrimp
Thick & Hearty Veggie & Barley Soup
Bow Tie Fiesta
Slow Cooker Pasta e Fagioli Soup
Easy Skillet Nachos
Teriyaki Chicken Rice Bowl
Chicken Alfredo Veggie Bake
Tex Mex Chicken Casserole
Beefy Mac & Cheese
Oven Drumsticks
Bubble Pizza
Creamy Crockpot Mexican Chicken
Tuna Melt
Slow Cooker Ham
French Onion Burgers
Pulled Pork Sandwiches
Smoked Sausage & Potato Hash
Slow Cooker Italian Chicken
Italian Baked Hoagies
Broccoli Cheddar Chicken
Cheesy Ground Beef Casserole
Italian Sausage & Peppers
One Pan Sausage & Veggies
Portobello Fajitas
Slow Cooker Balsamic Pot Roast
Candied Chicken
Taco Beef Braid
Jayme is a wife to 1 and a mother to four little boys. She tries to coupon, builds a smart stockpile, and always meal plans. While she likes to cook, she's in the stage of life where simple is usually better – she never knows how many hands she'll have free at dinner time! You can find her on Instagram.