Enjoy this January 2023 meal plan with a printable calendar and easy, family-friendly recipes.
The holidays are over! But they aren't totally, 100% over. Christmas is over. And, by the time you read this, New Year's will probably be over – or really close to it. But my kids are still out of school for a few more days, so that still feels a little holiday-ish to me.
We had some good holidays here Lots of Legos. Lots of board & card games. My boys got Echo Dots Kids for Christmas, so we've had a lot of "Alexa, play 'It's Raining Tacos'" and a lot of "Alexa, how far away is the sun?" and "Alexa, tell me a kid joke." It's been a lot of Alexa and a lot of games.
I have some financial goals that I want to hit in 2023. 2022 was a strange year for us. We started out the year with both my husband and I working, but know that he was going to quit his job in May and be a Stay-At-Home Dad for the summer and then decide next steps in August. In August, he decided to remain a stay-at-home dad, so we knew the "Down to 1 Income" change was staying – at least for a while. In October, I switched jobs from a salary-job to a contractor-paid-by-the-hour job, which should have been a big salary increase for me. Except that was also right before all the holidays started. (And it still wasn't as much as it was when we both were working.) So our income this last year was all over the board! I'm ready for things to stabilize financially.
But I'll definitely keep menu planning – just helps me keep my sanity, but also helps keep the grocery budget where I want it to be. If you're new to menu planning, you can use mine as a starting point. Or if you want a menu plan that includes shopping list, try this one: 'Incredibly Easy 5-Ingredient Meal Plan and Cookbook' available on Amazon!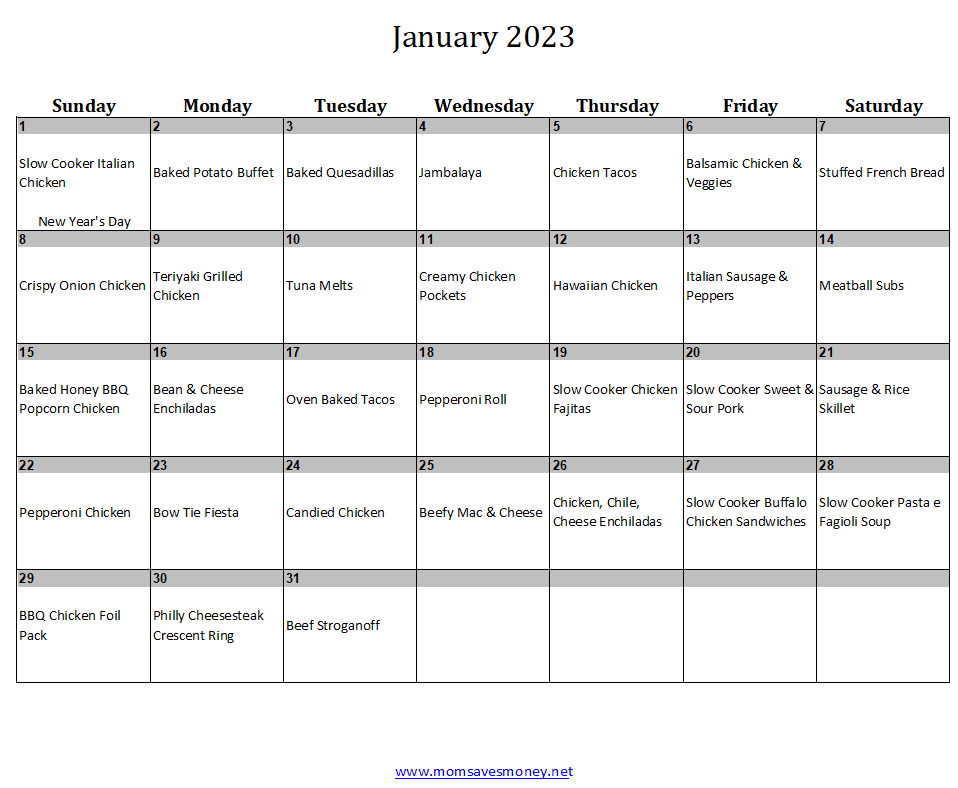 January 2023 Meal Plan
Available Formats: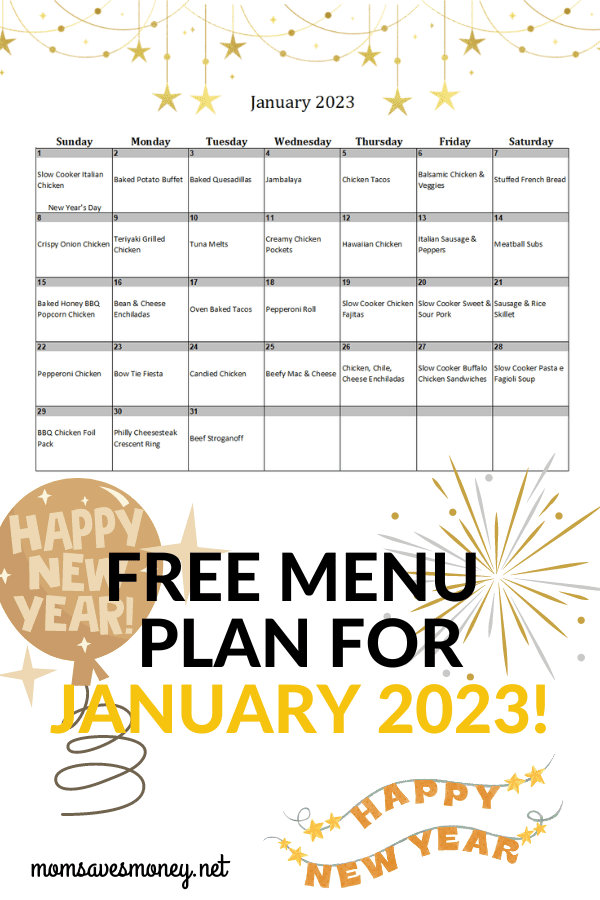 Recipes in this menu plan:
Slow Cooker Italian Chicken
Baked Potato Buffet
Baked Quesadillas
Jambalaya
Chicken Tacos
Balsamic Chicken & Veggies
Stuffed French Bread
Crispy Onion Chicken
Teriyaki Grilled Chicken
Tuna Melt
Creamy Chicken Pockets
Hawaiian Chicken
Italian Sausage & Peppers
Meatball Subs
Baked Honey BBQ Popcorn Chicken
Bean & Cheese Enchiladas
Oven Baked Tacos
Pepperoni Roll
Slow Cooker Chicken Fajitas
Slow Cooker Sweet & Sour Pork
Sausage & Rice Skillet
Pepperoni Chicken
Bow Tie Fiesta
Candied Chicken
Beefy Mac & Cheese
Chicken, Green Chile, & Cheese Enchiladas
Slow Cooker Buffalo Chicken Sandwiches
Slow Cooker Pasta e Fagioli Soup
BBQ Chicken Foil Pack
Philly Cheesesteak Crescent Ring
Beef Stroganoff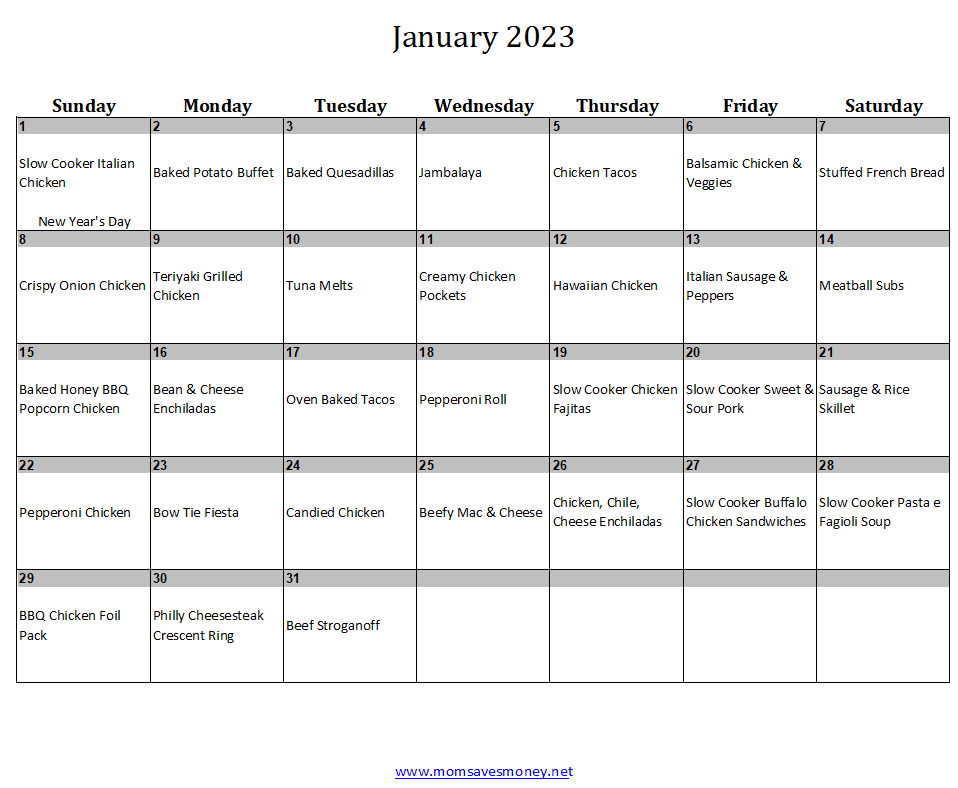 Jayme is a wife to 1 and a mother to four boys. She tries to save money in the kitchen by building a smart stockpile and meal planning. While she likes to cook, she's in the stage of life where simple is usually better – she never knows how crazy it'll get at dinner time. You can find her on Instagram.