Summer cooking.
Had me a blast.
Summer cooking.
Spring just couldn't last.
Summer's a comin'!  Got your pool body ready?  Got your kids' activities planned out?  Nailed down any summer vacation plans?
For me:
My pool body looks a lot like my snow shoveling body.
My kids' activities looks a lot like bike riding and drawing with sidewalk chalk.
Our summer vacation plans will be many trips to the Omaha zoo.
These are all things that don't need a whole lot of planning. But the one area that I will take some time to think about: my menu for the summer!  Many of the meals that I make in the Fall, Winter, and Spring, I also make in Summer.  But I also try to be intentional about doing things a little bit different.
I try to add in more slow cooker meals, meals that are portable, quick and not very heavy.  Why heat the kitchen up when you don't have to?  Why not eat lunch or dinner in the park as a picnic?  Why not make sure that dinner is quick to leave time for Little League games, pool days and soccer practice?  Why not make sure meals and snacks are lighter to keep that pool-ready body?  Or, at least, to make sure you don't get sick when you're swimming at the pool!
All that said, here are some summer-friendly meal ideas!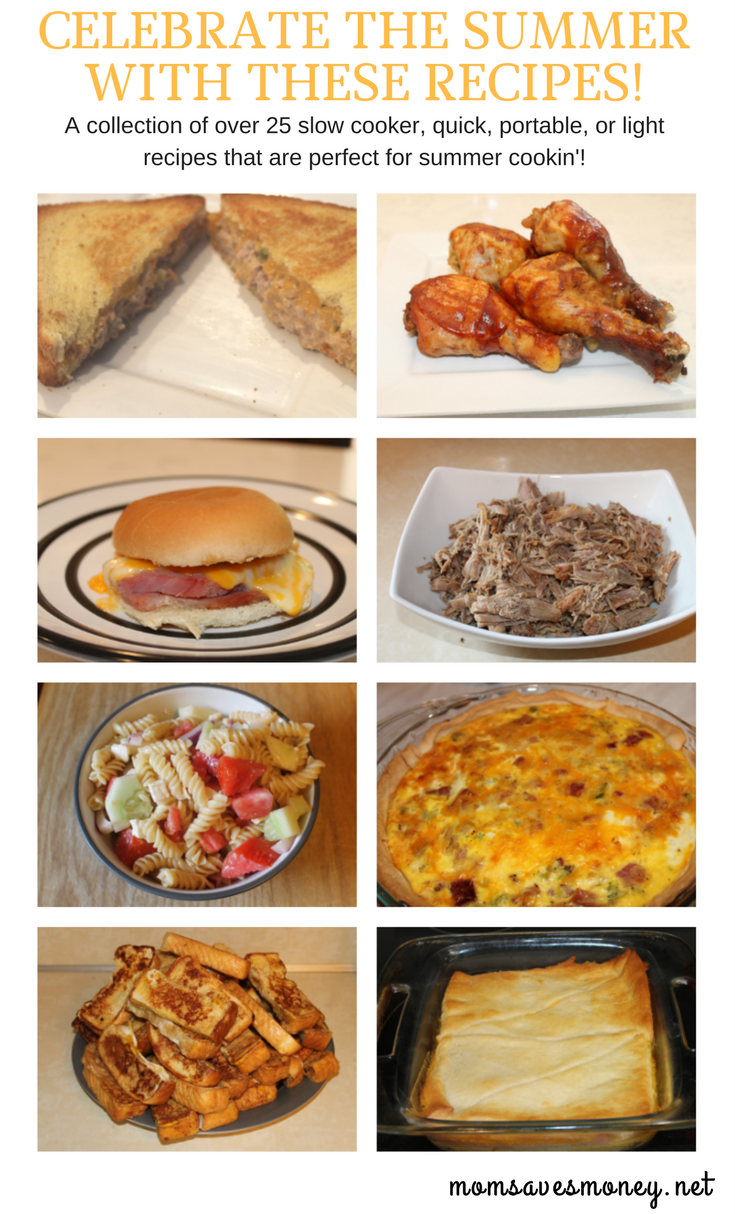 Slow Cooker
Slow Cookers are awesome!  I know many people have jumped onto the InstaPot wagon, but I haven't done so yet.  Probably someday, just not yet.  But me and the slow cooker?  We're friends!  Summer is a great time to whip yours out.  They don't heat up your kitchen as much.  People may have more flexible schedules (or nannies or older kids at home), allowing them to start up the slow cooker at the right time.
Summer just begs for slow cookers!
Portable
Got a picnic in your future?  Maybe a potluck at school or church or the office?  These recipes are easy to make, but also easy to transport and serve.
Quick
Sometimes summer schedules are even more hectic and packed than when school is in session. Soccer practice.  Baseball practice.  Summer camps.  Day trips.  Whatever it is that has your family on the move, maybe one of these dishes will help you pull dinner together quickly?
Light
Maybe you don't want a very heavy meal.  Maybe you've been outside all day long and are hungry, but you just know that a big meal isn't going to sit well.  Maybe you're getting ready to go swimming and don't want something weighing you down.  A light meal is what's called for here!
Salads!  There are all kinds of salads such as Greek Chopped, Cobb, Pasta Salad, or Caesar Salad.  Take your pick or make your own.
Grilled Chicken Wrap – A tortilla, chicken, lettuce, cheese and a dressing of your choice.  Caesar dressing is common, but if that isn't your style, try buffalo or barbeque sauce.
Quiche – Take some eggs, add milk and throw in whatever meats or veggies you have on hand.  Packed with protein while being light and airy!
Jayme is a wife to 1 and a mother to four little boys. She coupons, price matches and meal plans. While she likes to cook, she's in the stage of life where simple is usually better – she never knows how many hands she'll have free at dinner time! You can find her at No Regrets Living.