Enjoy this free printable meal plan with 30 easy recipes for September!
Are you ready for Pumpkin everything?! That's what Fall means to some people. While I like pumpkin flavored things, I'll admit that Fall, for me, is more about cooler weather and apple orchards and football games. Bring all of that on!
Now that the kids have been back in school for a couple of weeks, we're getting into a new rhythm. A new pace. A new normal. That's good. And the weather and our new school are two things to keep in mind when making our menu plan.
If you're new to menu planning, start simple. Use this one as your template and read Nicole's book 'The Extraordinary Art of Meal Planning'. Remove the recipes from this plan that don't fit your life, add some favorites and boom! You have a menu plan.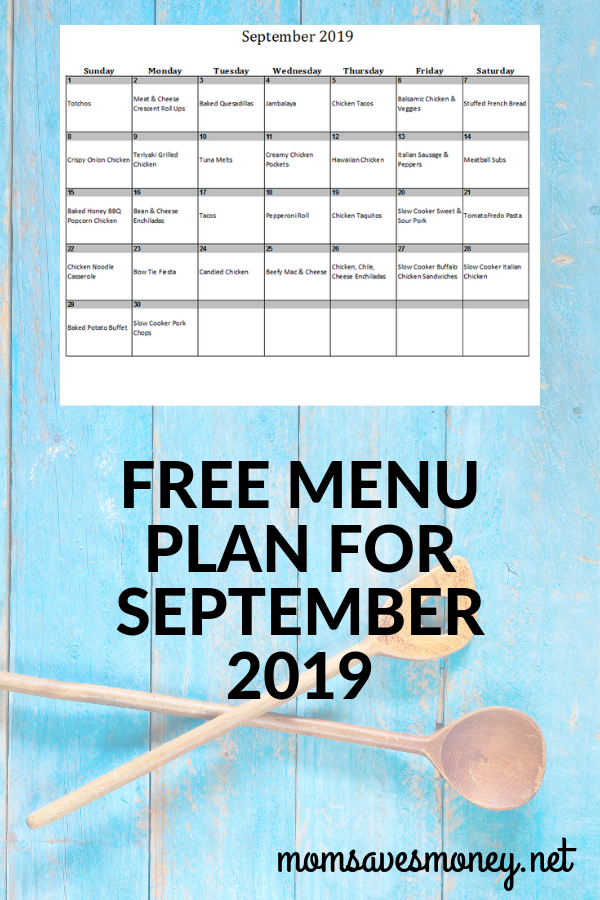 Available Formats: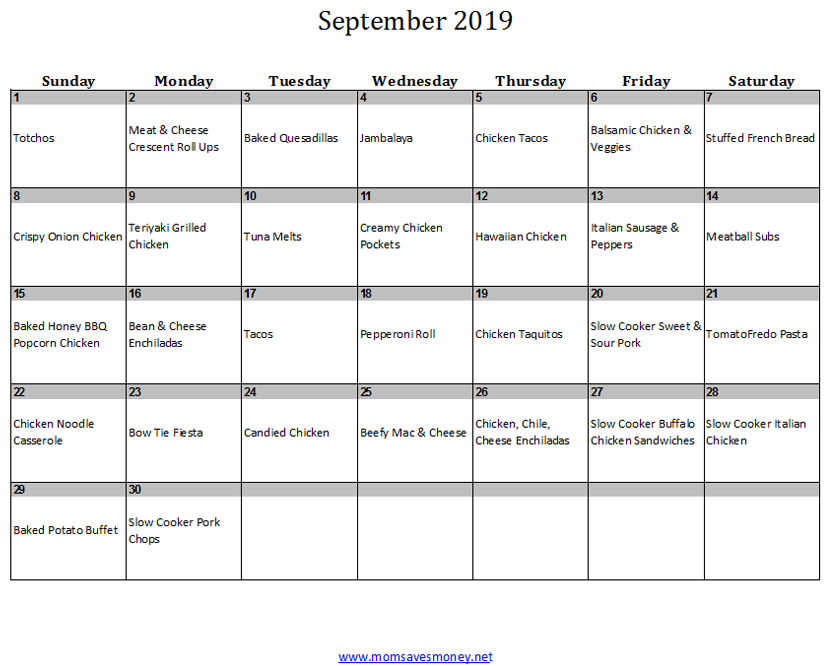 Totchos
Meat & Cheese Roll Ups
Baked Quesadillas
Jambalaya
Chicken Tacos
Balsamic Chicken & VeggiesStuffed French Bread
Crispy Onion Chicken
Teriyaki Grilled Chicken
Tuna Melt
Creamy Chicken Pockets
Hawaiian Chicken
Italian Sausage & Peppers
Meatball Subs
Baked Honey BBQ Popcorn Chicken
Bean & Cheese Enchiladas
Tacos
Pepperoni Roll
Chicken Taquitos
Slow Cooker Sweet & Sour PorkTomatoFredo Pasta
Chicken Noodle Casserole
Bow Tie Fiesta
Candied Chicken
Beefy Mac & Cheese
Chicken, Green Chile, & Cheese Enchiladas
Slow Cooker Buffalo Chicken Sandwiches
Slow Cooker Italian Chicken
Baked Potato Buffet
Slow Cooker Pork Chops
Jayme is a wife to 1 and a mother to four little boys. She tries to coupon, builds a smart stockpile, and always meal plans. While she likes to cook, she's in the stage of life where simple is usually better – she never knows how many hands she'll have free at dinner time! You can find her on Instagram.