Last month when I published the May 2020 menu plan I said that I had at least 5 more weeks of working from home. Scratch that – more like 10 more weeks to go! My company is taking volunteers to return to work, but I ain't one of them. They've also said that anyone can continue to work from home for the entire rest of the year. It's just hard to predict what the situation will be this fall, so I make no committments when I go back. I'd LIKE to go back, but it doesn't really make sense if everyone else is working from home. I'd just be sitting at a different desk talking to everyone on the phone. Forget that. I'd rather be sitting at home as well. No commute! I can get the boys lunch. I've adjusted. Maybe I'll go back this August assuming school goes back. We'll see…you know what they say about assumptions.
But the weather is supposed to start turning warmer. Which I would definitely welcome compared to this rain. THAT can go away. But warmer weather means more playing in our yard. Riding bikes. Getting muddy. My family is loving that.
Oh well! You take the good and the bad and figure it out. Onto June's Menu Plan! This one doesn't have a shopping list, but I know of one that does – try our latest cookbook and menu plan – 'Incredibly Easy 5-Ingredient Meal Plan and Cookbook' available on Amazon!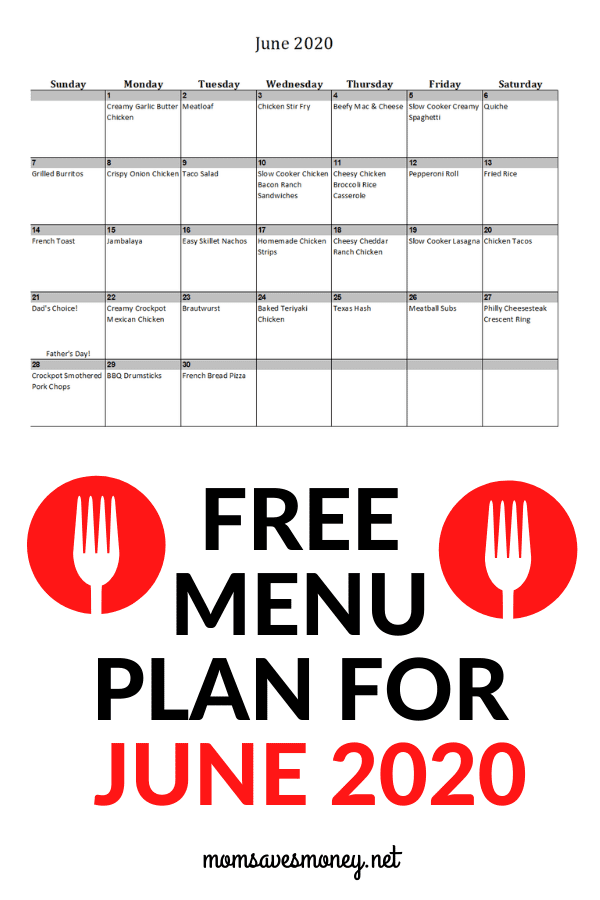 Available Formats: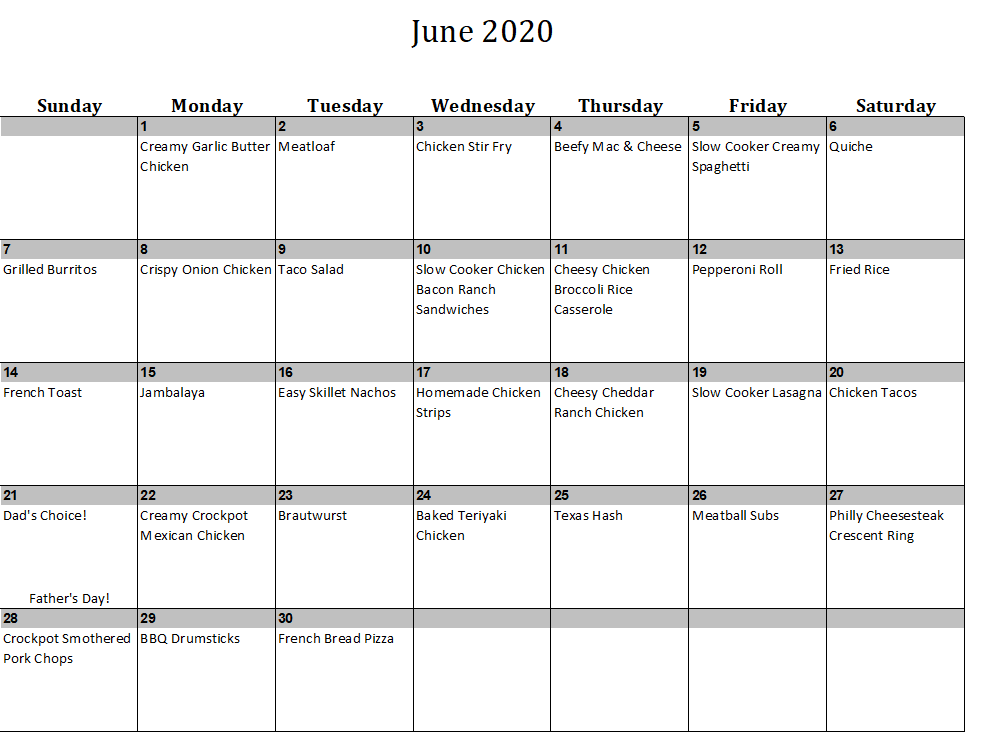 Recipes in this menu plan:
Dinner Recipes:
Creamy Garlic Butter Chicken
Meatloaf
Chicken Stir Fry
Beefy Mac & Cheese
Slow Cooker Creamy Spaghetti
Quiche
Grilled Burritos
Crispy Onion Chicken
Taco Salad
Slow Cooker Chicken Bacon Ranch Sandwiches
Cheesy Chicken Broccoli & Rice Casserole
Pepperoni Roll
Fried Rice
French Toast
Jambalaya
Easy Skillet Nachos
Homemade Chicken Strips
Cheesy Cheddar Ranch Chicken
Slow Cooker Lasagna
Chicken Tacos
Creamy Crockpot Mexican Chicken
Brautwurst
Baked Teriyaki Chicken
Texas Hash
Meatball Subs
Philly Cheesesteak Crescent Ring
Crock Pot Smothered Pork Chops
BBQ Drumsticks
French Bread Pizza
Jayme is a wife to 1 and a mother to four little boys. She tries to coupon, builds a smart stockpile, and always meal plans. While she likes to cook, she's in the stage of life where simple is usually better – she never knows how many hands she'll have free at dinner time! You can find her on Instagram.