Enjoy this May meal plan with a printable calendar and easy, family-friendly recipes.
AGH! It's May! It's already May – its hard to believe. I'm looking at the calendar and I have a big ol' "Last Day of School!" written on one of the days staring at me. Crazy. It seems like it takes forever to get here. And it also seems like it was here in a blink of an eye.
May also brings the start of 2 boys playing baseball, one boy finishing up soccer and the start of "Summer"! And when things get busy – I make sure my menu is planned. If I have a plan, I have lower stress. New to menu planning? Try this one. But want a menu plan that includes shopping list? Try this one: 'Incredibly Easy 5-Ingredient Meal Plan and Cookbook' available on Amazon!
Available Formats: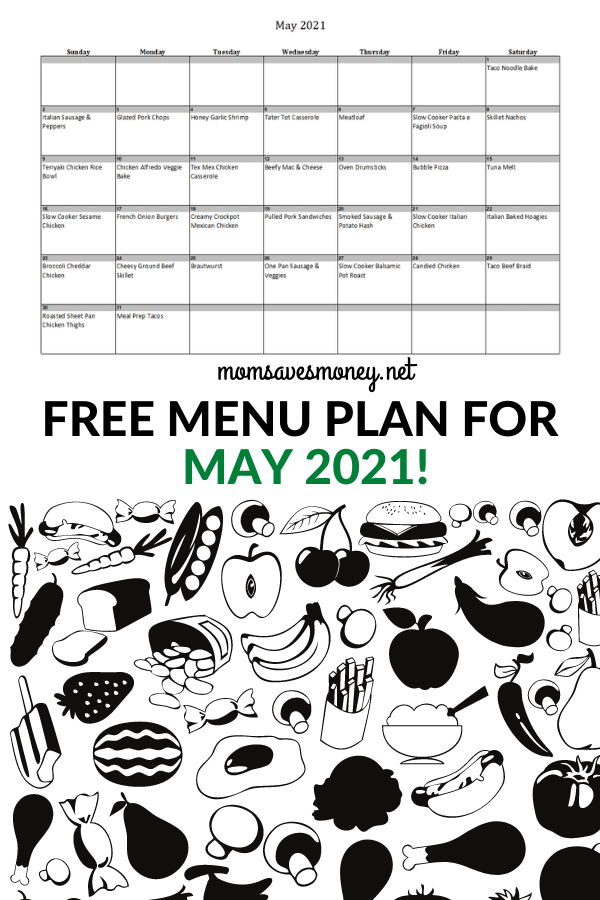 Recipes in this menu plan:
Taco Noodle Bake
Italian Sausage & Peppers
Glazed Pork Chops
Honey Garlic Shrimp
Tater Tot Casserole
Meatloaf
Slow Cooker Pasta e Fagioli Soup
Easy Skillet Nachos
Teriyaki Chicken Rice Bowl
Chicken Alfredo Veggie Bake
Tex Mex Chicken Casserole
Beefy Mac & Cheese
Oven Drumsticks
Bubble Pizza
Tuna Melt
Slow Cooker Sesame Chicken
French Onion Burgers
Pulled Pork Sandwiches
Smoked Sausage & Potato Hash
Slow Cooker Italian Chicken
Italian Baked Hoagies
Broccoli Cheddar Chicken
Cheesy Ground Beef Casserole
Brautwurst
One Pan Sausage & Veggies
Slow Cooker Balsamic Pot Roast
Candied Chicken
Taco Beef Braid
Roasted Sheet Pan Chicken Thighs
Meal Prep Tacos
Jayme is a wife to 1 and a mother to four little boys. She tries to coupon, builds a smart stockpile, and always meal plans. While she likes to cook, she's in the stage of life where simple is usually better – she never knows how many hands she'll have free at dinner time! You can find her on Instagram.