Figured out what your New Year's Resolutions are going to be?  Maybe you'll resolve to not make a resolution, then, bam! you're done.
Over the years, I tried making resolutions. Some stick.  Most don't.  But it's always better to try than to not try, right?
But, before I start thinking about all of that – I got to get through December.  For our family, we have Christmas events and a big 9-day vacation with extended family.  13 of us going to Hawaii!  Aloha Christmas!
To get there, I have lots of planning to do.  One of the things to plan is my menu.  That way, I can save my brain power for other things.  Sunnier things.  Warmer things.  Tropical things!
Do you have a menu plan yet?  If not, use this one to get you started.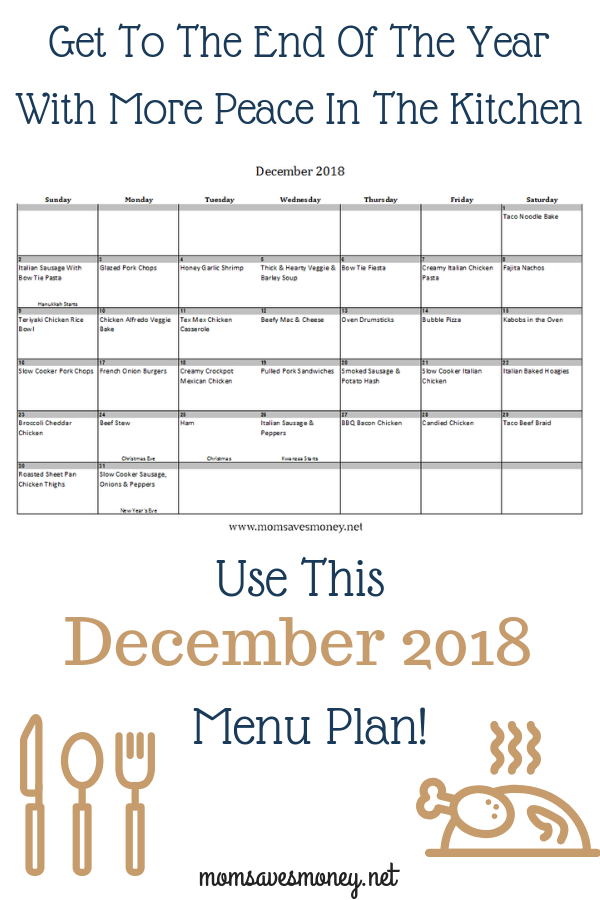 Available Formats: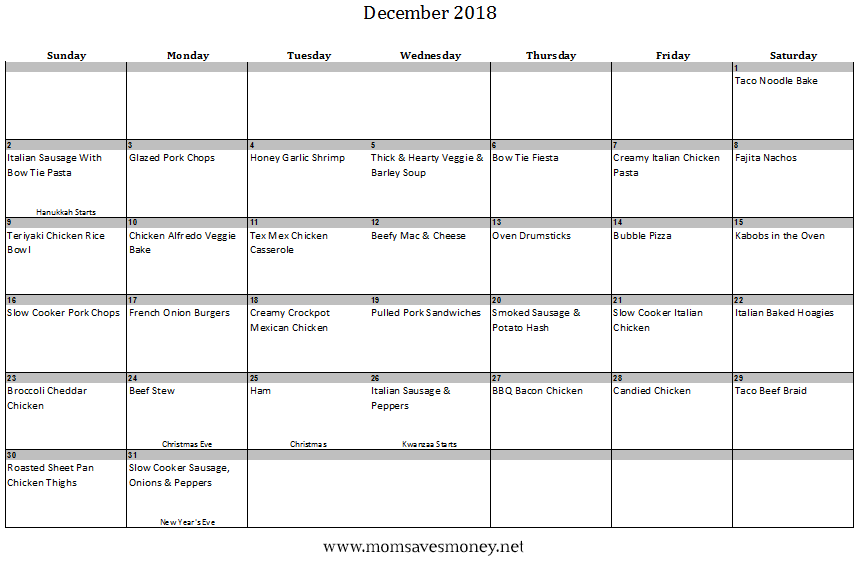 Recipes in this menu plan:
Taco Noodle Bake
Italian Sausage With Bow Tie Pasta
Glazed Pork Chops
Honey Garlic Shrimp
Thick & Hearty Veggie & Barley Soup
Bow Tie Fiesta
Slow Cooker Pasta e Fagioli Soup
Easy Skillet Nachos
Teriyaki Chicken Rice Bowl
Chicken Alfredo Veggie Bake
Tex Mex Chicken Casserole
Beefy Mac & Cheese
Oven Drumsticks
Bubble Pizza
Oven-Baked Kabobs
Slow Cooker Pork Chops
French Onion Burgers
Pulled Pork Sandwiches
Smoked Sausage & Potato Hash
Slow Cooker Italian Chicken Pasta
Italian Baked Hoagies
Broccoli Cheddar Chicken
Beef Stew
Slow Cooker Ham
Italian Sausage & Peppers
BBQ Bacon Chicken
Candied Chicken
Taco Beef Braid
Roasted Sheet Pan Chicken Thighs
Slow Cooker Sausage Onion & Peppers
Jayme is a wife to 1 and a mother to four little boys. She tries to coupon, builds a smart stockpile, and always meal plans. While she likes to cook, she's in the stage of life where simple is usually better – she never knows how many hands she'll have free at dinner time! You can find her on Instagram.