Just a couple more weeks until Valentine's Day! Do you celebrate it? If so, do you eat in or eat out? Celebrate that actual day or sometime before? Or sometime after?
We don't really celebrate it. We did the first year we were dating and it was just a-w-k-w-a-r-d. We were really newly dating and it felt odd. Odd to celebrate it. Odd not to celebrate it. The next Valentine's Day we were engaged, so clearly we were a couple. But it wasn't really that important to us. We were knee deep in planning a wedding. Then the next year we were married and had no kids – again, it didn't seem important as every night was date night! It's still something that isn't that big of a deal to us. At least not a big enough to find (and pay for!) a babysitter!
But I'll probably make a special meal. Not really romantic, but something he and I both really like. Just gotta plan ahead for it and it won't be that big of a stress for me. I already plan the whole month.
Try this menu plan to get you started in planning the month. Use what you like from our pre-made meal planning calendar and substitute the rest! If you're looking for a menu plan WITH a shopping list and only with 5-ingredients (or less), try our newest cookbook and menu plan – 'Incredibly Easy 5-Ingredient Meal Plan and Cookbook' available on Amazon!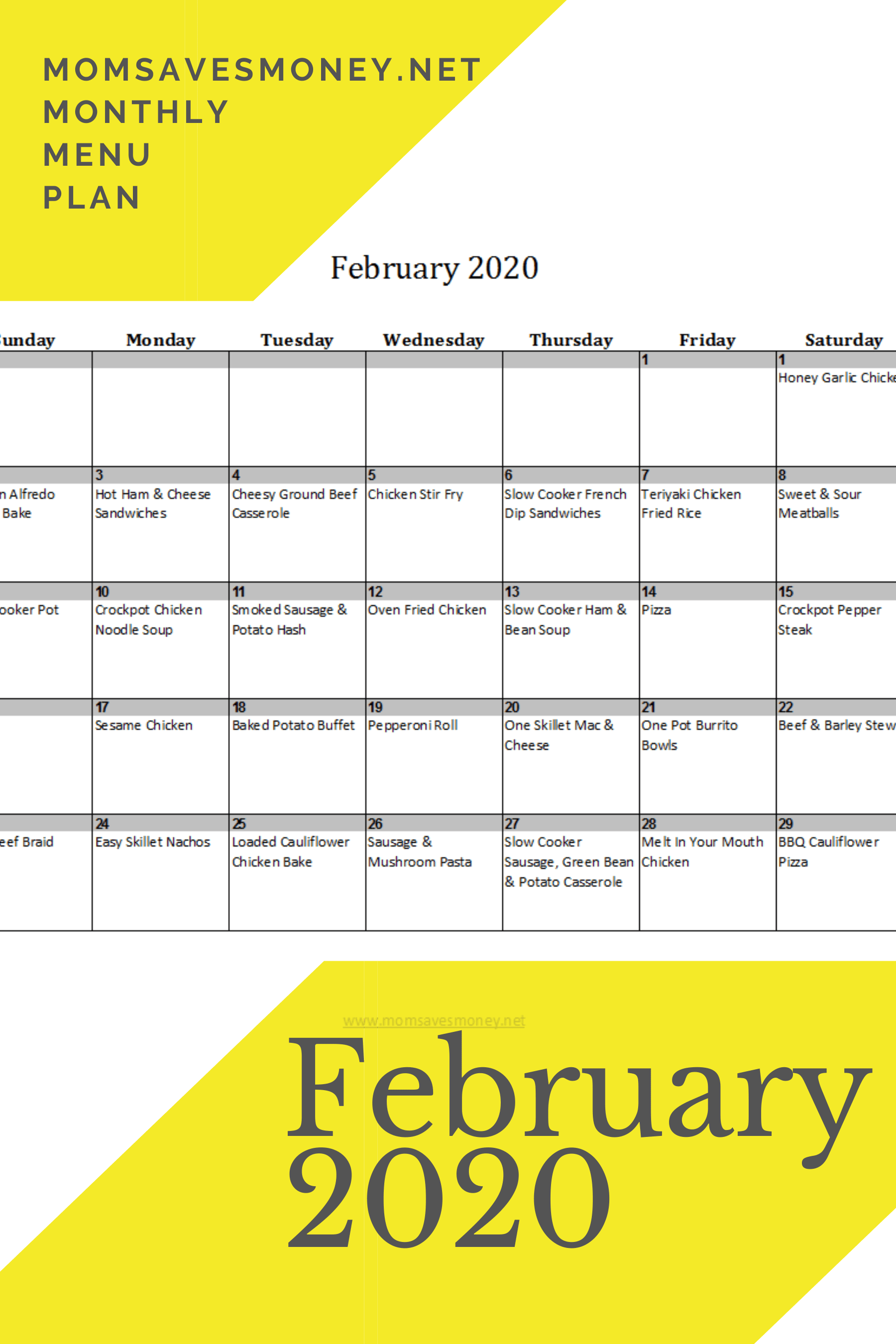 Available Formats: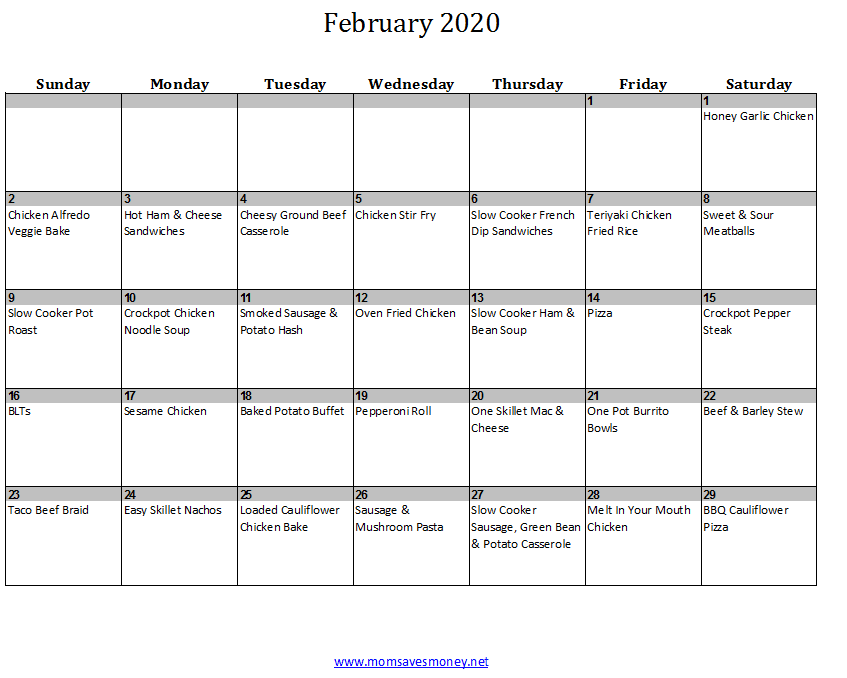 Recipes in this menu plan:
Honey Garlic Chicken
Chicken Alfredo Veggie Bake
Hot Ham & Cheese
Cheesy Ground Beef Casserole
Chicken Stir Fry
Slow Cooker French Dip Sandwiches
Teriyaki Chicken Fried Rice
Sweet & Sour Meatballs
Slow Cooker Pot Roast
Crockpot Chicken Noodle Soup
Smoked Sausage & Potato Hash
Oven Fried Chicken
Slow Cooker Ham & Bean Soup
Pizza
Crockpot Pepper Steak
BLTs
Sesame Chicken
Baked Potato Buffet
Pepperoni Roll
One Skillet Mac & Cheese
One Pot Burrito Bowls
Beef & Barley Stew
Taco Beef Braid
Easy Skillet Nachos
Loaded Cauliflower Chicken Bake
Sausage & Mushroom Pasta
Kielbasa, Green Bean, Potato Casserole
Melt In Your Mouth Chicken
BBQ Cauliflower Pizza
Jayme is a wife to 1 and a mother to four little boys. She tries to coupon, builds a smart stockpile, and always meal plans. While she likes to cook, she's in the stage of life where simple is usually better – she never knows how many hands she'll have free at dinner time! You can find her on Instagram.