Enjoy this April meal plan with a printable calendar and easy, family-friendly recipes.
Bring on those April showers! I am ready for May flowers. I'm ready for things growing. I'm ready for the ground to be green. I'm ready for things to start turning around. I'm ready to hear kids outside and play. I'm ready to do yard work even.
Bring on the Spring! April is a calendar packed month for us. Easter. 2 birthday boys. Spring soccer. All good stuff and we're ready for it.
Menu planning help keeps my sanity when things get busy. If I have a plan, I have lower stress. And as much as I love Spring, I love lower stress. New to menu planning? Try this one. But want a menu plan that includes shopping list? Try this one: 'Incredibly Easy 5-Ingredient Meal Plan and Cookbook' available on Amazon!
Available Formats: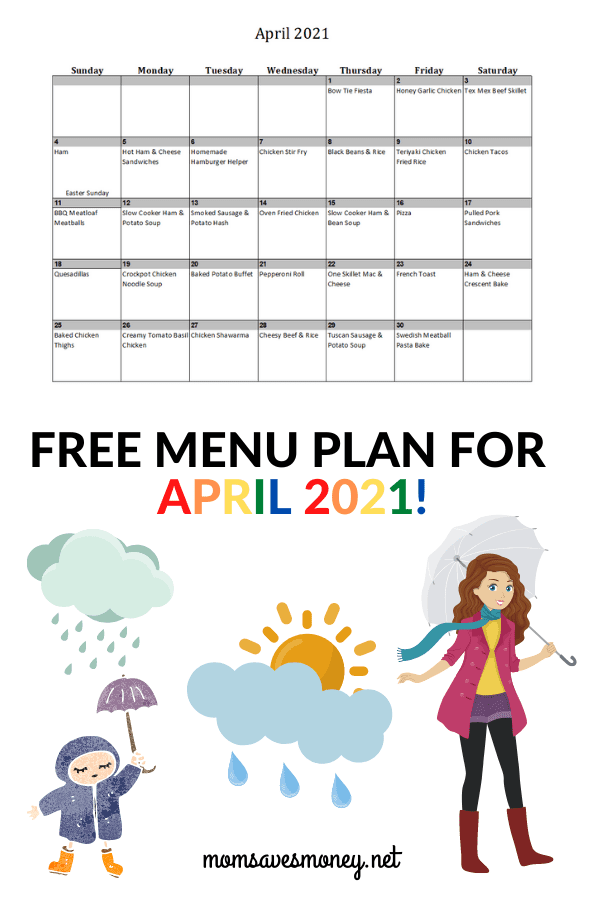 Recipes in this menu plan:
Bow Tie Fiesta
Honey Garlic Chicken
Tex Mex Beef Skillet
Ham
Hot Ham & Cheese
Homemade Hamburger Helper
Chicken Stir Fry
Black Beans & Rice
Teriyaki Chicken Fried Rice
Chicken Tacos
BBQ Meatloaf Meatballs
Slow Cooker Ham & Potato Soup
Smoked Sausage & Potato Hash
Oven Fried Chicken
Slow Cooker Ham & Bean Soup
Pizza
Pulled Pork Sandwiches
Quesadillas
Crockpot Chicken Noodle Soup
Baked Potato Buffet
Pepperoni Roll
One Skillet Mac & Cheese
French Toast
Ham & Cheese Crescent Bake
Baked Chicken Thighs
Creamy Tomato Basil Chicken
Chicken Shawarma
Cheesy Beef & Rice
Tuscan Sausage & Potato Soup
Swedish Meatball Pasta Bake
Jayme is a wife to 1 and a mother to four little boys. She tries to coupon, builds a smart stockpile, and always meal plans. While she likes to cook, she's in the stage of life where simple is usually better – she never knows how many hands she'll have free at dinner time! You can find her on Instagram.