Enjoy this January 2022 meal plan with a printable calendar and easy, family-friendly recipes.
Good bye 2021! Hello 2022! Another year has come to a close. Another year with hopefully good things in store.
I think this is my 8th year posting monthly menu plans here. I cannot believe how fast it's gone. When I started, I had 1 child, just a baby. Now? Now I have 4 – the oldest is 9 and the youngest is 5. Check in on me in another 8 years and I'll have almost all teenagers! The meals that I plan have changed over the years and I'm sure it will continue to as my family grows, then eventually shrinks as my kids make their way into the world. But no matter what I plan, I love having a plan!
January 2022 Meal Plan
Available Formats: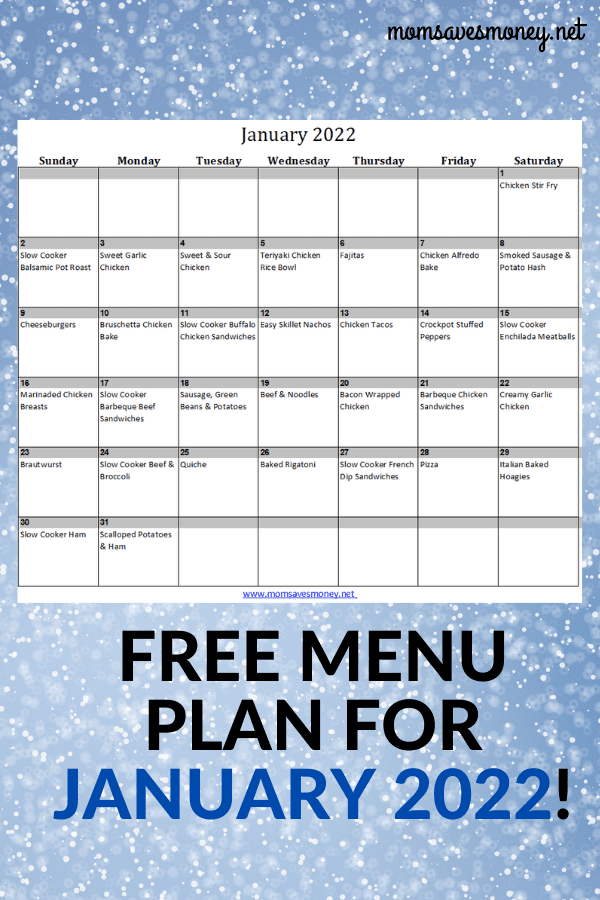 Recipes in this menu plan:
Chicken Stir Fry
Slow Cooker Balsamic Pot Roast
Sweet Garlic Chicken
Sweet & Sour Chicken
Teriyaki Chicken Rice Bowl
Fajitas
Chicken Alfredo Bake
Smoked Sausage & Potato Hash
Cheeseburgers
Bruschetta Chicken Bake
Slow Cooker Buffalo Chicken Sandwiches
Easy Skillet Nachos
Chicken Tacos
Crockpot Stuffed Peppers
Slow Cooker Enchilada Meatballs
Marinated Chicken Breasts
Slow Cooker Barbeque Beef Sandwiches
Sausage, Green Beans & Potatoes
Beef & Noodles
Bacon Wrapped Chicken
Barbeque Chicken Sandwiches
Creamy Garlic Chicken
Bratwurst
Slow Cooker Beef & Broccoli
Quiche
Baked Rigatoni
Slow Cooker French Dip Sandwiches
Pizza
Italian Baked Hoagies
Slow Cooker Ham
Scalloped Potatoes & Ham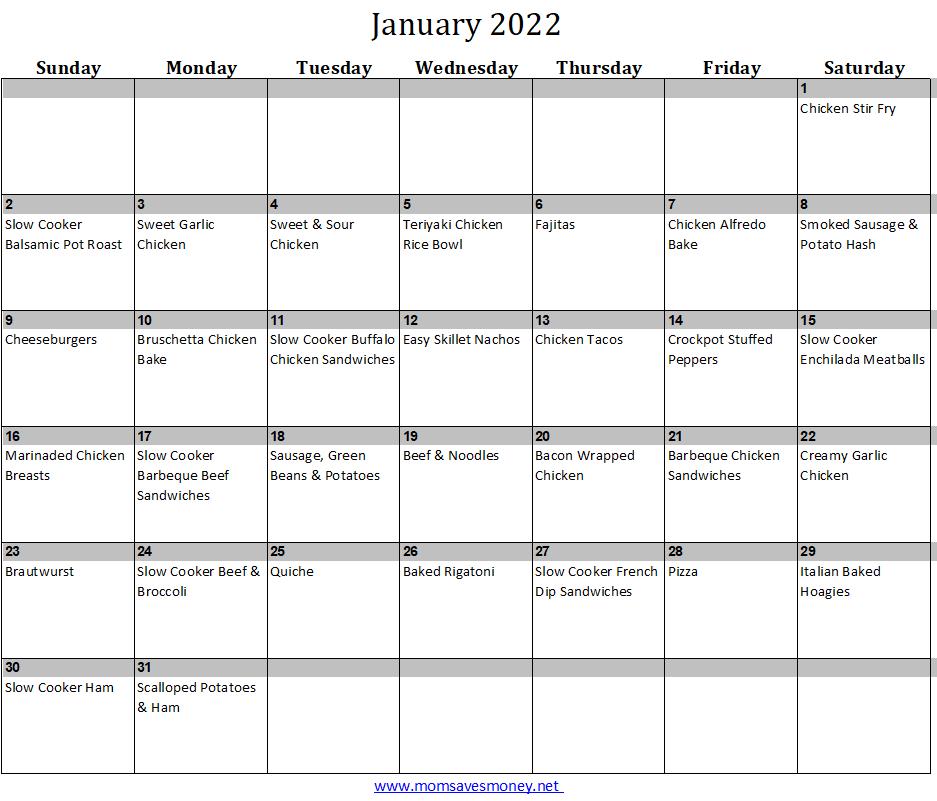 Jayme is a wife to 1 and a mother to four boys. She tries to save money in the kitchen by building a smart stockpile and meal planning. While she likes to cook, she's in the stage of life where simple is usually better – she never knows how crazy it'll get at dinner time. You can find her on Instagram.