Enjoy this June 2022 meal plan with a printable calendar and easy, family-friendly recipes.
Summer is officially here! School's out. Baseball games are in full swing. Spring Soccer is over. It's summer time!
Enjoy more summertime fun and less time in the kitchen with this done-for-you meal plan. We've made it super easy with a printable calendar and 30 simple to cook recipes the whole family will enjoy. Take this one as is, if you want. Or just using it as a starting off point. Take what you like and delete the rest. Make it work for you!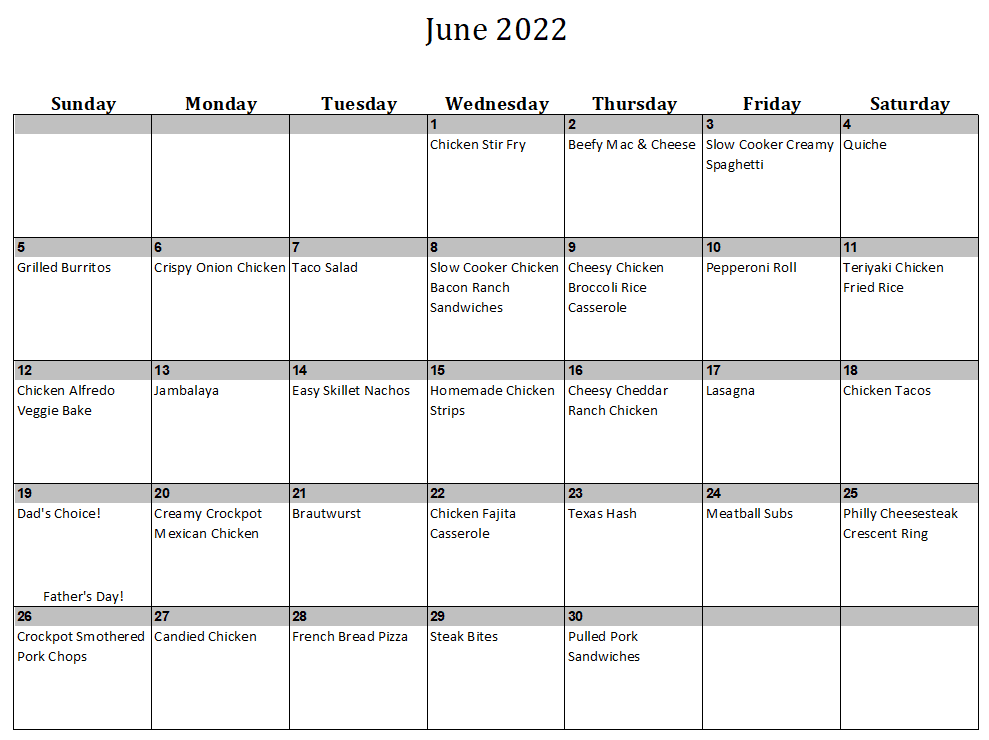 June 2022 Meal Plan
Available Formats: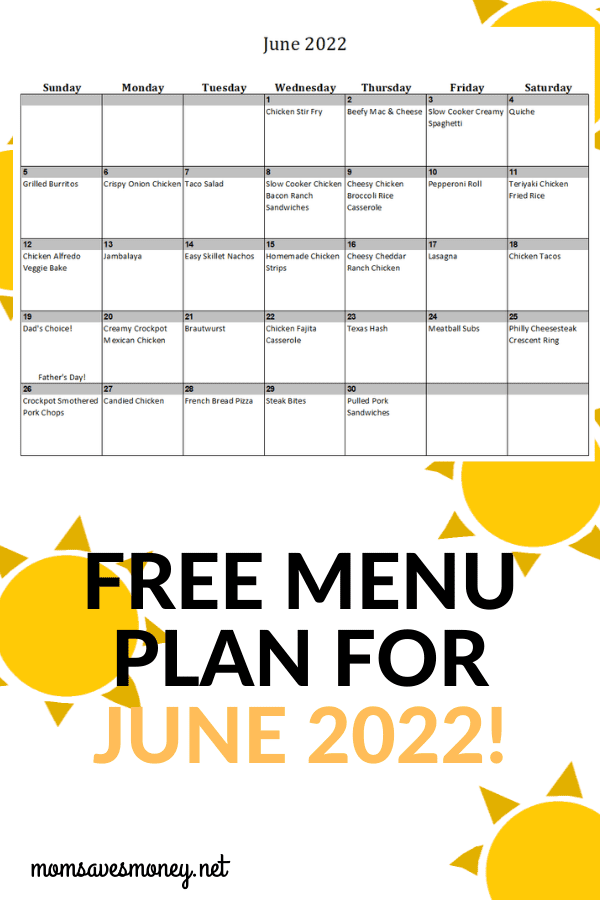 Recipes in this menu plan:
Chicken Stir Fry
Beefy Mac & Cheese
Slow Cooker Creamy Spaghetti
Quiche
Grilled Burritos
Crispy Onion Chicken
Taco Salad
Slow Cooker Chicken Bacon Ranch Sandwiches
Cheesy Chicken Broccoli & Rice Casserole
Pepperoni Roll
Fried Rice
Chicken Alfredo Veggie Bake
Jambalaya
Easy Skillet Nachos
Homemade Chicken Strips
Cheesy Cheddar Ranch Chicken
Lasagna
Chicken Tacos
Creamy Crockpot Mexican Chicken
Brautwurst
Chicken Fajita Casserole
Texas Hash
Meatball Subs
Philly Cheesesteak Crescent Ring
Crock Pot Pork Chops
Candied Chicken
French Bread Pizza
Steak Bites
Pulled Pork Sandwiches
Jayme is a wife to 1 and a mother to four boys. She tries to save money in the kitchen by building a smart stockpile and meal planning. While she likes to cook, she's in the stage of life where simple is usually better – she never knows how crazy it'll get at dinner time. You can find her on Instagram.