Enjoy this October 2022 meal plan with a printable calendar and easy, family-friendly recipes.
There's a house around the corner and over one block from us that really does up Halloween. For like 6 weeks before Halloween, they start decorating their yard. I'm talking 6 foot spiders. Huge webs. Motion-sensored noises. They go all out. It's always my first sign that Halloween is near.
And, yup! This is the month of Halloween alright! Time to figure out what my kids are going to be for Halloween. We have a tradition of having soup on Halloween night. Fill those bellies with something warm, then send the out to trick-or-treat. In the last couple of years, we've added Chicken Noodle Soup as we've had other family members over and we'll eat more than 1 batch of soup. #choices
So you can bet that I have chili on the menu plan this Halloween. Want to use a Menu Plan, but don't know where to start? Start here! Want a menu plan that includes shopping list? Try this one: 'Incredibly Easy 5-Ingredient Meal Plan and Cookbook' available on Amazon!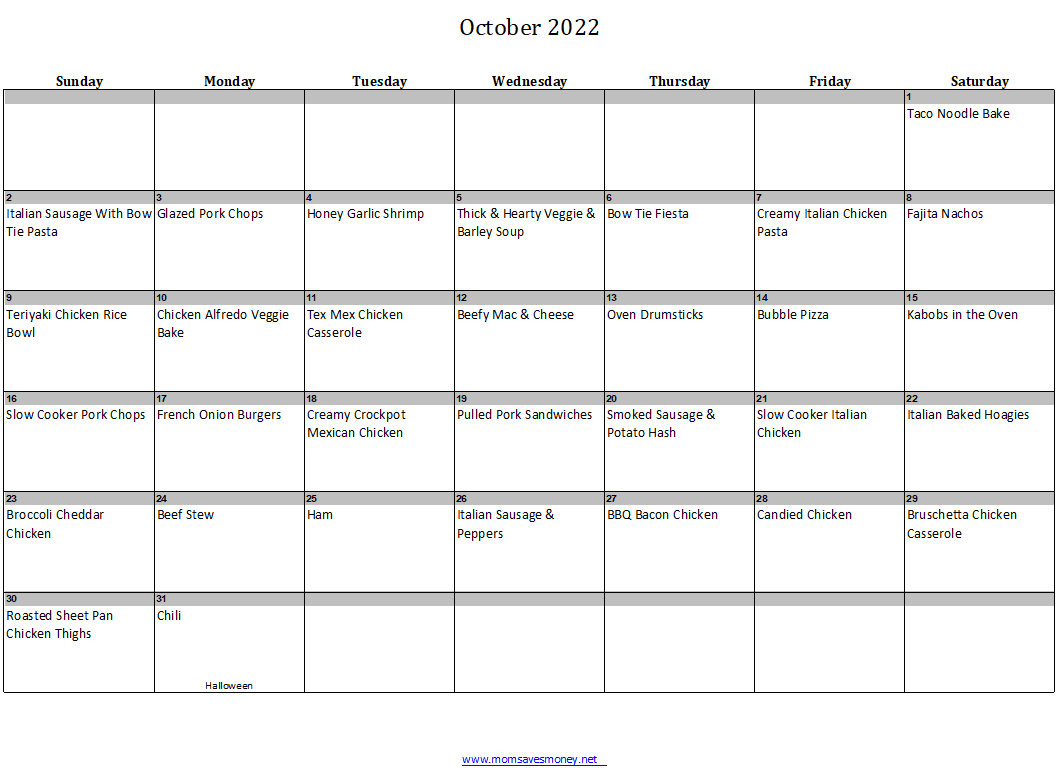 October 2022 Meal Plan
Available Formats: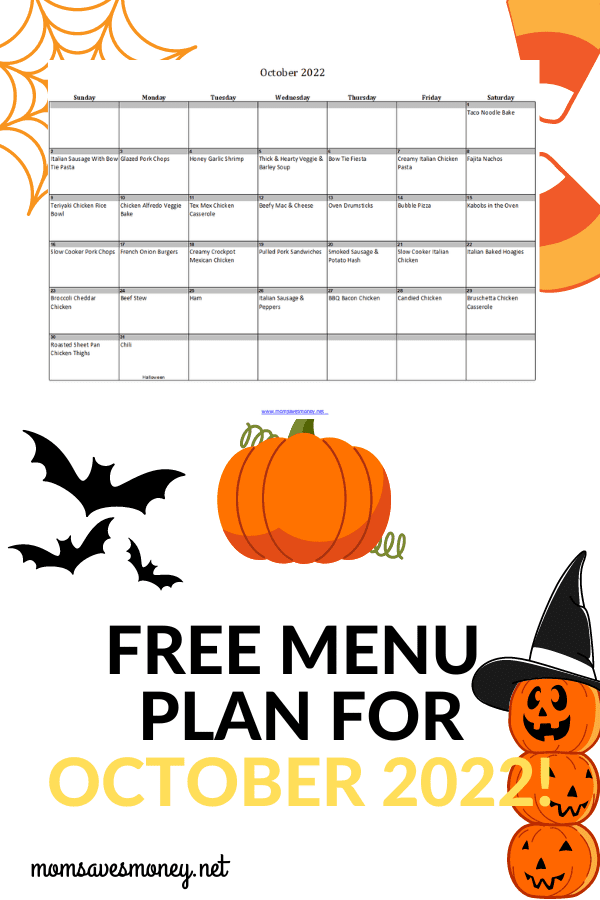 Recipes in this menu plan:
Taco Noodle Bake
Italian Sausage With Bow Tie Pasta
Glazed Pork Chops
Honey Garlic Shrimp
Thick & Hearty Veggie & Barley Soup
Bow Tie Fiesta
Slow Cooker Pasta e Fagioli Soup
Easy Skillet Nachos
Teriyaki Chicken Rice Bowl
Chicken Alfredo Veggie Bake
Tex Mex Chicken Casserole
Beefy Mac & Cheese
Oven Drumsticks
Bubble Pizza
Oven-Baked Kabobs
Slow Cooker Pork Chops
French Onion Burgers
Pulled Pork Sandwiches
Smoked Sausage & Potato Hash
Slow Cooker Italian Chicken Pasta
Italian Baked Hoagies
Broccoli Cheddar Chicken
Beef Stew
Slow Cooker Ham
Italian Sausage & Peppers
BBQ Bacon Chicken
Candied Chicken
Bruschetta Chicken Casserole
Roasted Sheet Pan Chicken Thighs
Slow Cooker Sausage Onion & Peppers
Jayme is a wife to 1 and a mother to four boys. She tries to save money in the kitchen by building a smart stockpile and meal planning. While she likes to cook, she's in the stage of life where simple is usually better – she never knows how crazy it'll get at dinner time. You can find her on Instagram.