Enjoy this March meal plan with a printable calendar and easy, family-friendly recipes.
It's March! This is the month that's kind of my version of the "calm before the storm". My husband has a birthday this month, but our busy season starts in April. In April, we have Spring Break, Easter, 2 birthdays and the start of baseball season.
My boys aren't great athletes. They play because it's fun. I doubt any of them will even play on a high school team. But right now? Right now, they're almost-11, almost-8 and almost-7 and wanting to just play baseball. So we will! The almost-8 year old will also play flag football in the fall, but that's about it for us and sports. It just happens that 3 seasons play at once. So it's busy for us. Relatively speaking, of course. I know families that are much busier.
Baseball will change how I plan meals quite a bit. There may be many "sandwiches for dinners" in April and May. There may be several "hot dogs from the concession stand" dinners in June. And that's all okay. When I plan ahead, I can anticipate these things and make the right adjustments. But for now, it's business-as-usual!
Want a menu plan that's even more simple than this one? AND includes a shopping list? Try this one: 'Incredibly Easy 5-Ingredient Meal Plan and Cookbook' available on Amazon!
Available Formats: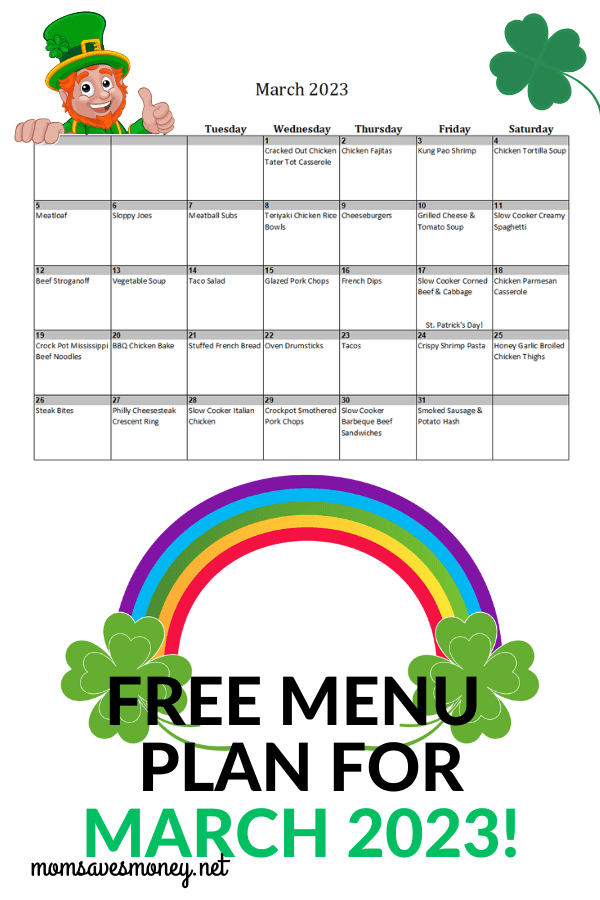 Cracked Out Chicken Tater Tot Casserole
Chicken Fajitas
Kung Pao Shrimp
Chicken Tortilla Soup
Meatloaf
Sloppy Joes
Meatball Subs
Teriyaki Chicken Rice Bowl
Cheeseburgers
Grilled Cheese Sandwiches
Slow Cooker Creamy Spaghetti
Beef Stroganoff
Vegetable Soup
Taco Salad
Glazed Pork Chops
French Dip Sandwiches
Chicken Parmesan Casserole
Crockpot Mississippi Beef Noodles
BBQ Chicken Bake
Stuffed French Bread
Oven Drumsticks
Tacos
Crispy Shrimp Pasta
Broiled Honey Garlic Chicken Thighs
Steak Bites
Philly Cheesesteak Crescent Ring
Slow Cooker Italian Chicken
Crock Pot Smothered Pork Chops
Slow Cooker Barbeque Beef Sandwiches
Smoked Sausage & Potato Hash
Jayme is a wife to 1 and a mother to four boys. She tries to save money in the kitchen by building a smart stockpile and meal planning. While she likes to cook, she's in the stage of life where simple is usually better – she never knows how crazy it'll get at dinner time. You can find her on Instagram.
If you love this, check out more posts: