Enjoy this October 2021 meal plan with a printable calendar and easy, family-friendly recipes.
Happy Halloween! It's almost here! Time to put on those costumes, grab those pillowcases and go door to door! Time sure is marching on. Welcome Fall!
Every Halloween growing up, we had chili. Mom made us eat a bowl before we headed out into the cold I'm continuing the tradition – for the most part. Sometimes I change it up and have a different soup, but it's kind of a tradition. It's what I know is on my menu for the 31st. The rest of the month? I can plan that out too! Want to join me in menu planning? Try the one below. But want a menu plan that includes shopping list? Try this one: 'Incredibly Easy 5-Ingredient Meal Plan and Cookbook' available on Amazon!
October 2021 Meal Plan
Available Formats:
Recipes in this menu plan:
Big Mac Salad Bowl
Italian Sausage With Bow Tie Pasta
Glazed Pork Chops
Honey Garlic Shrimp
Pepper Steak Stir Fry
Bow Tie Fiesta
Slow Cooker Pasta e Fagioli Soup
Easy Skillet Nachos
Teriyaki Chicken Rice Bowl
Chicken Alfredo Veggie Bake
Tex Mex Chicken Casserole
Beefy Mac & Cheese
Oven Drumsticks
Egg, Sausage & Potato Breakfast Burrito
Garlic Shrimp Vegetable Stir Fry
Chicken Shawarma
French Onion Burgers
Creamy Crockpot Mexican Chicken
Pulled Pork Sandwiches
Smoked Sausage & Potato Hash
Slow Cooker Italian Chicken
Italian Baked Hoagies
Broccoli Cheddar Chicken
Honey Garlic Meatballs
Italian Sausage & Peppers
One Pan Sausage & Veggies
Portobello Fajitas
Slow Cooker Balsamic Pot Roast
Candied Chicken
French Toast
Roasted Sheet Pan Chicken Thighs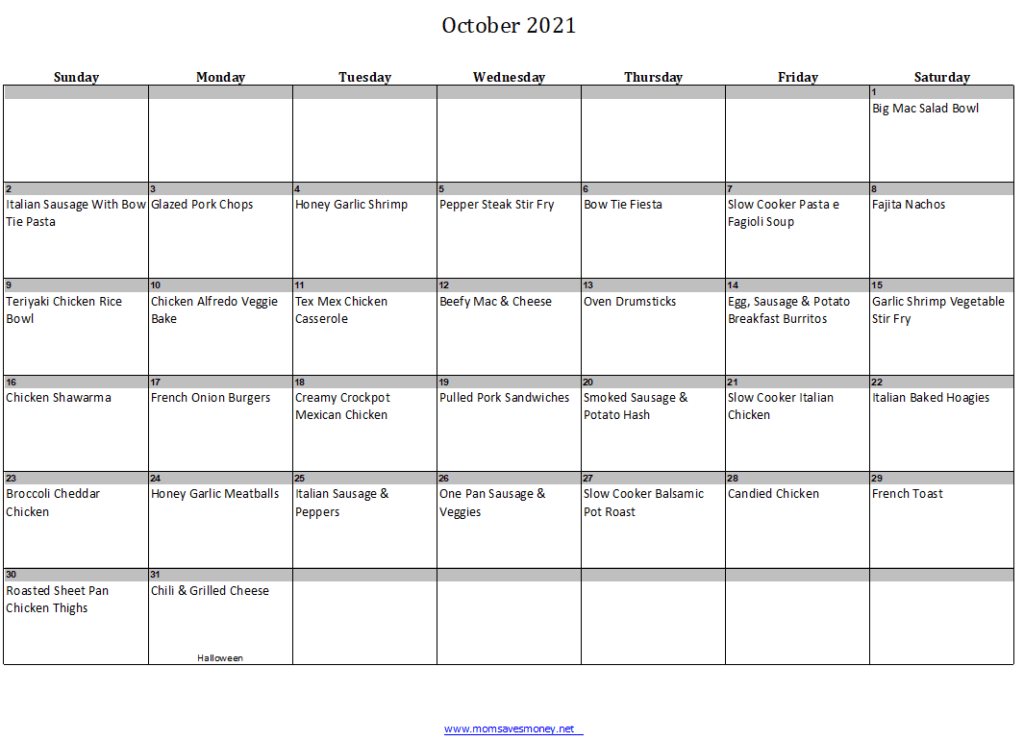 Jayme is a wife to 1 and a mother to four boys. She tries to coupon, builds a smart stockpile, and always meal plans. While she likes to cook, she's in the stage of life where simple is usually better – she never knows how many hands she'll have free at dinner time! You can find her on Instagram.