Enjoy this September 2022 meal plan with a printable calendar and easy, family-friendly recipes.
September is here! Bring on the football, the soccer games, pumpkin everything and cozy sweaters! I'm ready for the weather to change and start getting cooler. Bring it on!
We've got one son playing Flag Football. Another son trying a little 6-week session of T-Ball (to see if he likes it). And I don't think anyone will play a winter sport (basketball wasn't a big hit last year), so once we get past mid-October, we're sports-free until Spring.
I do have another son taking piano lessons. And another son who is starting cello in 4th grade Orchestra. So maybe our Fall will be a musical one?
As, for me, I'm working and not playing baseball or soccer. But I'll still be menu planning. Want to join me? Please do! New to menu planning? Try this one. But want a menu plan that includes shopping list? Try this one: 'Incredibly Easy 5-Ingredient Meal Plan and Cookbook' available on Amazon!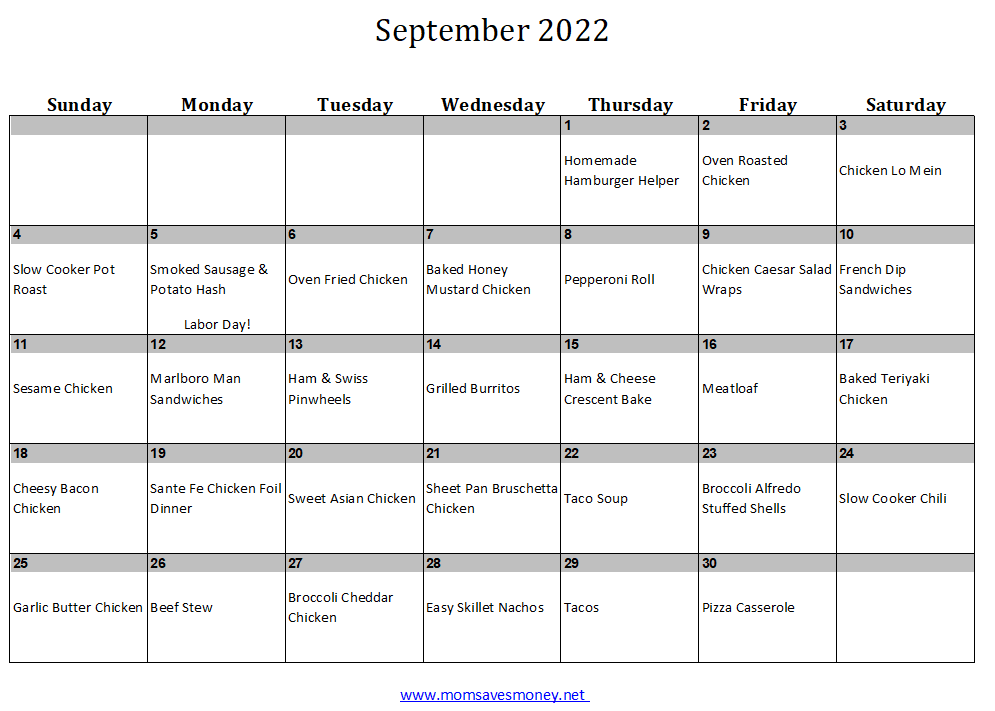 September 2022 Meal Plan
Available Formats: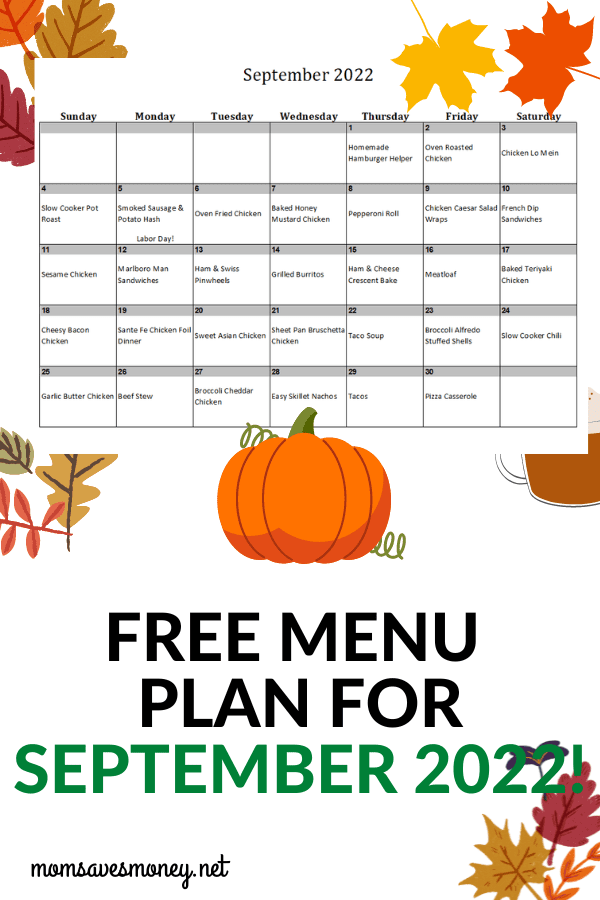 Recipes in this menu plan:
One Pot Homemade Hamburger Helper
Oven Roasted Chicken
Chicken Lo Mein
Slow Cooker Pot Roast
Smoked Sausage & Potato Hash
Oven Fried Chicken
Baked Honey Mustard Chicken
Pepperoni Roll
Chicken Caesar Salad Wraps
French Dip Sandwiches
Sesame Chicken
Marlboro Man Sandwiches
Ham & Swiss Pinwheels
Grilled Burritos
Ham & Cheese Crescent Bake
Meatloaf
Baked Teriyaki Chicken
Cheesy Bacon Chicken
Santa Fe Chicken Foil Dinners
Sweet Asian Chicken
Sheet Pan Bruschetta Chicken
Taco Soup
Broccoli Alfredo Stuffed Shells
Slow Cooker Chili
Garlic Butter Chicken
Beef & Barley Stew
Broccoli Cheddar Chicken
Easy Skillet Nachos
Tacos
Pizza Casserole
Jayme is a wife to 1 and a mother to four boys. She tries to save money in the kitchen by building a smart stockpile and meal planning. While she likes to cook, she's in the stage of life where simple is usually better – she never knows how crazy it'll get at dinner time. You can find her on Instagram.