Enjoy this November 2021 meal plan with a printable calendar and easy, family-friendly recipes.
Thanksgiving is almost here – can you believe it? These warm fall days that we've had lately do not make it feel like Thanksgiving is coming up quickly. But here it comes anyway. Time marches on.
This Thanksgiving, I'll be thankful for healthy family, boys that are adjusting well to school, a sister that moved back to our hometown and a couple of great vacations this year (to New York City and to Adventureland). 2021 started off strangely, but it's ending well for us.
November 2021 Meal Plan
Available Formats: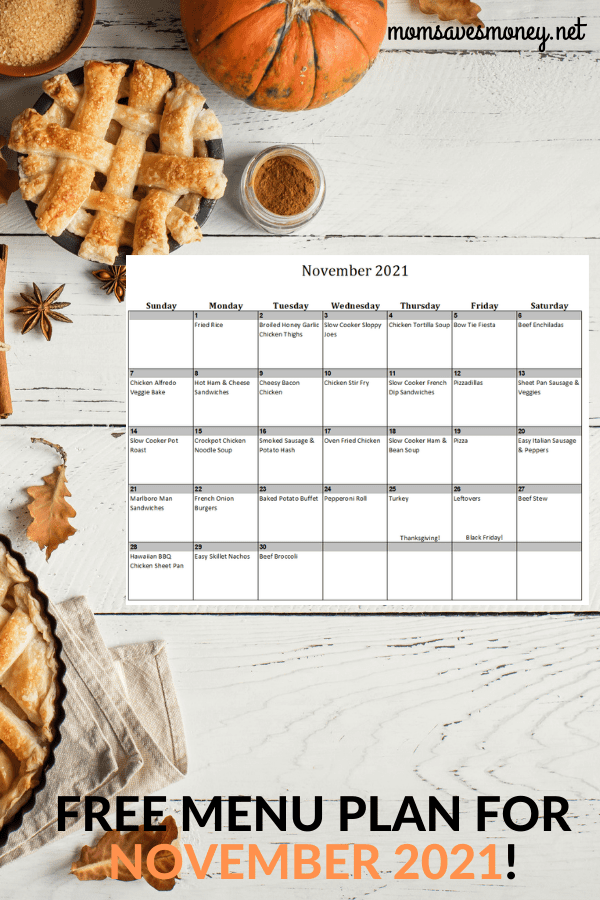 Recipes in this menu plan:
Fried Rice
Broiled Honey Garlic Chicken Thighs
Slow Cooker Sloppy Joes
Chicken Tortilla Soup
Bow Tie Fiesta
Beef Enchiladas
Chicken Alfredo Veggie Bake
Hot Ham & Cheese
Cheesy Bacon Chicken
Chicken Stir Fry
Slow Cooker French Dip Sandwiches
Pizzadillas
Sheet Pan Sausage & Veggies
Slow Cooker Pot Roast
Crockpot Chicken Noodle Soup
Smoked Sausage & Potato Hash
Oven Fried Chicken
Slow Cooker Ham & Bean Soup
Pizza
Easy Italian Sausage & Peppers
Marlboro Man Sandwiches
French Onion Burgers
Baked Potato Buffet
Pepperoni Roll
Turkey
Beef Stew
Hawaiian BBQ Chicken Sheet Pan
Easy Skillet Nachos
Beef Broccoli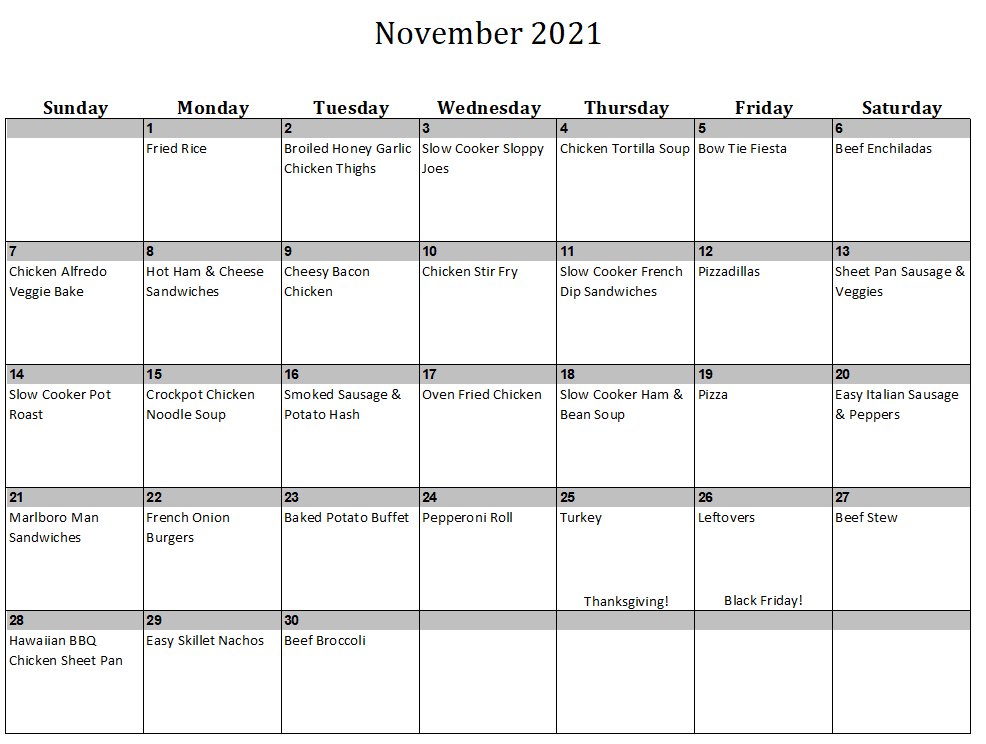 Jayme is a wife to 1 and a mother to four boys. She tries to coupon, builds a smart stockpile, and always meal plans. While she likes to cook, she's in the stage of life where simple is usually better – she never knows how many hands she'll have free at dinner time! You can find her on Instagram.