Enjoy this August 2022 meal plan with a printable calendar and easy, family-friendly recipes.
Despite it being crazy hot outside, it's time to start thinking about Back to School. At least for my house. The next 2 years is what I'm calling my "Glory Years" – all 4 of my kids will be at the same school for the next 2 years. I've been doing 2 school drop offs and pick ups! In several years, I'll have 3 schools. But this year and next? Just 1 school! It's good to be me!
I'm looking forward to the routine that school provides. The rhythm of our life gets a little back to normal for us. But I'll still be menu planning! Because that saves my sanity and stress levels. And everyone wants mama's stress to be low!
New to menu planning? Try this one. But want a menu plan that includes shopping list? Try this one: 'Incredibly Easy 5-Ingredient Meal Plan and Cookbook' available on Amazon!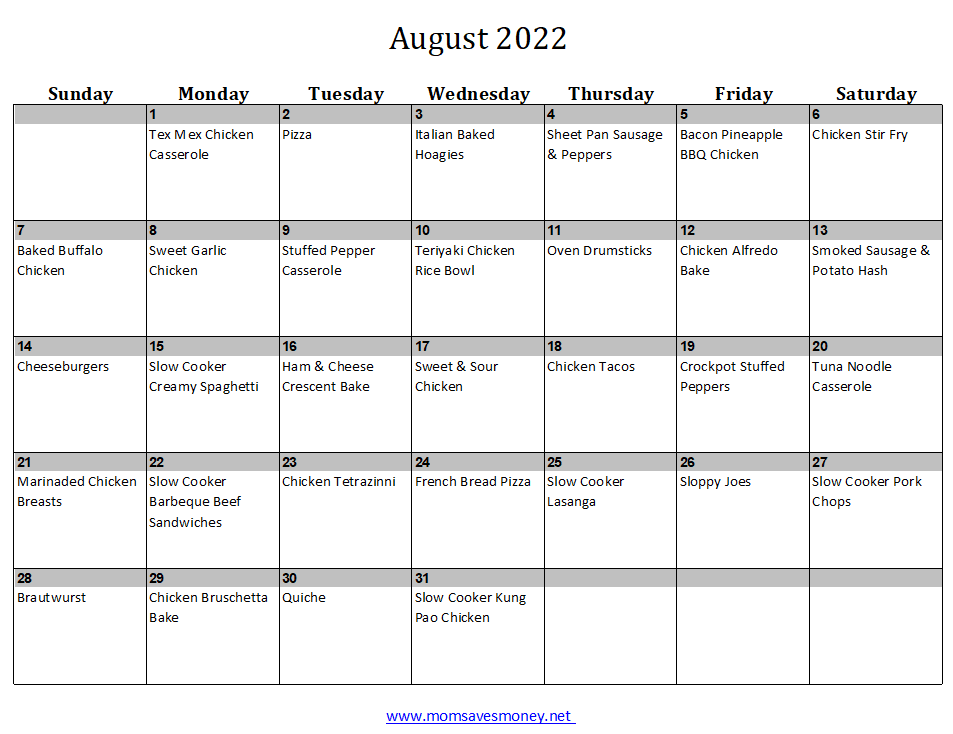 August 2022 Meal Plan
Available Formats: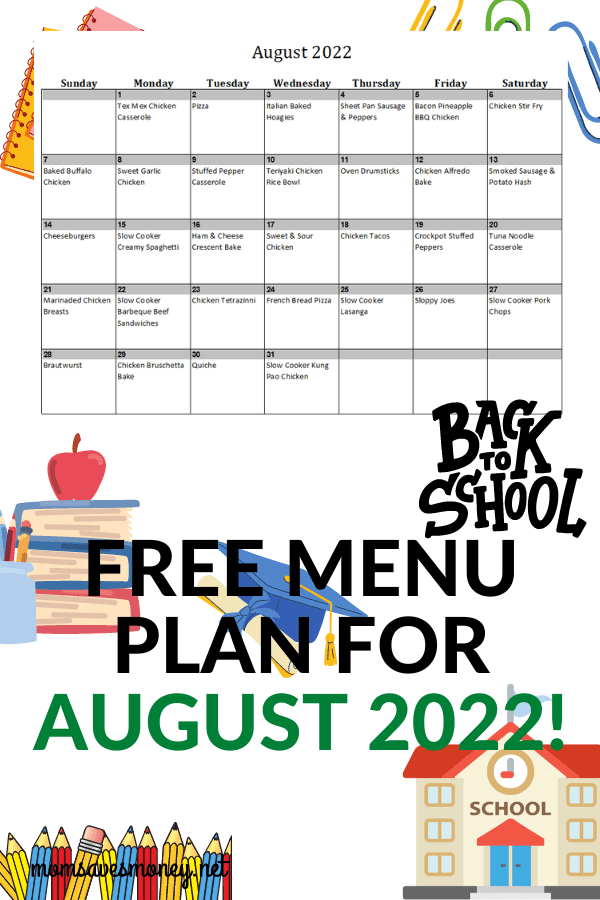 Recipes in this menu plan:
Tex Mex Casserole
Pizza
Italian Baked Hoagies
Sheet Pan Sausage & Peppers
Bacon Pineapple BBQ Chicken
Chicken Stir Fry
Baked Buffalo Chicken
Sweet Garlic Chicken
Stuffed Pepper Casserole
Teriyaki Chicken Rice Bowl
Oven Drumsticks
Chicken Alfredo Bake
Smoked Sausage & Potato Hash
Cheeseburgers
Slow Cooker Creamy Spaghetti
Ham & Cheese Crescent Bake
Sweet & Sour Chicken
Chicken Tacos
Crockpot Stuffed Peppers
Tuna Noodle Casserole
Marinated Chicken Breasts
Slow Cooker Barbeque Beef Sandwiches
Chicken Tetrazinni
French Bread Pizza
Slow Cooker Lasagna
Sloppy Joes
Slow Cooker Pork Chops
Bratwurst
Chicken Bruschetta Bake
Quiche
Kung Pao Chicken
Jayme is a wife to 1 and a mother to four boys. She tries to save money in the kitchen by building a smart stockpile and meal planning. While she likes to cook, she's in the stage of life where simple is usually better – she never knows how crazy it'll get at dinner time. You can find her on Instagram.