Enjoy this December 2022 meal plan with a printable calendar and easy, family-friendly recipes.
This year is just flying by! Each month goes by faster than the last. Lately, my kids are really growing up. It was just a few years ago that I had to buckle each of them into their 4 car seats to go anywhere. Now a couple of them aren't in car seats – or even boosters. I've been able to give away many of our toys that are for little kids – movies and toys and step stools. It's pretty freeing!
I've been calling this year "my Glory Years" – in terms of kids and school. All 4 of them are at the same school for this year and next and I am enjoying it! In just a few years, I'll have 3 different schools to drop off and pick up from. That'll be way less fun! And this year, it's been fun to watch my boys getting presents for us. Every once in a while, a new "box" will appear under the tree and I can tell it was wrapped by a young kid. I'm pretty sure there's a drawing or two in there, handmade by a 7-year-old.
But I keep menu planning! Cause as my family gets older, they eat more. And they have favorite meals and preferences and opinions. So I keep their preferences in mind – without serving French Toast every single night for dinner. If you're new to menu planning, you can use mine as a starting point. Or if you want a menu plan that includes shopping list, try this one: 'Incredibly Easy 5-Ingredient Meal Plan and Cookbook' available on Amazon!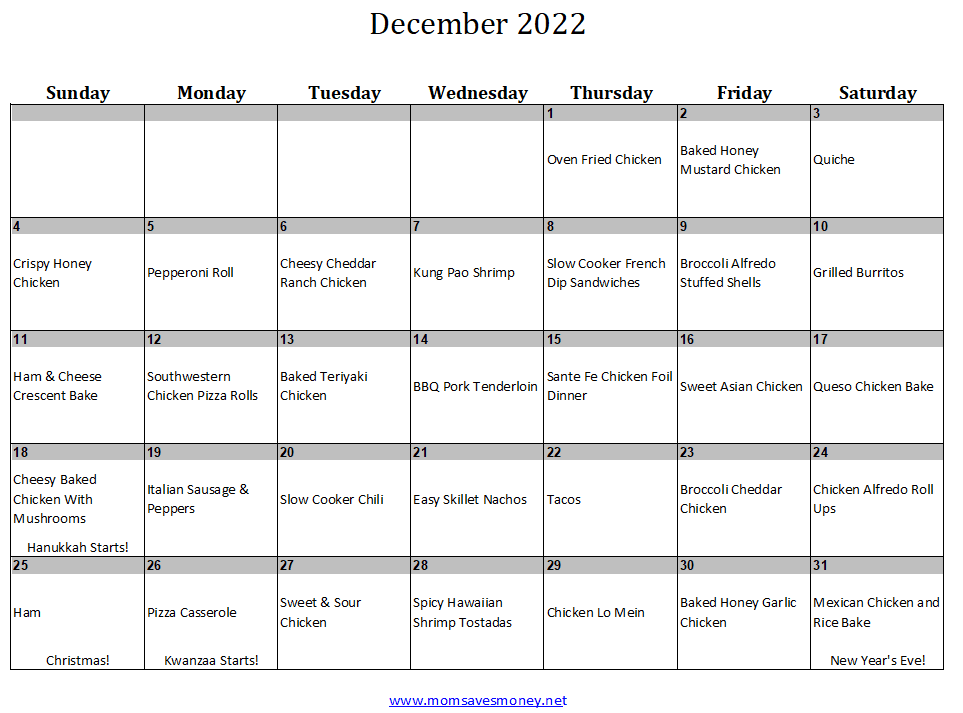 December 2022 Meal Plan
Available Formats: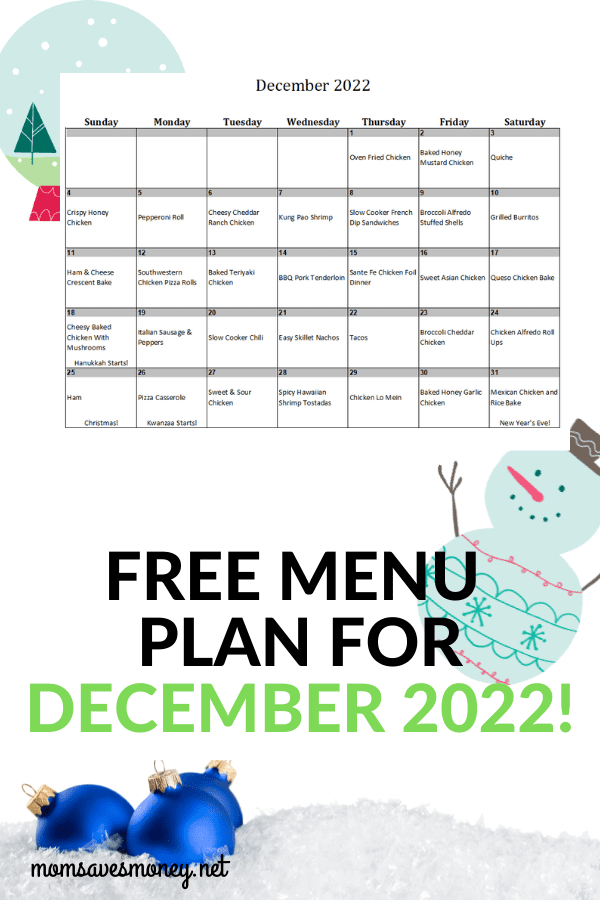 Recipes in this menu plan:
Oven Fried Chicken
Baked Honey Mustard Chicken
Quiche
Crispy Honey Chicken
Pepperoni Roll
Cheesy Cheddar Ranch Chicken
Kung Pao Shrimp
Slow Cooker French Dip Sandwiches
Broccoli Alfredo Stuffed Shells
Grilled Burritos
Ham & Cheese Crescent Bake
Southwestern Chicken Pizza Rolls
Baked Teriyaki Chicken
Pork Tenderloin
Santa Fe Chicken Foil Dinners
Sweet Asian Chicken
Queso Chicken Bake
Cheesy Baked Chicken With Mushrooms
Italian Sausage & Peppers
Slow Cooker Chili
Easy Skillet Nachos
Tacos
Broccoli Cheddar Chicken
Chicken Alfredo Roll Ups
Slow Cooker Ham
Pizza Casserole
Sweet & Sour Chicken
Spicy Shrimp Tostadas
Chicken Lo Mein
Baked Honey Garlic Chicken
Mexican Chicken and Rice Bake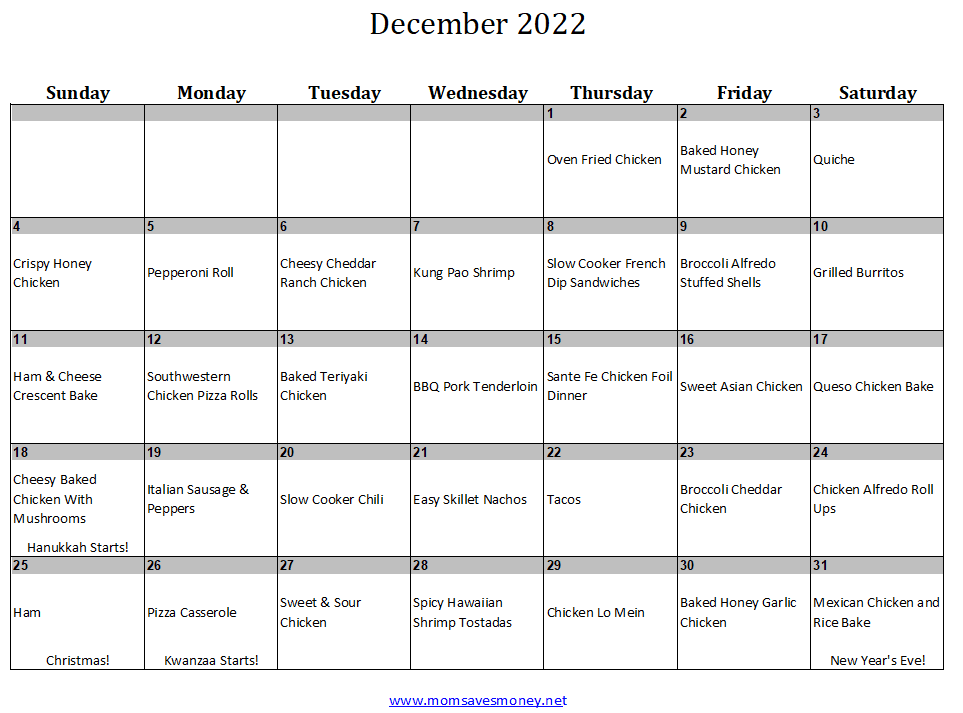 Jayme is a wife to 1 and a mother to four boys. She tries to save money in the kitchen by building a smart stockpile and meal planning. While she likes to cook, she's in the stage of life where simple is usually better – she never knows how crazy it'll get at dinner time. You can find her on Instagram.