Enjoy this April meal plan with a printable calendar and easy, family-friendly recipes.
April showers bring May flowers! I'm hoping that's true – cause I could use some flowers. It's been a fairly mild winter, but I'm ready for warmer weather. I don't like uber hot weather, but I enjoy a good Spring day. Experiencing all 4 seasons is definitely something that I appreciate about living in Nebraska.
April also ramps up birthday season. It starts in mid-March with my husband's birthday, but then 2 of my sons have birthdays in April. And they've gotten to the age where we'll have a kid's birthday party – nothing extravagant, just a few boys over to play and have cake and ice cream. But we've arrived!
It's also when baseball starts ramping up and this year I have 3 baseball players. We'll be spending most of our weekends at all the ballpark! It only lasts about 2 1/2 months, so we'll endure it. It's my Mr. 9 that just goes along for the ride, being the non-baseball player. But he doesn't seem to mind – a couple of dollars to spend at the Snack Shake, a book to read and a park to play at is all he needs for a fun day!
I'll just have to be aware of it when making my menu plan. Those days will be simpler meals, maybe even eaten at the ballpark between games. That can be fun too. Want a menu plan that's even more simple than this one? AND includes a shopping list? Try this one: 'Incredibly Easy 5-Ingredient Meal Plan and Cookbook' available on Amazon!
Available Formats: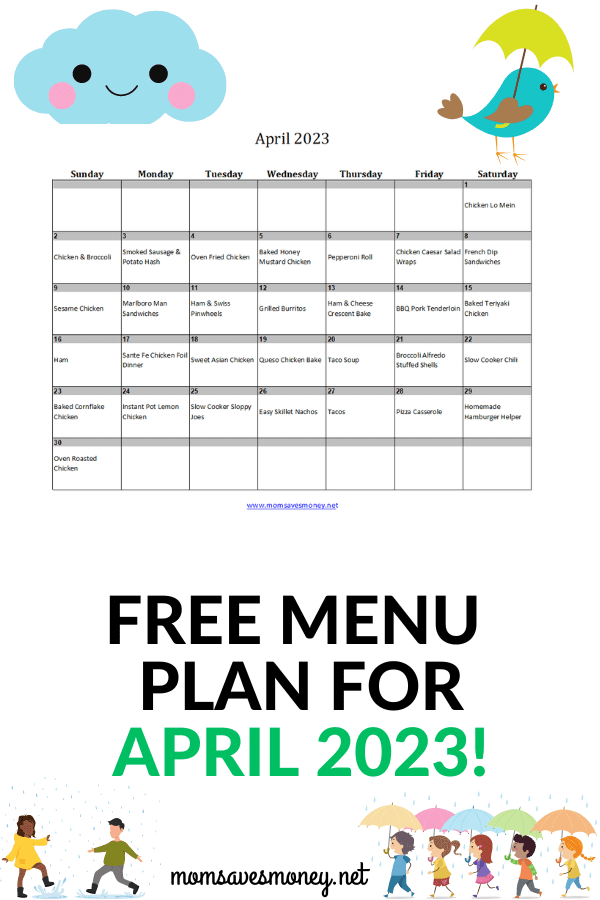 Chicken Lo Mein
Chicken & Broccoli
Smoked Sausage & Potato Hash
Oven Fried Chicken
Baked Honey Mustard Chicken
Pepperoni Roll
Chicken Caesar Salad Wraps
French Dip Sandwiches
Sesame Chicken
Marlboro Man Sandwiches
Ham & Swiss Pinwheels
Grilled Burritos
Ham & Cheese Crescent Bake
BBQ Pork Tenderloin
Baked Teriyaki Chicken
Slow Cooker HamSanta Fe Chicken Foil Dinners
Sweet Asian Chicken
Queso Chicken Bake
Taco Soup
Broccoli Alfredo Stuffed Shells
Slow Cooker Chili
Baked Cornflake ChickenInstant Pot Lemon Chicken
Sloppy Joes – Slow Cooker or Instant Pot
Broccoli Cheddar Chicken
Easy Skillet Nachos
Tacos
Pizza Casserole
One Pot Homemade Hamburger Helper
Oven Roasted Chicken
Jayme is a wife to 1 and a mother to four boys. She tries to save money in the kitchen by building a smart stockpile and meal planning. While she likes to cook, she's in the stage of life where simple is usually better – she never knows how crazy it'll get at dinner time. You can find her on Instagram.
If you love this, check out more posts: