There are many situations that could want you to spend as little as reasonable on groceries in a given month.  Maybe an unexpected house maintenance issue? A potential layoff?  Overspending in previous months?  Trying to pay down debt as much as possible as quickly as possible?  Or trying to save up a down payment on a home as quickly as possible?
Those are all great reasons to want to minimize your grocery spending.  And while I believe that most of us don't want to spend more than we have to on groceries anyway and that there is a methodical way to approach grocery spending that will help you spend smartly, there are times when we need (or at least, really, really, really want) to spend as little as possible.
That's kind of the boat we're in now.  My husband's company has announced that they will be doing layoffs next month.  And while they've asked for volunteers, no one's job is guaranteed.  Now, we have cash in the bank to last us a few months.  And we have investments that we could tap if we needed to.  And I'm sure there will be some type of severance package if he and his company parts ways.  BUT still…it's just wise to live as lean as we can during this time of the unknown.
For us, that doesn't mean only rice and beans.  But it does mean…
Choosing recipes that are naturally on the low side of the cost scale.
Maybe forgoing more expensive cuts of meat until things are more known.
Maybe stepping off the organic bandwagon on some items.
Being really intentional about grocery shopping.  If I don't really truly need it and it isn't at a never-been-this-low-of-a-price-ever sale point, then out of the grocery cart, it goes.
That said, here are some of my favorite recipes that are just naturally a little more cost-effective.  They're still great.  They're still easy.  They're still delicious.  They just have the added bonus of a lower price tag!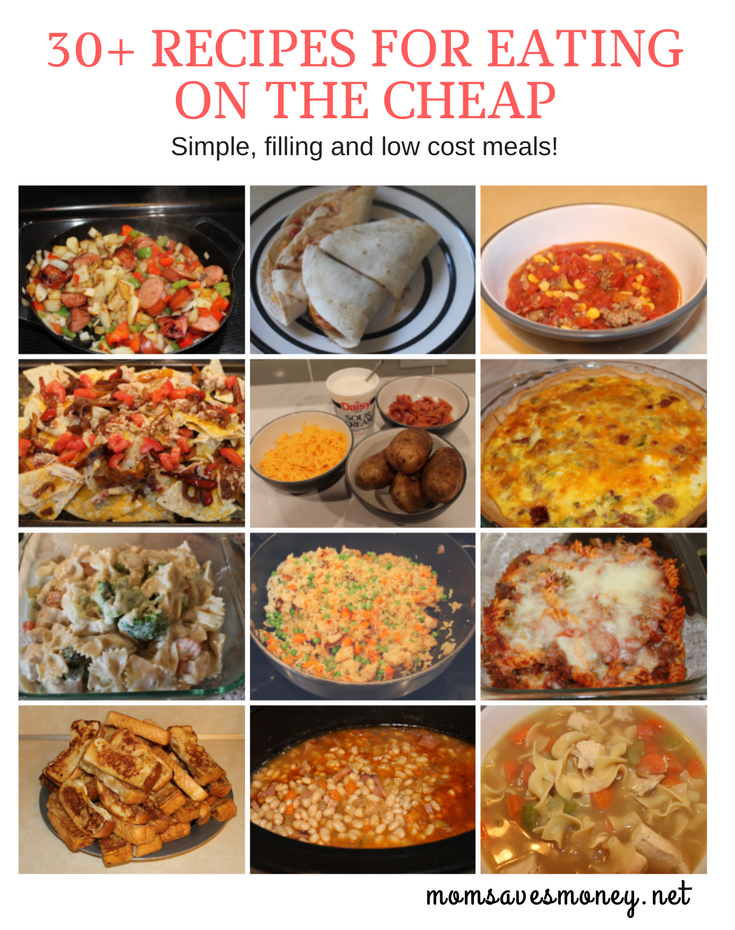 Teriyaki Chicken Fried Rice – This is especially cost-effective if you buy your own teriyaki sauce.  While I love my homemade version oh sooo much, I also admit that it isn't the cheapest way to get the taste of teriyaki.  Recipes like this is a great way to make a little chicken go a long way.
Oven Baked Ham & Cheese – With only 3 ingredients, this can easily be a lower-cost meal — assuming you get the ingredients at a great price.  I hate paying full price for cheese and crescent rolls because they go on sale so often.  Stock up when they're on sale and this is a great meal!
Eggs – Eggs can seem boring.  But there are a lot of ways to make them a little more fun.  Add some salsa, sour cream or cream cheese to scrambled eggs.  Make fried eggs.  Or hard boiled eggs.  Make egg salad sandwiches.
Taco Salad – This is a salad just filled with low cost ingredients.  Maybe scale back on the ground beef and add in some black beans.  Filling and cheaper!
Baked Potato Buffet – You can use all kinds of toppings – chopped deli meat, heese, veggies, sour cream, salsa, you name it!  In particular, maybe have chili for dinner one night and use leftover chili on baked potatoes the next night.
Chicken Noodle Soup – This chicken noodle recipe is one of the easiest and one that I make most often.  Use less chicken or be really frugal and make the chicken broth from a whole chicken!
Pizza Casserole – Pasta has been known as a stomach filler and for good reason – it does!  This is a simple recipe and it makes a lot!
Italian Sausage Soup – With Cheese Tortellini – I don't make this soup enough.  It calls for cheese tortellini, but it's great without it.  If your goal is frugality, skip it!
Salsa chicken for tacos, fajitas, nachos, quesadillas – This is a recipe that has so many uses!  Since our goal is to be low cost, I'd go for quesadillas and nachos where the meat is more of a "side" dish than the main component.  Great use of your dollars!
Chicken Alfredo Veggie Bake – Another way to make a little chicken go a long way.  The veggies in this are super inexpensive in your store's freezer section.  Add some pasta and a jar of alfredo sauce and you're done!
Smoked Sausage & Potato Hash – Smoked sausage goes on sale all.the.time.  And it's so tasty! While it might not be the healthiest for you, when you add some vegetables and potatoes, you have a meal that satisfies!
Hamburger Veggie Soup – This is a "poor man's" version of beef stew since it calls for ground beef instead of stew meat.  It has common vegetables and comes together quickly!
Quiche -Quiche seems to hoity toity, doesn't it?  But don't think of it that way.  It's just an egg bake.  Throw in any bits and pieces of leftover meats, cheeses and veggies that you have and you'll have a meal almost entirely made of leftovers!
BBQ Chicken Tostadas – I love barbeque chicken and this is a fabulous way to make the meat go a little farther.  When you serve it as a tostada rather than a hunk of chicken breast, you can get more meals from your meat.  And that's a good thing!
Ham & Bean Soup – If you have leftover ham, this is for you!  Ham is the biggest cost to this recipe (you can easily forgo the bacon, which can also be costly), so consider this if you have leftovers.
Slow Cooker Ham & Potato Soup – Another fantastic way to use leftover ham!  Instead of beans, use potatoes.  Simmer in the slow cooker and love your meal!
Bean & Cheese Burritos – Now, saving money isn't only about rice and beans.  But rice and beans can be included.  These are freezer friendly too, which is good for anyone packing a lunch!
Slow Cooker Chicken Pot Pie – Pot pies are total comfort food.  This version is also budget-friendly and easy to do!
Slow Cooker Chili – Chili!!!  Perfect for football games. We always make a bowl before trick-or-treating each year.  Make more than you need, then you'll have chili dogs or chili cheese nachos the next day!
Black Beans & Rice – Another good way to incorporate beans!  Beans are great for providing good nutrition and also filling the tummy!
Homemade Tomato Soup – Tomato soup isn't everyone's favorite, but for those that love it, it's the perfect complement to grilled cheese sandwiches, which are also a frugal choice!
Peanut Butter & Jelly Sandwiches – Sometimes, you just gotta do it.  Bring the PB&J back!  It doesn't have to be your every meal, but it does make for a good meal when you're trying to save money.
French Toast – Breakfast for dinner!  A loaf of bread, some milk & eggs and it's a family-friendly meal!  Make it into French Toast Sticks to make dinner dippable or just the normal way of French Toast.
Macaroni & Cheese –  Sure, you can just blue box mac & cheese
Mini Pizzas – This is especially low cost if you use random pieces of "bread" for your crust.  Maybe some get bagels.  Maybe some get English muffins.  Some have tortillas or leftover hamburger buns.  Mix it up and use those leftovers well!
Broccoli Cheese Soup – This is a great choice if you get the cheese on sale.  If you're buying the cheese at full price, then maybe skip this one…the cost of cheese really adds up!
Cheesy Veggie Chowder – Again, if you get cheese at a great price, consider this one!
Slow Cooker Sausage & Potato Soup – This is a great soup when you want a soup that feels like you got it at a restraurant, but you made it yourself. Maybe while in your pajamas. Maybe while hosting a football party. Maybe while holeing yourself up in your house avoiding holiday crowds. Your call!
Taco Soup – It's like a more festive version of chili!  Like chili, it's tomato-based with beans.  But it's got a Mexican flair that sets it apart.  I love it with cheddar cheese, a small handful of Frito chips and (gasp!) a dollop of sour cream!
Jayme is a wife to 1 and a mother to four little boys. She coupons, price matches and meal plans. While she likes to cook, she's in the stage of life where simple is usually better – she never knows how many hands she'll have free at dinner time! You can find her at No Regrets Living.