Ahh…August. When the thoughts of days spent by the pool and wearing sandals are replaced by school supplies and sensible shoes for gym class.
Here we are, dear August. We meet again. I'm making sure I have ALL THE THINGS. School supply things. School clothes things. Backpack things. Lunchbox things. ALL THE THINGS.
One of the things that I want to make sure we have is a menu plan. Our days will be more structured and we'll be adding in things maybe like homework and after school activities. It'll be getting colder (eventually!) and when that happens, I'll be adding more soups to the menu. Less don't-heat-up-the-house-please meals.
But I'll dig in and enjoy these last couple of weeks of summer that I got and then I'll shoo the kids out the door!
Anyway….a new month means a new monthly menu plan! 31 tasty and easy meals to start your August on the right foot.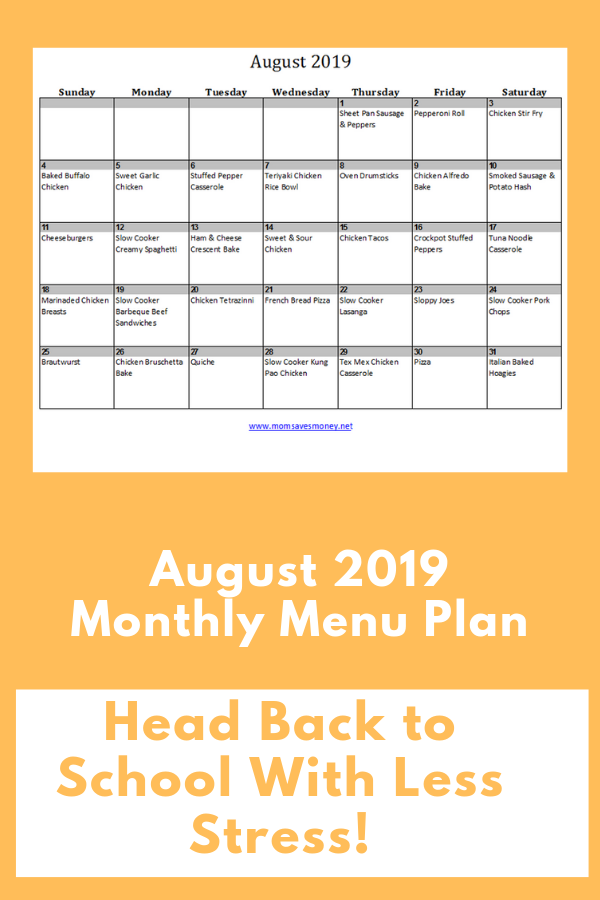 Want more detailed information on how to meal plan? Check out 'The Extraordinary Art of Meal Planning' available on Amazon and Kindle Unlimited.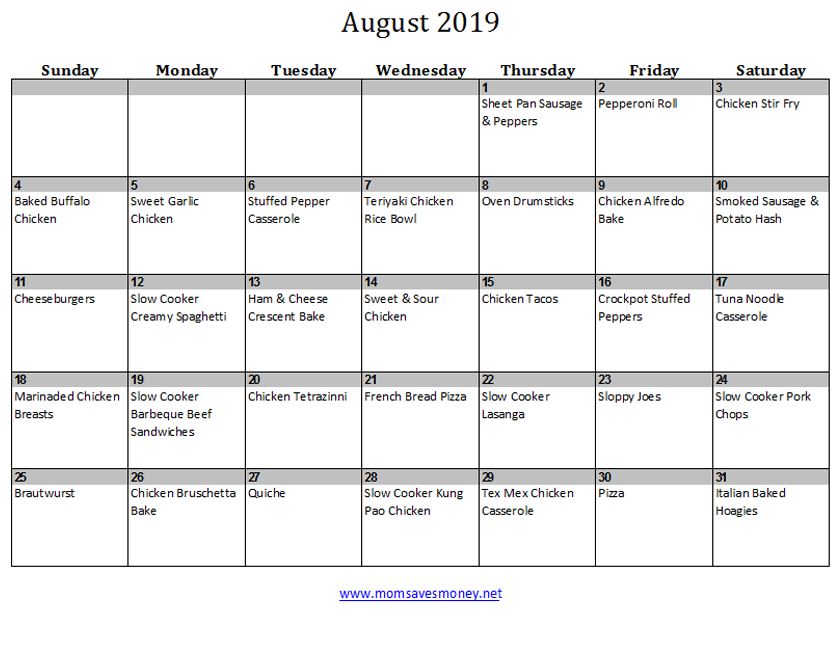 Available Formats:
Recipes in this menu plan:
Sheet Pan Sausage & Peppers
Pepperoni Roll
Chicken Stir Fry
Baked Buffalo Chicken
Sweet Garlic Chicken
Stuffed Pepper Casserole
Teriyaki Chicken Rice Bowl
Oven Drumsticks
Chicken Alfredo Bake
Smoked Sausage & Potato Hash
Cheeseburgers
Slow Cooker Creamy Spaghetti
Ham & Cheese Crescent Bake
Sweet & Sour Chicken
Chicken Tacos
Crockpot Stuffed Peppers
Tuna Noodle Casserole
Marinated Chicken Breasts
Slow Cooker Barbeque Beef Sandwiches
Chicken Tetrazinni
Chicken Tetrazinni
French Bread Pizza
Slow Cooker Lasagna
Sloppy Joes
Slow Cooker Pork Chops
Bratwurst
Chicken Bruschetta Bake
Quiche
Kung Pao Chicken
Tex Mex Casserole
Pizza
Italian Baked Hoagies
Jayme is a wife to 1 and a mother to four little boys. She tries to coupon, builds a smart stockpile, and always meal plans. While she likes to cook, she's in the stage of life where simple is usually better – she never knows how many hands she'll have free at dinner time! You can find her on Instagram.