I'm just so thankful that October is almost over. It was a crazy expensive month for us. A new-to-us minivan. A new dishwasher. I had an overnight hospital visit. Some other medical expenses. If you exclude the 3 times that we've bought houses, this was probably the most expensive month for us. Gotta admit – the bank account is stinging just a bit.
But, we press on. I'll sit here and be thankful that we had saved up for the new-to-us van and that we have an emergency fund that will cover the rest. It does mean that we had to say "NO" to putting in a bathroom basement, but that will happen someday. Just a different year. And that's okay.
In the meantime, we'll watch our pennies. And dollars. And quarters. Part of that, for me, is making sure that I a) Plan our meals and b) Stick to the plan!
For me, I'm learning that I need to make sure I have a realistic menu plan. Now that I'm back to work and no longer have a nanny to turn on the slow cooker at 1:00 p.m., I just have to be more mindful of the meal choices that I pick. That makes me way more likely to stick to them.
How about you? Got a menu plan? If not, start with ours! 30 days of meals planned out for you. If you're new to menu planning, start simple. Use this one as your template and read Nicole's book 'The Extraordinary Art of Meal Planning'. Use what you like from our pre-made meal planning calendar and substitute the rest!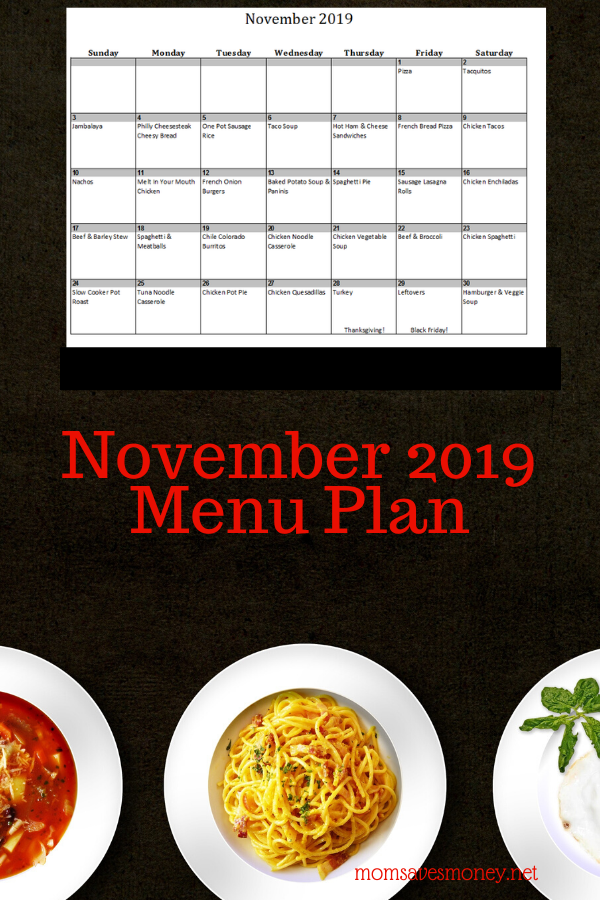 Want more detailed information on how to meal plan? Check out 'The Extraordinary Art of Meal Planning' available on Amazon and Kindle Unlimited.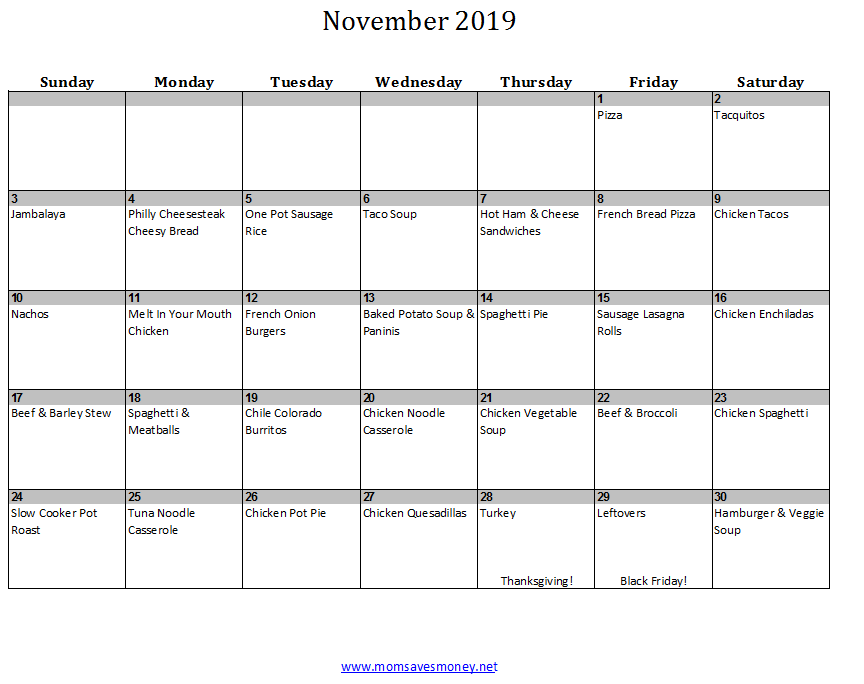 Available Formats:
Recipes in this menu plan:
Pizza
Taquitos
Jambalaya
Philly Cheesesteak Cheesy Bread
One Pot Sausage Rice
Taco Soup
Hot Ham & Cheese
French Bread Pizza
Chicken Tacos
Nachos
Melt In Your Mouth Chicken
French Onion Burgers
Baked Potato Soup and Paninis
Spaghetti Pie
Sausage Lasagna Rolls
Chicken Enchiladas
Beef Stew
Spaghetti & Meatballs
Chile Colorado Burritos
Chicken Noodle Casserole
Chicken Veggie Soup
Beef & Broccoli
Chicken Spaghetti
Slow Cooker Pot Roast
Tuna Noodle Casserole
Chicken Pot Pie
Chicken Quesadillas
Turkey
Leftovers!
Slow Cooker Ground Beef Stew
Jayme is a wife to 1 and a mother to four little boys. She tries to coupon, builds a smart stockpile, and always meal plans. While she likes to cook, she's in the stage of life where simple is usually better – she never knows how many hands she'll have free at dinner time! You can find her on Instagram.