Enjoy this August 2021 meal plan with a printable calendar and easy, family-friendly recipes.
Oh my stars has it been hot here! In this last week of July (when I'm writing this), it's been really hot. And for 2 of the hottest days this month, we went to an Amusement Park. We tried to be pretty good with sunscreen and staying in the shade (when possible), but it was still a couple of long days in the hot, hot, hot sun. We did pretty good – a couple of boys had the tops of their ears get sunburnt and I had some red on my nose. But, other than that, we did well!
And now we're soaking in the next few days that we have left before school starts. Just another week and a half and school will start for us. One of my sons is really excited – he's starting Kindergarten! The rest of them aren't too excited, but they aren't dreading it either. So I'll take it!
It also looks like I'll be working from home for a good long while. For sure until the end of this year, but then probably even most days after next year. We'll have to see, but I do love the flexibility it provides me to dash out of my office (and by 'office', I mean 'corner of my bedroom') and plug in the slow cooker at the right time. Can't beat that! But, no matter what, I feel better about life when I have a menu plan. I just don't like the stress of having to make a last minute plan, ya know? Ya know. Want to join me in menu planning? Try the one below. But want a menu plan that includes shopping list? Try this one: 'Incredibly Easy 5-Ingredient Meal Plan and Cookbook' available on Amazon!
Available Formats: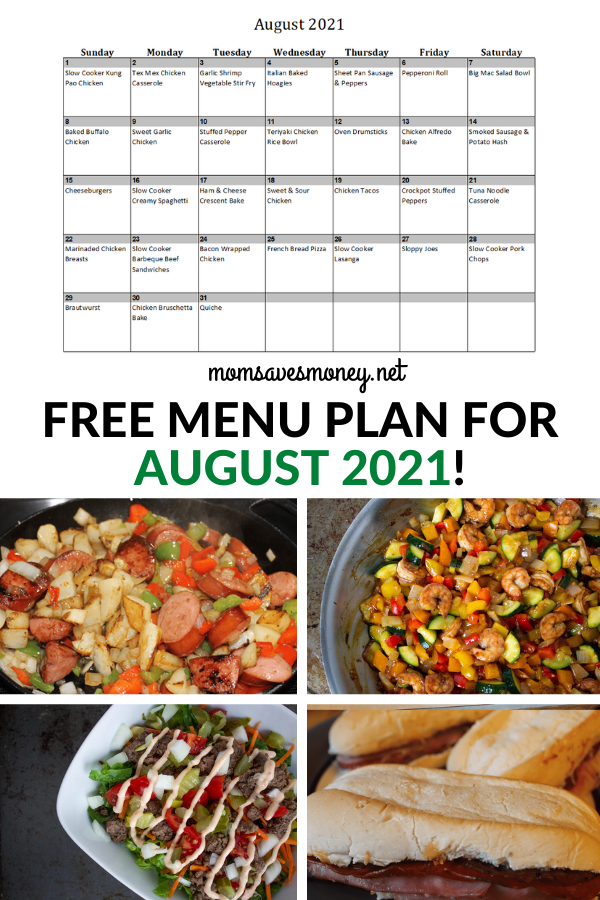 Recipes in this menu plan:
Slow Cooker Kung Pao Chicken
Tex Mex Casserole
Garlic Shrimp Vegetable Stir Fry
Italian Baked Hoagies
Sheet Pan Sausage & Peppers
Pepperoni Roll
Big Mac Salad Bowl
Baked Buffalo Chicken
Sweet Garlic Chicken
Stuffed Pepper Casserole
Teriyaki Chicken Rice Bowl
Oven Drumsticks
Chicken Alfredo Bake
Smoked Sausage & Potato Hash
Cheeseburgers
Slow Cooker Creamy Spaghetti
Ham & Cheese Crescent Bake
Sweet & Sour Chicken
Chicken Tacos
Crockpot Stuffed Peppers
Tuna Noodle Casserole
Marinated Chicken Breasts
Slow Cooker Barbeque Beef Sandwiches
Bacon Wrapped Chicken
French Bread Pizza
Slow Cooker Lasagna
Sloppy Joes
Slow Cooker Pork Chops
Bratwurst
Chicken Bruschetta Bake
Quiche
Jayme is a wife to 1 and a mother to four boys. She tries to coupon, builds a smart stockpile, and always meal plans. While she likes to cook, she's in the stage of life where simple is usually better – she never knows how many hands she'll have free at dinner time! You can find her on Instagram.
If you love this, check out more posts: