Enjoy this December 2021 meal plan with a printable calendar and easy, family-friendly recipes.
Christmas bells are ringing. Hanukkah dreidels are ready to spin. Kwanzaa candles are ready to be lit. It's December! 2021 is ready to be wrapped up. Let's end it on a high note!
I've been doing my best to get prepared for the Holiday Season by buying gifts. Wrapping gifts. Making plans. Writing menus. Just doing what I can ahead of time to leave time in my schedule for fun stuff! Because who doesn't want more fun stuff? No one ever says "Hold the fun stuff! Bring me the boring stuff." And while menu planning isn't necessarily boring, it isn't as fun as say…sledding. Or driving around looking at Christmas lights. Or drinking hot cocoa with extra whipped cream. So by planning out my menu, I make time for other stuff. Try it! I think you'll like it!
December 2021 Meal Plan
Available Formats: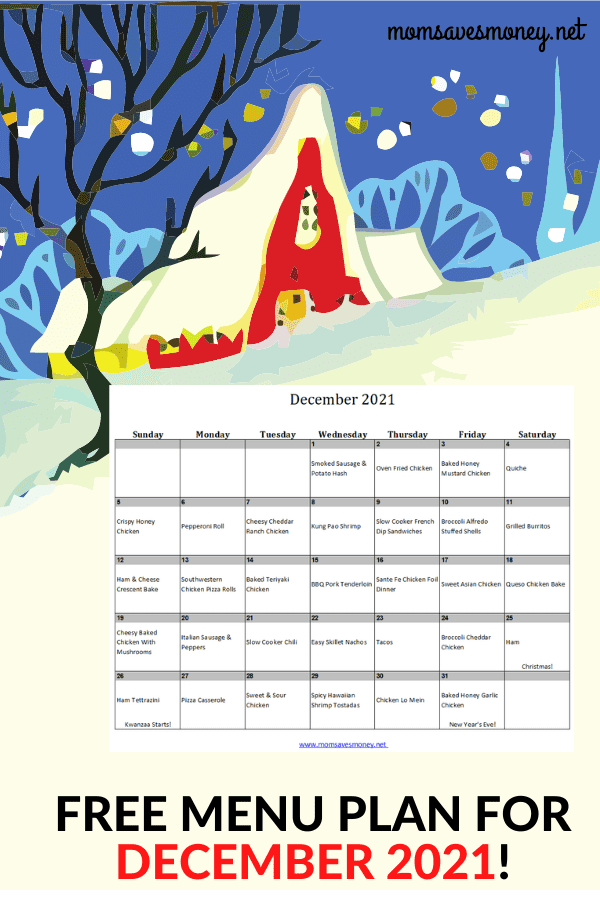 Recipes in this menu plan:
Smoked Sausage & Potato Hash
Oven Fried Chicken
Baked Honey Mustard Chicken
Quiche
Crispy Honey Chicken
Pepperoni Roll
Cheesy Cheddar Ranch Chicken
Kung Pao Shrimp
Slow Cooker French Dip Sandwiches
Broccoli Alfredo Stuffed Shells
Grilled Burritos
Ham & Cheese Crescent Bake
Southwestern Chicken Pizza Rolls
Baked Teriyaki Chicken
Pork Tenderloin
Santa Fe Chicken Foil Dinners
Sweet Asian Chicken
Queso Chicken Bake
Cheesy Baked Chicken With Mushrooms
Italian Sausage & Peppers
Slow Cooker Chili
Easy Skillet Nachos
Tacos
Broccoli Cheddar Chicken
Slow Cooker Ham
Ham Tettrazini
Pizza Casserole
Sweet & Sour Chicken
Spicy Shrimp Tostadas
Chicken Lo Mein
Baked Honey Garlic Chicken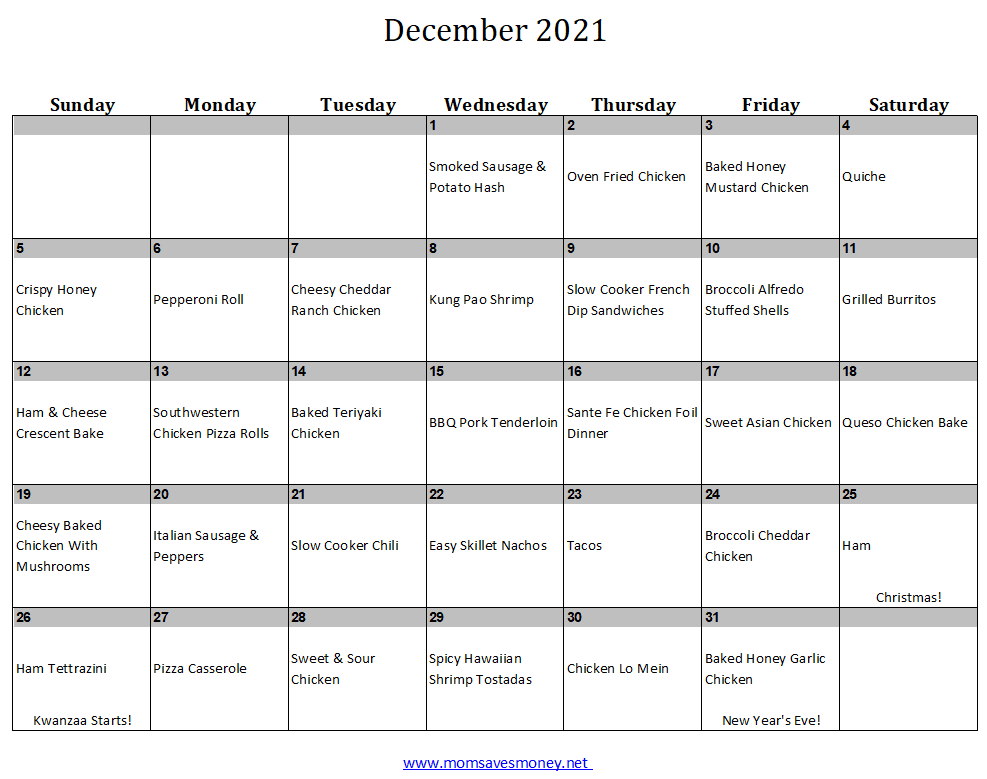 Jayme is a wife to 1 and a mother to four boys. She tries to coupon, builds a smart stockpile, and always meal plans. While she likes to cook, she's in the stage of life where simple is usually better – she never knows how many hands she'll have free at dinner time! You can find her on Instagram.