Enjoy this November 2022 meal plan with a printable calendar and easy, family-friendly recipes.
November is here! (Well, just about.) Big things are happening at my house: I'm starting a new job! After 3 years at the same place that I had been at for about 7 years at another time, I'm moving on to something different. And as excited as I am for, I'm also nervous. It's a big change for me. And I've never started a new job that's been 100% remote before. I mean – I've been working remote since the start of COVID, but when I started here, we were all together in the office. It's going to be a little different learning a new company with new co-workers with new software in a remote kind of set up. But I'm here for it!
I've also been dealing with about 3 weeks of not having a stove top. I hope that ends this coming week too and they're able to get the part in that will fix the stove. I'm ready to have that back!
So my personal menu plan includes items that don't need a stove; things I can make in a microwave or a slow cooker or an oven. But you probably don't have that limit do you? So you can use this menu plan that does involve things cooked on a stove! Lucky you. Want a menu plan that includes shopping list? Try this one: 'Incredibly Easy 5-Ingredient Meal Plan and Cookbook' available on Amazon!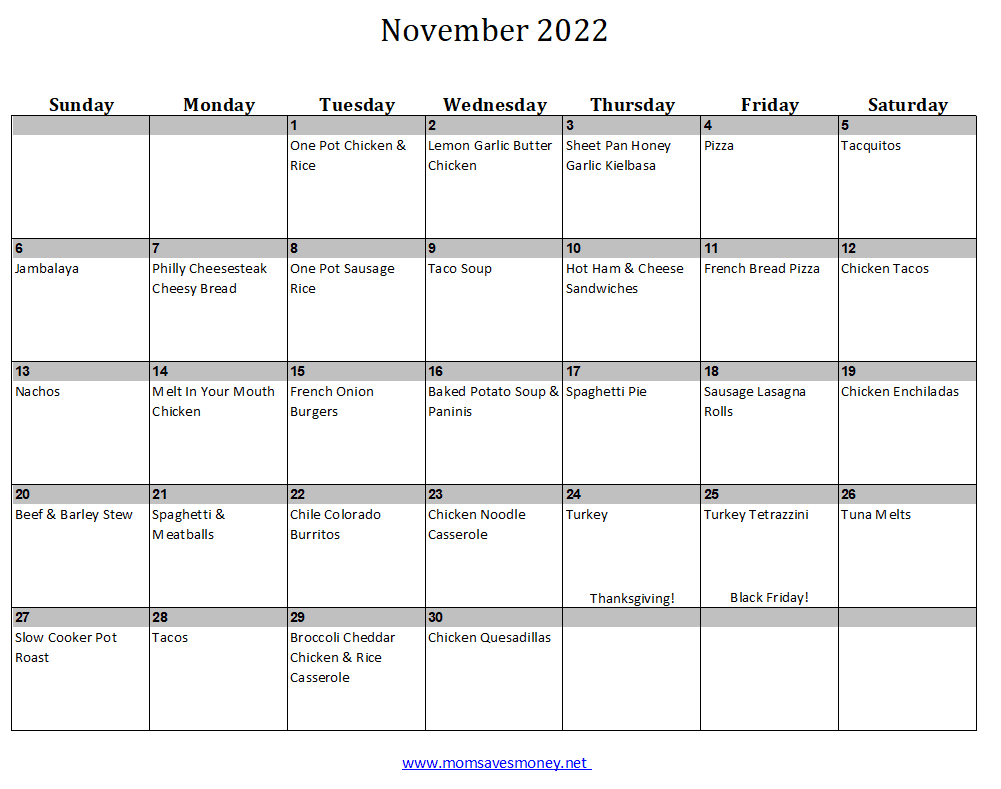 November 2022 Meal Plan
Available Formats: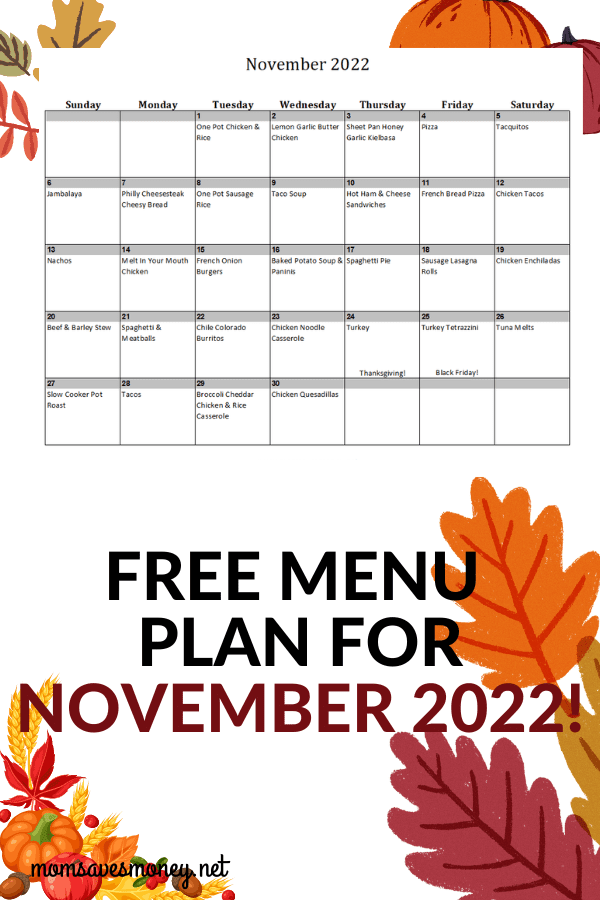 Recipes in this menu plan:
One Pot Chicken & Rice
Lemon Garlic Butter Chicken
Sheet Pan Honey Garlic Kielbasa
Pizza
Taquitos
Jambalaya
Philly Cheesesteak Cheesy Bread
One Pot Sausage Rice
Taco Soup
Hot Ham & Cheese
French Bread Pizza
Chicken Tacos
Nachos
Melt In Your Mouth Chicken
French Onion Burgers
Baked Potato Soup and Paninis
Spaghetti Pie
Sausage Lasagna Rolls
Chicken Enchiladas
Beef Stew
Spaghetti & Meatballs
Chile Colorado Burritos
Chicken Noodle Casserole
Turkey
Turkey Tetrazzini
Tuna Melts
Slow Cooker Pot Roast
Tacos
Chicken Broccoli & Rice Casserole
Chicken Quesadillas
Jayme is a wife to 1 and a mother to four boys. She tries to save money in the kitchen by building a smart stockpile and meal planning. While she likes to cook, she's in the stage of life where simple is usually better – she never knows how crazy it'll get at dinner time. You can find her on Instagram.