Enjoy this September meal plan with a printable calendar and easy, family-friendly recipes.
I am ready for cooler days! I am tired of these 100+ degree days. Give me 75 degrees with a light breeze please! We've started flag football and soccer will start next week. We're starting the Fall things and I am ready!
Things have gotten busier for me at work, which I'm also happy about. It was a little slow for a bit as I was in between projects. My work business + school going back + flag football practice + soccer practice means keeping things planned in the kitchen. I get a little sense of panic if dinner time comes and I don't have at least the main meal planned. I like to avoid that sense of panic. That's where my menu plan comes in! \ If you want to try a plan, try this one.
Want a menu plan that's even more simple than this one? AND includes a shopping list? Try this one: 'Incredibly Easy 5-Ingredient Meal Plan and Cookbook' available on Amazon!
September 2023 Menu Plan
Available Formats: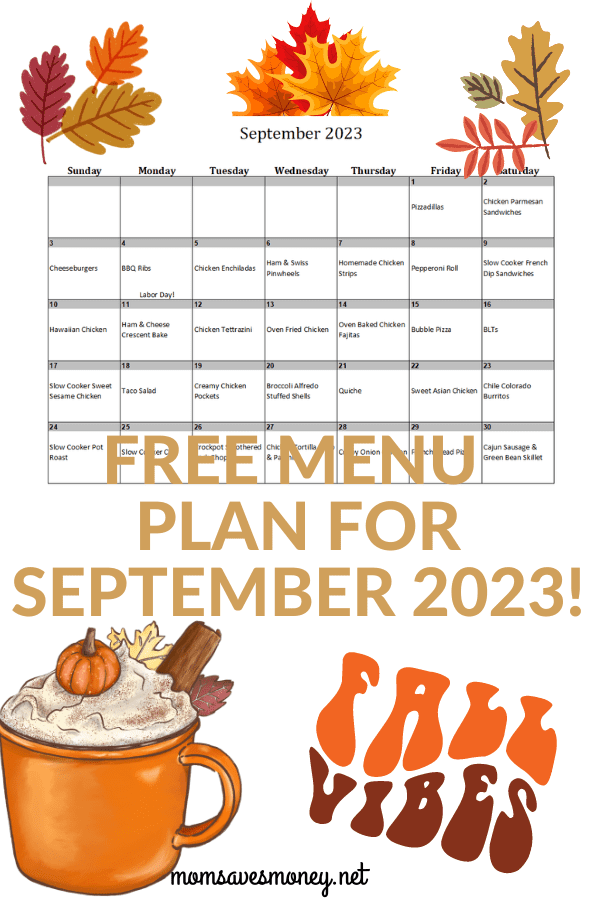 Menu Plan Recipes
Recipes in this menu plan:
Pizzadillas
Chicken Parmesan Sandwiches
Cheeseburgers
BBQ Ribs
Chicken Enchiladas
Ham & Swiss Pinwheels
Homemade Chicken Strips
Pepperoni Roll
Slow Cooker French Dip Sandwiches
Hawaiian Chicken
Ham & Cheese Crescent Bake
Chicken Tettrazini
Oven Fried Chicken
Oven Baked Chicken Fajitas
Bubble Pizza
BLTs
Slow Cooker Sweet Sesame Chicken
Taco Salad
Creamy Chicken Pockets
Broccoli Alfredo Stuffed Shells
Quiche
Sweet Asian Chicken
Chile Colorado Burritos
Slow Cooker Pot Roast
Slow Cooker Chili
Crock Pot Smothered Pork Chops
Chicken Tortilla Soup and Paninis
Crispy Onion Chicken
French Bread Pizza
Cajun Sausage & Green Bean Skillet
Jayme is a wife to 1 and a mother to four boys. She tries to save money in the kitchen by building a smart stockpile and meal planning. While she likes to cook, she's in the stage of life where simple is usually better – she never knows how crazy it'll get at dinner time. You can find her on Instagram.