Enjoy this November meal plan with a printable calendar and easy, family-friendly recipes.
Brr…it's gotten cold here in Omaha. Not as cold as it's gonna get, of course, but it dropped like 35-40 degrees over the course of 2 days. We went from 70s to 30s. Chilly! We pretty much skipped right over "jacket" weather and went into "winter coat" time.
The holidays are almost upon us, so that means holiday gift shopping for me. Time to start making a list of all the gifts I need to get. With my kids getting older, I'm starting to get them fewer-but-higher-priced gifts. Gone are the days of $5 board book, now it's a whole series that's on their lists!
We don't have any winter sports players in the house, which is so freeing! We just have a couple nights a week with activities – piano lessons one night and a men's Bible Study on another. Both of them are at good times though that it doesn't throw off my dinner schedule. But I'll still plan! I gotta have a plan! Want a menu plan that a shopping list with it? Try this one: 'Incredibly Easy 5-Ingredient Meal Plan and Cookbook' available on Amazon!
November 2023 Menu Plan
Available Formats: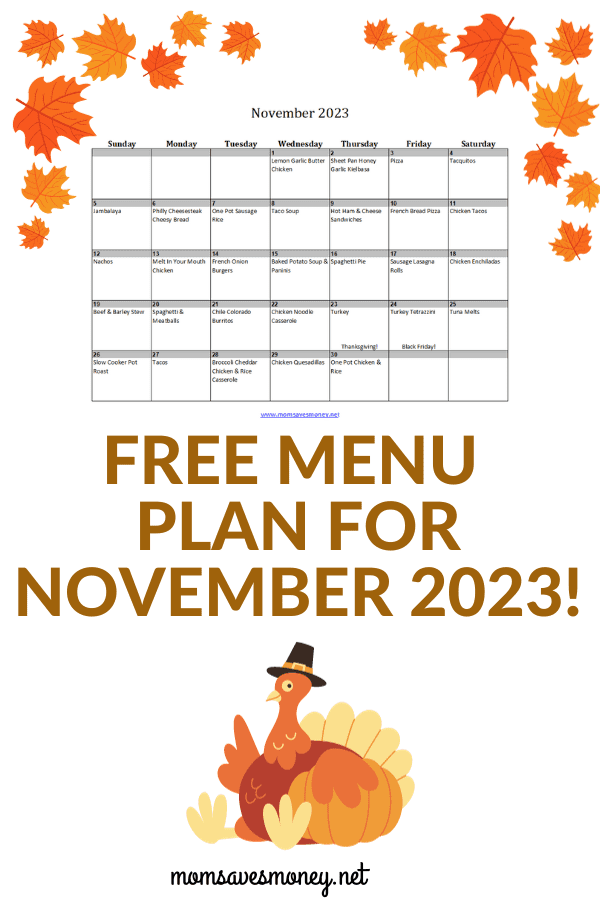 Menu Plan Recipes
Recipes in this menu plan:
Lemon Garlic Butter Chicken
Sheet Pan Honey Garlic Kielbasa
Pizza
Taquitos
Jambalaya
Philly Cheesesteak Cheesy Bread
One Pot Sausage Rice
Taco Soup
Hot Ham & Cheese
French Bread Pizza
Chicken Tacos
Nachos
Melt In Your Mouth Chicken
French Onion Burgers
Baked Potato Soup and Paninis
Spaghetti Pie
Sausage Lasagna Rolls
Chicken Enchiladas
Beef Stew
Spaghetti & Meatballs
Chile Colorado Burritos
Chicken Noodle Casserole
Turkey
Turkey Tetrazzini
Tuna Melts
Slow Cooker Pot Roast
Tacos
Chicken Broccoli & Rice Casserole
Chicken Quesadillas
Jayme is a wife to 1 and a mother to four boys. She tries to save money in the kitchen by building a smart stockpile and meal planning. While she likes to cook, she's in the stage of life where simple is usually better – she never knows how crazy it'll get at dinner time. You can find her on Instagram.