Tis the season! The season to dive into all things pumpkin. And apples. And soups. And stews!
And Halloween costumes! My kids are getting old enough to be able to pick their own (within reason) and it's fun to see their personalities come through in their choices. I mean, sure, I'm probably going to have at least 1 out of the 4 of them want to be a fireman or a policeman, but it's fun to see them express themselves. We're a long way off (it feels) from the year where I just had a 6-month-old dress like a puppy because that was the one costume I had!
For my family, we have a tradition of having chili on Halloween night. Right before you put on your costume and head on out and ask for candy, you gotta eat a bowl of chili. It might be not be my kid's absolute favorite, but they eat it pretty well! So that's on my menu plan for October 31st!
Anyway….a new month means a new monthly menu plan! 31 tasty and easy meals to start your October on the right foot.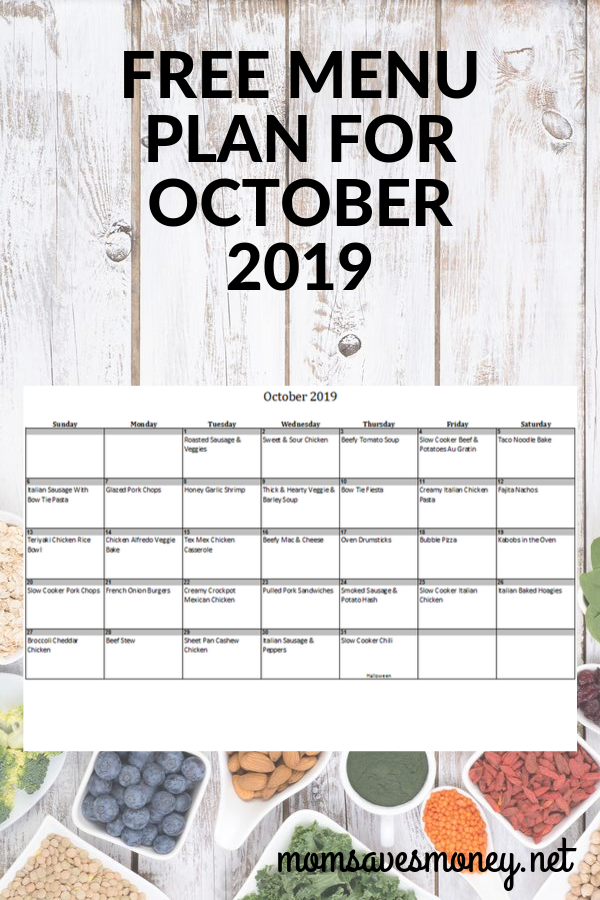 Want more detailed information on how to meal plan? Check out 'The Extraordinary Art of Meal Planning' available on Amazon and Kindle Unlimited.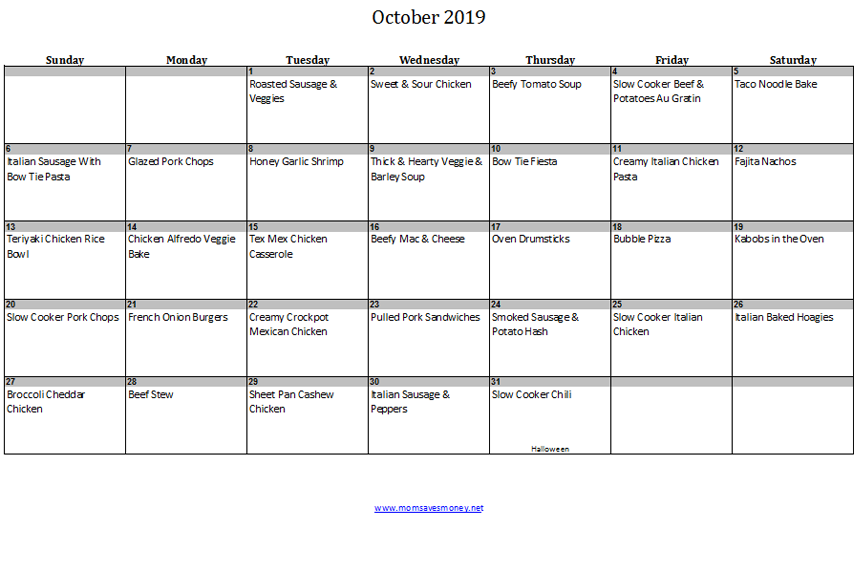 Available Formats:
Recipes in this menu plan:
Roasted Sausage & Veggies
Sweet & Sour Chicken
Beefy Tomato Soup
Slow Cooker Beef & Potato Au Gratin
Taco Noodle Bake
Italian Sausage With Bow Tie Pasta
Glazed Pork Chops
Honey Garlic Shrimp
Thick & Hearty Veggie & Barley Soup
Bow Tie Fiesta
Slow Cooker Pasta e Fagioli Soup
Easy Skillet Nachos
Teriyaki Chicken Rice Bowl
Chicken Alfredo Veggie Bake
Tex Mex Chicken Casserole
Beefy Mac & Cheese
Oven Drumsticks
Bubble Pizza
Oven-Baked Kabobs
Slow Cooker Pork Chops
French Onion Burgers
Pulled Pork Sandwiches
Smoked Sausage & Potato Hash
Slow Cooker Italian Chicken Pasta
Italian Baked Hoagies
Broccoli Cheddar Chicken
Beef Stew
Sheet Pan Cashew Chicken
Italian Sausage & Peppers
BBQ Bacon Chicken
Candied Chicken
Taco Beef Braid
Roasted Sheet Pan Chicken Thighs
Slow Cooker Sausage Onion & Peppers
Slow Cooker Chili
Jayme is a wife to 1 and a mother to four little boys. She tries to coupon, builds a smart stockpile, and always meal plans. While she likes to cook, she's in the stage of life where simple is usually better – she never knows how many hands she'll have free at dinner time! You can find her on Instagram.