I'm totally feeling like the holidays are in full swing. Which is odd because, as I write this, Thanksgiving hasn't even happened yet. But we got our Christmas tree out a couple of weeks earlier than normal this year. We had been hoping to install a bathroom in the unfinished part of our basement, but due to some unforseen expenses, we've had to put that project on hold. BUT we did decide to go ahead and frame it out since the rough in plumbing is already there. By just framing & drywalling it, we can let the the boys use the toilet that's in there without worrying about them playing with the water heater or the furnace.
Since I had to clear out that area to get ready for our friend to put up the walls, I decided that was as good a time as any to actually put the tree up. Otherwise, I was just going to have to put it in the back of the storage area only to take it back out in a couple of weeks. I choose the easier path.
But it's got me thinking "Christmas!" and that means: gifts and plans and food. I've made my list of what I *think* I want to get most people on my list, now to watch for it to go on sale sometimes in the next few weeks. It feels good to be prepared.
Speaking of being prepared…I also like to be prepared in the kitchen! That means a meal plan. Here's one for you to use if that is also your goal. Take what you like and leave the rest! If you're new to menu planning, start simple. Use this one as your template and read Nicole's book 'The Extraordinary Art of Meal Planning'. Use what you like from our pre-made meal planning calendar and substitute the rest!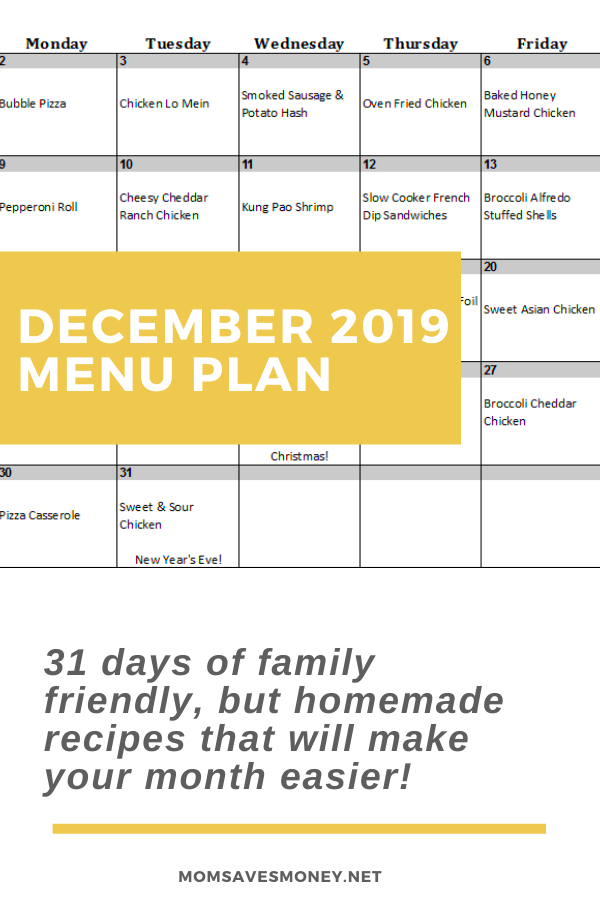 Want more detailed information on how to meal plan? Check out 'The Extraordinary Art of Meal Planning' available on Amazon and Kindle Unlimited.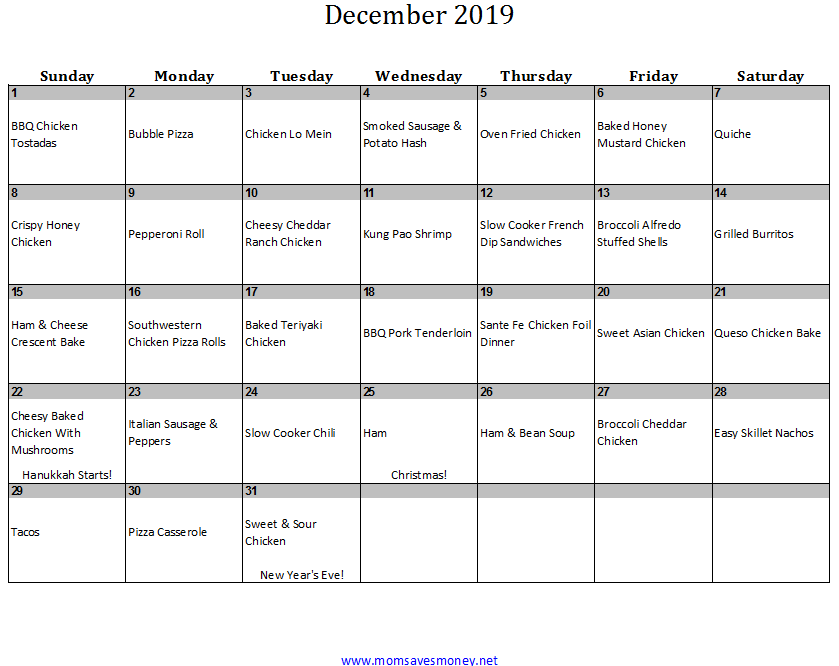 Available Formats:
Recipes in this menu plan:
BBQ Chicken Tostadas
Bubble Pizza
Chicken Lo Mein
Smoked Sausage & Potato Hash
Oven Fried Chicken
Baked Honey Mustard Chicken
Quiche
Crispy Honey Chicken
Pepperoni Roll
Cheesy Cheddar Ranch Chicken
Kung Pao Shrimp
Slow Cooker French Dip Sandwiches
Broccoli Alfredo Stuffed Shells
Grilled Burritos
Ham & Cheese Crescent Bake
Southwestern Chicken Pizza Rolls
Baked Teriyaki Chicken
Pork Tenderloin
Santa Fe Chicken Foil Dinners
Sweet Asian Chicken
Queso Chicken Bake
Cheesy Baked Chicken With Mushrooms
Italian Sausage & Peppers
Slow Cooker Chili
Slow Cooker Ham
Ham & Bean Soup
Broccoli Cheddar Chicken
Easy Skillet Nachos
Tacos
Pizza Casserole
Sweet & Sour Chicken
Jayme is a wife to 1 and a mother to four little boys. She tries to coupon, builds a smart stockpile, and always meal plans. While she likes to cook, she's in the stage of life where simple is usually better – she never knows how many hands she'll have free at dinner time! You can find her on Instagram.