Enjoy this September 2021 meal plan with a printable calendar and easy, family-friendly recipes.
September is upon us! That means football games. Leaves changing colors. Apple picking. Pumpkins. Cooler temperatures. I am ready! Bring all of that on!
I'm ready to start hitting our stride now that my kids are back in school and settling down to a new pattern to our days. We're getting into a rhythm of getting ready for school, doing homework, school drop off and pick ups. We've been eeking every last bit of summer out by staying outside as much as we can. By swimming at my aunt's pool as much as we can. But the weather is changing and I embrace it!
But one thing that doesn't change is that I still love menu planning. I might change the things ON the menu plan, but I still menu plan! It just takes the work and stress out of the week. I love it! Want to join me in menu planning? Try the one below. But want a menu plan that includes shopping list? Try this one: 'Incredibly Easy 5-Ingredient Meal Plan and Cookbook' available on Amazon!
September 2021 Meal Plan
Available Formats: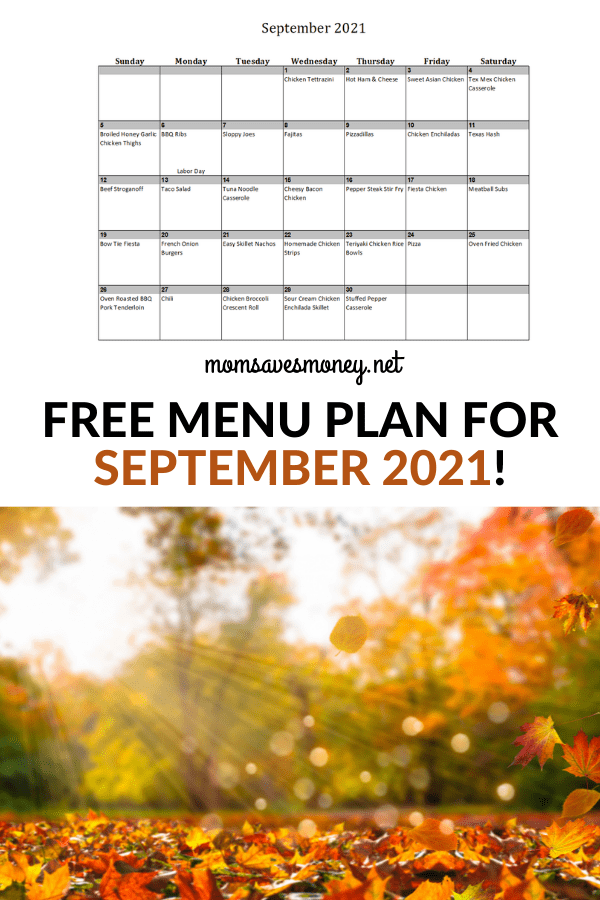 Recipes in this menu plan:
Chicken Tettrazini
Hot Ham & Cheese
Sweet Asian Chicken
Tex Mex Chicken Casserole
Broiled Honey Garlic Chicken Thighs
BBQ Ribs
Sloppy Joes
Fajitas
Pizzadillas
Chicken Enchiladas
Texas Hash
Beef Stroganoff
Taco Salad
Tuna Noodle Casserole
Cheesy Bacon Chicken
Pepper Steak Stir Fry
Fiesta Chicken
Meatball Subs
Bow Tie Fiesta
French Onion Burgers
Easy Skillet Nachos
Homemade Chicken Strips
Teriyaki Chicken Rice Bowl
Pizza
Oven Fried Chicken
Chili
Chicken Broccoli Crescent Roll
Sour Cream Chicken Enchilada Skillet
Stuffed Pepper Casserole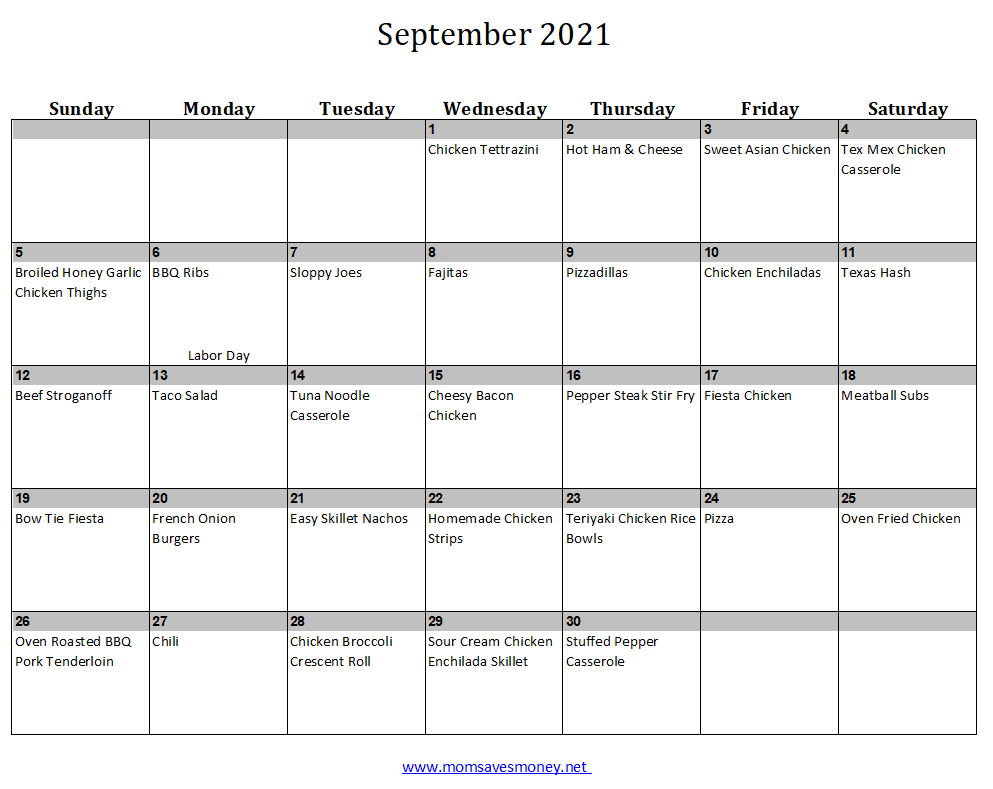 Jayme is a wife to 1 and a mother to four boys. She tries to coupon, builds a smart stockpile, and always meal plans. While she likes to cook, she's in the stage of life where simple is usually better – she never knows how many hands she'll have free at dinner time! You can find her on Instagram.