Enjoy this October meal plan with a printable calendar and easy, family-friendly recipes.
It's almost Halloween! I bought my Halloween candy for trick-or-treaters last week. My kids have started talking about what they want to dress up as. My 5th grader has realized that this is the last year he'll have a Halloween party at school. Bring on October!
The year marches on. And I am ready for it! Though I'm not looking forward to the blizzardy days of winter. Those uber cold days can stay away. I want the days where my boys can still play outside without turning into an icicle.
But I'm still menu planning! We have flag football and fall soccer for a few more weeks and having a menu plan helps me keep stress levels lower. Nothing fancy, but I gotta have a plan! Want a menu plan that's even more simple than this one? AND includes a shopping list? Try this one: 'Incredibly Easy 5-Ingredient Meal Plan and Cookbook' available on Amazon!
October 2023 Menu Plan
Available Formats: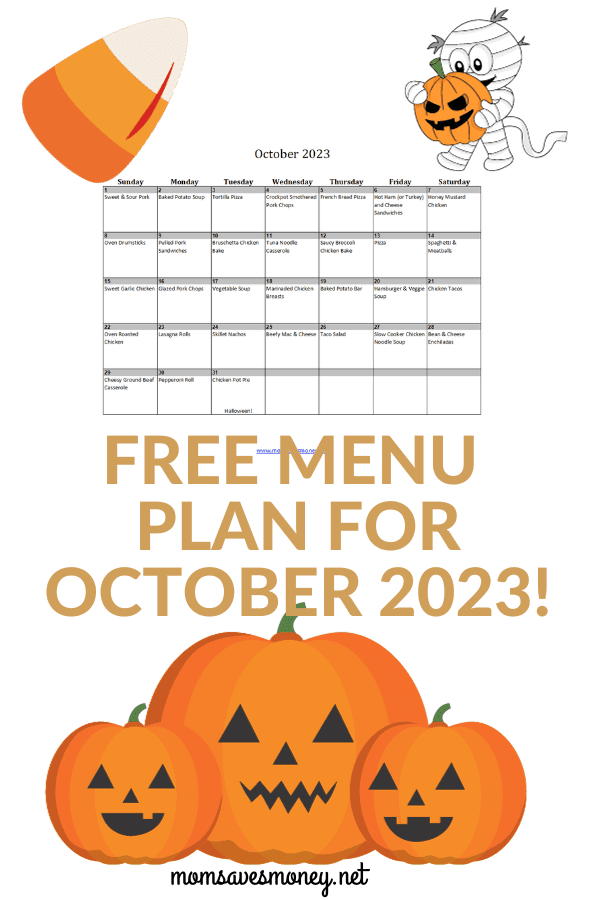 Menu Plan Recipes
Recipes in this menu plan:
Sweet & Sour Pork
Baked Potato Soup
Tortilla Pizza
Crock Pot Smothered Pork Chops
French Bread Pizza
Hot Ham & Cheese
Honey Mustard Chicken
Oven Drumsticks
Pulled Pork Sandwiches
Bruschetta Chicken Bake
Tuna Noodle Casserole
Saucy Chicken Broccoli Bake
Pizza – Order out or make your own pizzas
Spaghetti & Meatballs
Sweet Garlic Chicken
Glazed Pork Chops
Vegetable Soup
Marinaded Chicken Breasts
Baked Potato Bar
Hamburger & Veggie Soup
Chicken Tacos
Oven Roasted Chicken
Sausage Lasagna Rolls
Skillet Nachos
Beefy Mac & Cheese
Taco Salad
Chicken Noodle Soup
Bean & Cheese Enchiladas
Cheesy Ground Beef Casserole
Pepperoni Roll
Chicken Pot Pie
Jayme is a wife to 1 and a mother to four boys. She tries to save money in the kitchen by building a smart stockpile and meal planning. While she likes to cook, she's in the stage of life where simple is usually better – she never knows how crazy it'll get at dinner time. You can find her on Instagram.