Happy New Year!  Let's ring in 2019!  Are you ready?  Are you excited?  Are big things planned for you and yours in 2019?
2018 was an … interesting … year for my family.
I went to Hawaii.  Twice.  Kind of. (Long story on why it's just "kind of" twice).
We had a 1st grader, a Pre-Ker, a Preschooler and a stay-at-home 2-year-old.
I had a father-in-law, cousin and an uncle pass away.
We did some "Advent Cleaning", which helped my stress levels, but also really, really, really made me want a cleaning lady.
We tried many new recipes – some misses, but a lot of hits.
We tried a few weeks of gluten-free and dairy-free to see if it would help the kids.  (It seems to be.  Ugh.)
I went back to work part-time and we got a nanny/babysitter, which is incredibly awesome!
We had more car repairs than I wanted.
And we paid someone to sand & re-finish our deck, which was great, but pricey.
So, I'm hoping 2019 is a little more stable!  But one thing that will continue, for me, is menu planning. It just saves me so much time and stress and money.  I can always use more time and money.  And can always use less stress!
If you're new to menu planning, don't freak out!  It isn't that hard – in fact, you can use this one as your template!  Use it as it is, or use what you like and put in some of your favorites too.  I've yet to hear someone say "Menu Planning just really messed up my life!"  Try it.  I think you'll like it.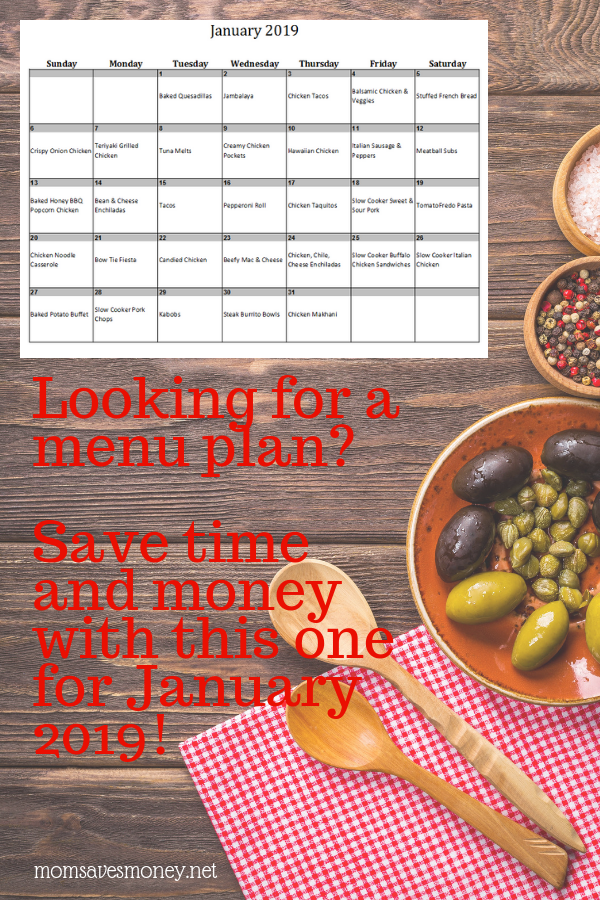 Available Formats:
Jayme is a wife to 1 and a mother to four little boys. She tries to coupon, builds a smart stockpile, and always meal plans. While she likes to cook, she's in the stage of life where simple is usually better – she never knows how many hands she'll have free at dinner time! You can find her on Instagram. If you love this, check out more posts: