Enjoy this June 2021 meal plan with a printable calendar and easy, family-friendly recipes.
Summer is here! Well, the kids are out of school and that's my definition of summer. Camps. Baseball games. Swimming. Water guns. Bike rides. "Summer living, had me a blast!" is my theme for this summer. I'm looking to complicate our life by doing a lot this summer. Not crazy elaborate stuff, but I am ready to get out of this house!
I personally want to keep my menu plan as simple as possible. We'll be eating a lot of sandwiches. Pizzas. Rice bowls. Fried eggs. Things that are easy. That's on my plan for this summer. Even if I wanted to go more complex, I can still simplify things by having a plan. New to menu planning? Try this one. But want a menu plan that includes shopping list? Try this one: 'Incredibly Easy 5-Ingredient Meal Plan and Cookbook' available on Amazon!
Need lunch ideas to feed the kids this summer? Try these 35+ easy lunch ideas for kids or these 30+ recipes for kids.
Available Formats: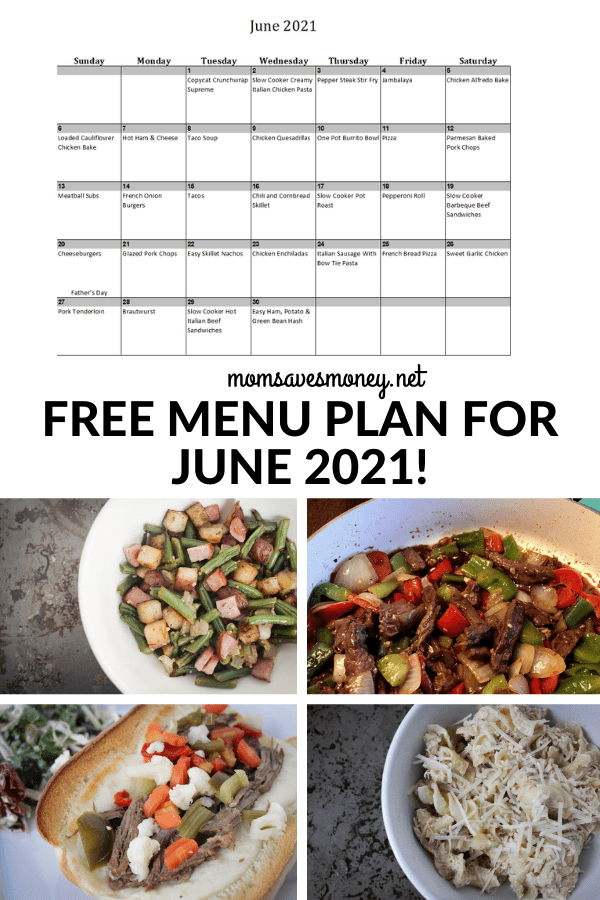 Recipes in this menu plan:
Copycat Crunchwrap Supreme
Slow Cooker Creamy Italian Chicken Pasta
Pepper Steak Stir Fry
Jambalaya
Chicken Alfredo Bake
Loaded Cauliflower Chicken Bake
Hot Ham & Cheese
Taco Soup
Chicken Quesadillas
One Pot Burrito Bowl
Pizza
Parmesan Baked Pork Chops
Meatball Subs
French Onion Burgers
Tacos
Chili and Cornbread Skillet
Slow Cooker Pot Roast
Pepperoni Roll
Slow Cooker Barbeque Beef Sandwiches
Cheeseburgers
Glazed Pork Chops
Easy Skillet Nachos
Chicken Enchiladas
Italian Sausage With Bow Tie Pasta
French Bread Pizza
Sweet Garlic Chicken
Pork Tenderloin
Brautwurst
Slow Cooker Hot Italian Beef Sandwiches
Easy Ham, Potato & Green Bean Hash
Queso Chicken Bake
Taco Noodle Bake
Sesame Chicken
Jayme is a wife to 1 and a mother to four boys. She tries to coupon, builds a smart stockpile, and always meal plans. While she likes to cook, she's in the stage of life where simple is usually better – she never knows how many hands she'll have free at dinner time! You can find her on Instagram.