Enjoy this July 2022 meal plan with a printable calendar and easy, family-friendly recipes.
OH MY GOSH!!! Time is going so fast. It's July 1st when I'm writing this, which means that the month has already started and I should have written this a few days ago. But time is just going by so fast and the days are blurring together. We aren't even doing crazy busy things this summer. I even have a stay-at-home husband and days are still just flying by!
Enjoy more summertime fun and less time in the kitchen with this done-for-you meal plan. We've made it super easy with a printable calendar and 31 simple recipes the whole family will enjoy. Take this one as is, if you want. Or just using it as a starting off point. Take what you like and delete the rest. Make it work for you! This month, I included quite a few of slow cooker recipes to beat the heat!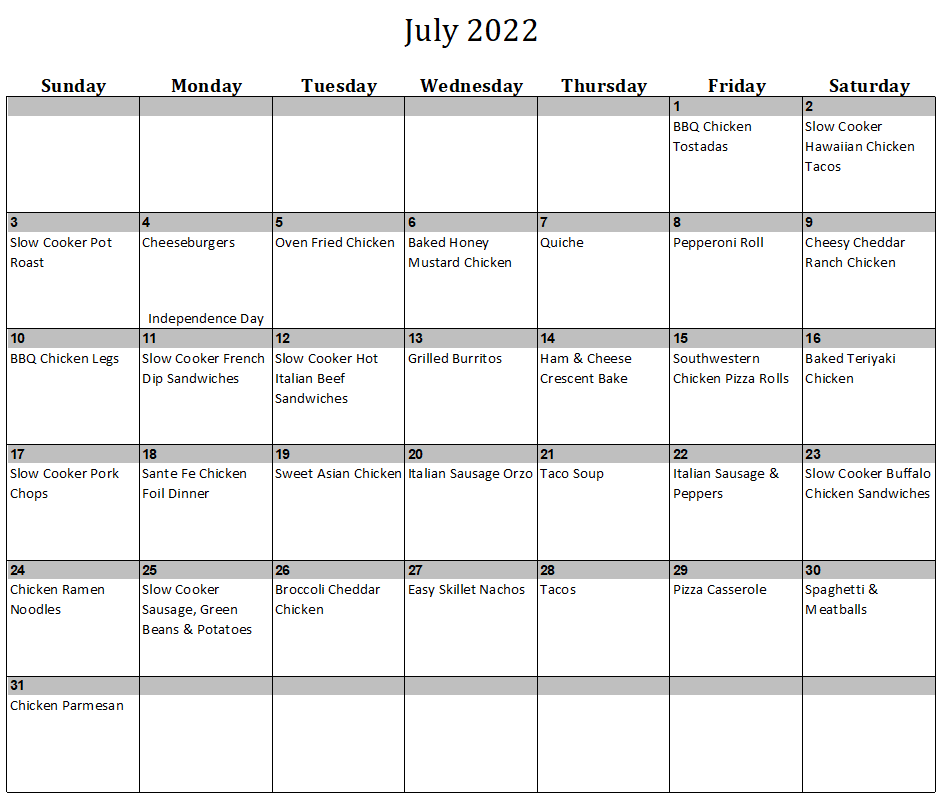 July 2022 Meal Plan
Available Formats: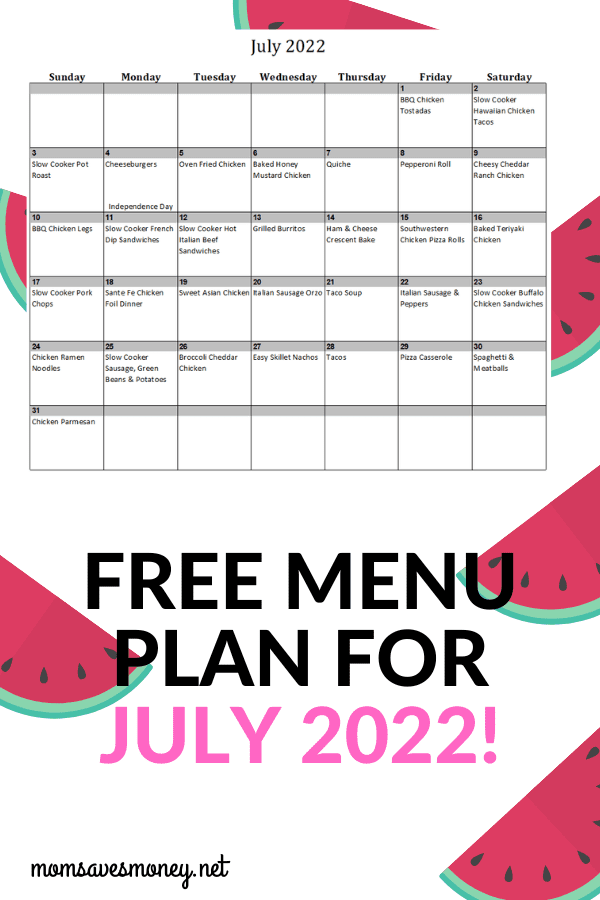 Recipes in this menu plan:
BBQ Chicken Tostadas
Slow Cooker Hawaiian Chicken Tacos
Slow Cooker Pot Roast
Cheeseburgers
Oven Fried Chicken
Baked Honey Mustard Chicken
Quiche
Pepperoni Roll
Cheesy Cheddar Ranch Chicken
BBQ Chicken Legs
Slow Cooker French Dip Sandwiches
Slow Cooker Hot Italian Beef Sandwiches
Grilled Burritos
Ham & Cheese Crescent Bake
Southwestern Chicken Pizza Rolls
Baked Teriyaki Chicken
Slow Cooker Pork Chops
Santa Fe Chicken Foil Dinners
Sweet Asian Chicken
Italian Sausage Orzo
Taco Soup
Italian Sausage & Peppers
Slow Cooker Buffalo Chicken Sandwiches
Chicken Ramen Noodles
Slow Cooker Sausage, Green Beans & Potatoes
Broccoli Cheddar Chicken
Easy Skillet Nachos
Tacos
Pizza Casserole
Spaghetti & Meatballs
Jayme is a wife to 1 and a mother to four boys. She tries to save money in the kitchen by building a smart stockpile and meal planning. While she likes to cook, she's in the stage of life where simple is usually better – she never knows how crazy it'll get at dinner time. You can find her on Instagram.