Enjoy this July meal plan with a printable calendar and easy, family-friendly recipes.
2023 is half way over! Wowzers. We're in the full swing of summer over here! Baseball is ending. STEM Camp has been accomplished. One of our sons is doing Summer School in the month of July, but the rest of our time is mostly unscheduled.
Except for a day here or there where we want to take a little day trip, which is a nice pace for us. Mostly unscheduled as I feel like I need some recovery time from baseball season. It's a little bittersweet as this is the last season that my 11-year-old will play – it's a little mini milestone in his life. He can say "I played baseball when I was younger" instead of saying "I play baseball". A little rite of passage, so to speak.
I menu planned through baseball season even if a lot of nights was "sandwiches" or "hot dogs at the Snack Shack." So I'm a happy to get back to a more normal routine. Join me in our menu plan! Want a menu plan that's even more simple than this one? AND includes a shopping list? Try this one: 'Incredibly Easy 5-Ingredient Meal Plan and Cookbook' available on Amazon!
July 2023 Menu Plan
Available Formats: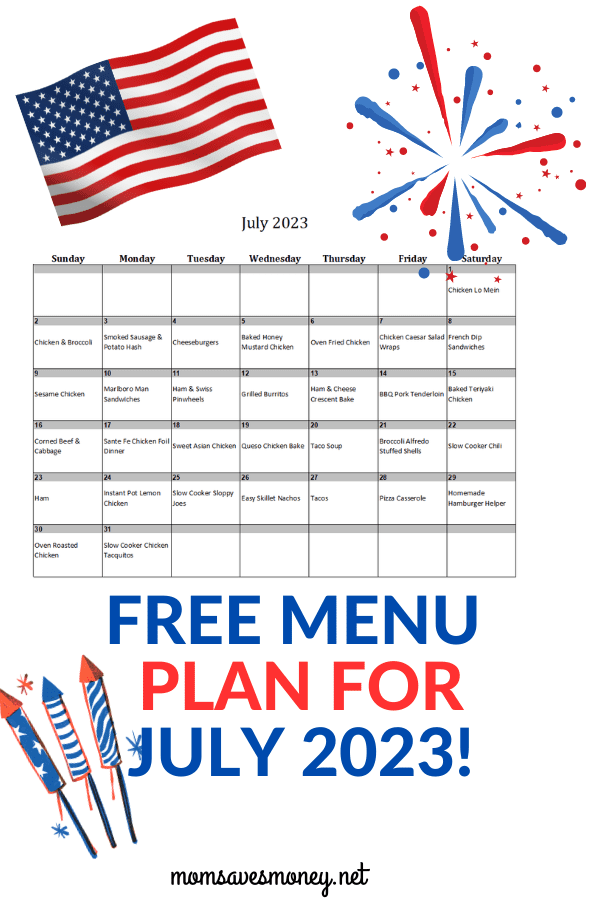 Menu Plan Recipes
Chicken Lo Mein
Chicken & Broccoli
Smoked Sausage & Potato Hash
Cheeseburgers
Oven Fried Chicken
Baked Honey Mustard Chicken
Chicken Caesar Salad Wraps
French Dip Sandwiches
Sesame Chicken
Marlboro Man Sandwiches
Ham & Swiss Pinwheels
Grilled Burritos
Ham & Cheese Crescent Bake
BBQ Pork Tenderloin
Baked Teriyaki Chicken
Corned Beef & Cabbage
Santa Fe Chicken Foil Dinners
Sweet Asian Chicken
Queso Chicken Bake
Taco Soup
Broccoli Alfredo Stuffed Shells
Slow Cooker Chili
Slow Cooker Ham
Instant Pot Lemon Chicken
Sloppy Joes – Slow Cooker or Instant Pot
Broccoli Cheddar Chicken
Easy Skillet Nachos
Tacos
Pizza Casserole
One Pot Homemade Hamburger Helper
Oven Roasted Chicken
Slow Cooker Chicken Tacquitos
Jayme is a wife to 1 and a mother to four boys. She tries to save money in the kitchen by building a smart stockpile and meal planning. While she likes to cook, she's in the stage of life where simple is usually better – she never knows how crazy it'll get at dinner time. You can find her on Instagram.