Summer is here!  Summer is here!  Summer is here!  Bring on the picnics.  The baseball games.  The soccer games.  The pool days.  The vacations.
All those things are fun.  But they can add to the craziness and hecticness of life.  And they can have an impact on your wallet.  One of my favorite ways to minimize the craziness and the financial impact of eating out is to menu plan.  Now maybe your menu plan looks like: McDonalds, McDonalds, Subway, Burger King, Pizza Hut.  But at least you know that.  And maybe your menu plan can look more like: Cheeseburgers at home, leftovers, Make Your Own Sandwiches, Pizza Casserole.  All dishes you can make at home and save you some cash!
Don't want to take the time to plan?  Use this one!  Want to come up with your own?  That's okay too — there's a blank calendar included.  Check out the new meal planning book 'The Extraordinary Art of Meal Planning' for tips on how to meal plan.  But just do it!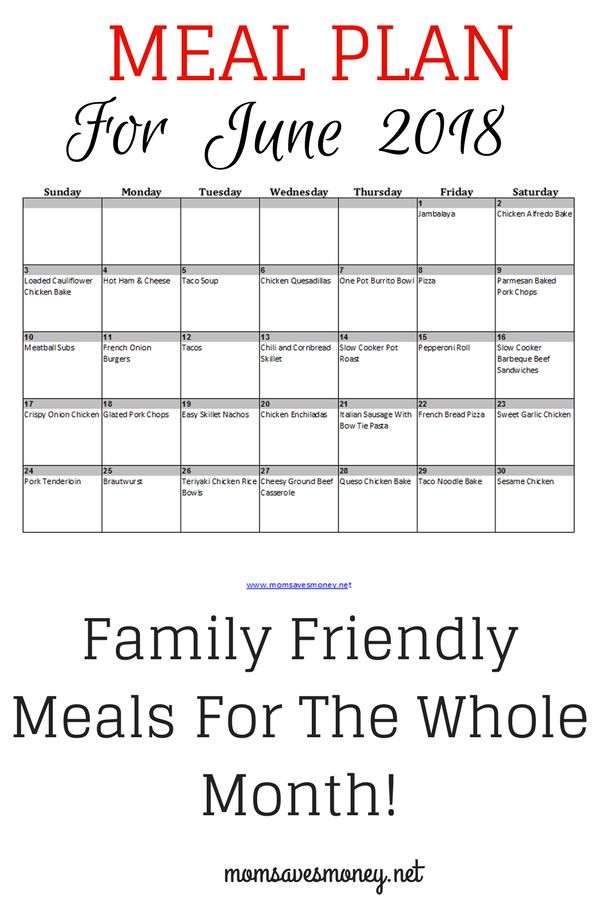 Available Formats: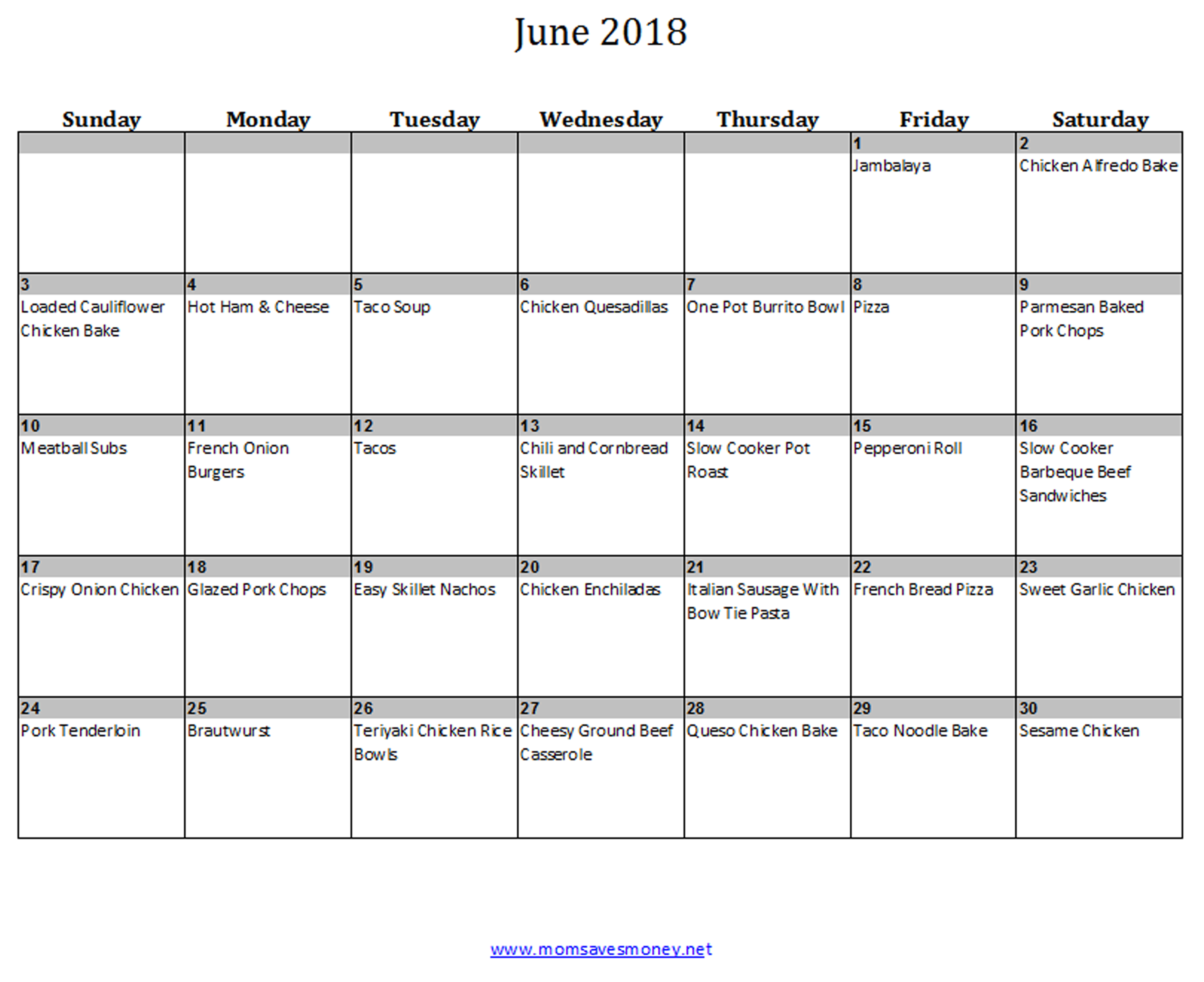 Recipes in this menu plan:
Jambalaya
Chicken Alfredo Bake
Loaded Cauliflower Chicken Bake
Hot Ham & Cheese
Taco Soup
Chicken Quesadillas
One Pot Burrito Bowl
Pizza
Parmesan Baked Pork Chops
Meatball Subs
French Onion Burgers
Tacos
Chili and Cornbread Skillet
Slow Cooker Pot Roast
Pepperoni Roll
Slow Cooker Barbeque Beef Sandwiches
Crispy Onion Chicken
Glazed Pork Chops
Easy Skillet Nachos
Chicken Enchiladas
Italian Sausage With Bow Tie Pasta
French Bread Pizza
Sweet Garlic Chicken
Pork Tenderloin
Brautwurst
Teriyaki Chicken Rice Bowl
Cheesy Ground Beef Casserole
Queso Chicken Bake
Taco Noodle Bake
Sesame Chicken
It's okay if you don't like these recipes or these ideas – make your own!  Just open the Excel version, delete what you don't want and keep what you do want!  I have a menu plan that works for my family – you should have one that works for yours!
How can I make this even easier?
To make things easier, when prepping chicken at the beginning of the month, make enough for the other recipes and freeze it for future use.  When making ground beef, brown 2-3 times the normal amount and freeze that. Check out these easy crockpot instructions for bulk cooking chicken and bulk cooking ground beef. It makes it super quick to pull meals together!
Jayme is a wife to 1 and a mother to four little boys. She tries to coupon, builds a smart stockpile, and always meal plans. While she likes to cook, she's in the stage of life where simple is usually better – she never knows how many hands she'll have free at dinner time! You can find her at No Regrets Living.