Enjoy this November meal plan with a printable calendar and easy, family-friendly recipes.
Wow – can you believe it? It's almost holiday time. Thanksgiving will be here before we know it, then comes December with all of it's holiday glory. Are you ready? I admit that this year it's kind of anti-climatic. Without (major) Black Friday shopping, it feels a little odd. Like: what starts the holiday season? It feels funny.
But it'll be okay. A few days of snow and cold and we'll be feeling the seasons change. A few toy catalogs in the mail and it'll feel like time to start holiday shopping. A few phone calls of "what are you bringing to Thanksgiving?" and it'll feel like the holidays are right here.
So to keep my sanity in this time of year that is busier than most, menu planning is a MUST for me. I have to keep the calm things calm so that the not-so-calm things don't make me too stressed. If that sounds good to you and you don't know where to start, start here! Try this menu plan!
This one doesn't have a shopping list, but I know of one that does – try our latest cookbook and menu plan – 'Incredibly Easy 5-Ingredient Meal Plan and Cookbook' available on Amazon!
Available Formats: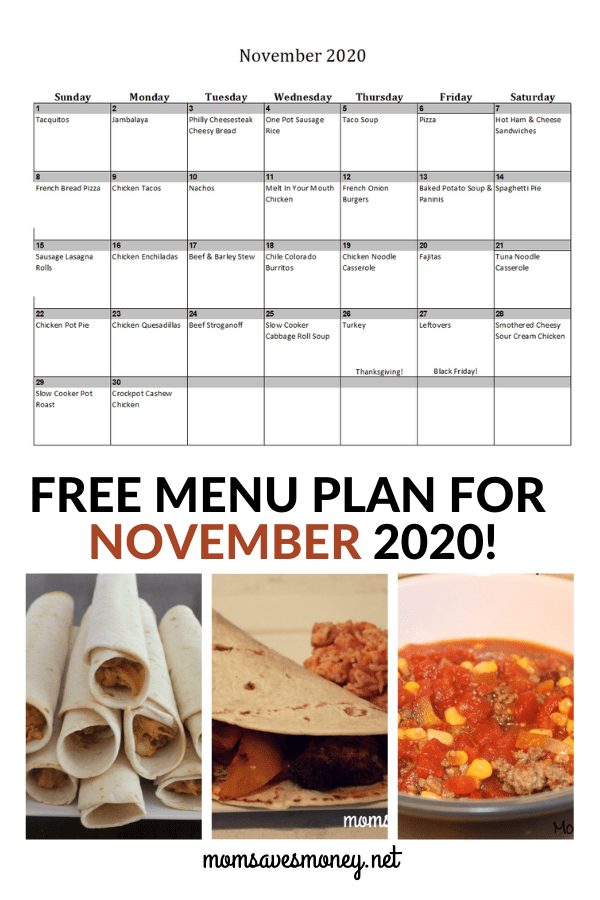 Recipes in this menu plan:
Recipes in this menu plan:
Taquitos
Jambalaya
Philly Cheesesteak Cheesy Bread
One Pot Sausage Rice
Taco Soup
Pizza
Hot Ham & Cheese
French Bread Pizza
Chicken Tacos
Nachos
Melt In Your Mouth Chicken
French Onion Burgers
Baked Potato Soup and Paninis
Spaghetti Pie
Sausage Lasagna Rolls
Chicken Enchiladas
Beef Stew
Chile Colorado Burritos
Chicken Noodle Casserole
Fajitas
Tuna Noodle Casserole
Chicken Pot Pie
Chicken Quesadillas
Beef Stroganoff
Cabbage Roll Soup
Turkey
Leftovers!
Smothered Cheesy Sour Cream Chicken
Slow Cooker Pot Roast
Crockpot Cashew Chicken
Jayme is a wife to 1 and a mother to four little boys. She tries to coupon, builds a smart stockpile, and always meal plans. While she likes to cook, she's in the stage of life where simple is usually better – she never knows how many hands she'll have free at dinner time! You can find her on Instagram.