Enjoy this March 2022 meal plan with a printable calendar and easy, family-friendly recipes.
March is here! I was in the grocery store the other day and they had corned beef on display on an end cap. That was a big clue that March was almost here. Although this winter hasn't been super snowy, it has been pretty frigidly cold at times. I'm okay with that cold going away.
We're at the end of Week 1 of a 4-week dairy-free, gluten-free experiment. We've been gluten-free (as a family at meal times) for a few years, but I wanted to add in a dairy-free time as well. We had flirted with it in the past, but never for very long and we had other diet stuff going on (including an elimination diet). So far, it's going well. Since it's only for 4 weeks, I've been making a lot of my recipes that are already gluten-free and dairy free. But I've also plan on making a few substitutions as well – just whatever I need to do to get through this time.
And here's a menu plan for you. It's definitely NOT gluten-free. And it's definitely not dairy-free. It's normal eating! Take this one as is, if you want. Or just using it as a starting off point. Take what you like and delete the rest. Make it work for you! If you do want gluten-free recipes, check out these 50 gluten-free and dairy-free recipes.
March 2022 Meal Plan
Available Formats: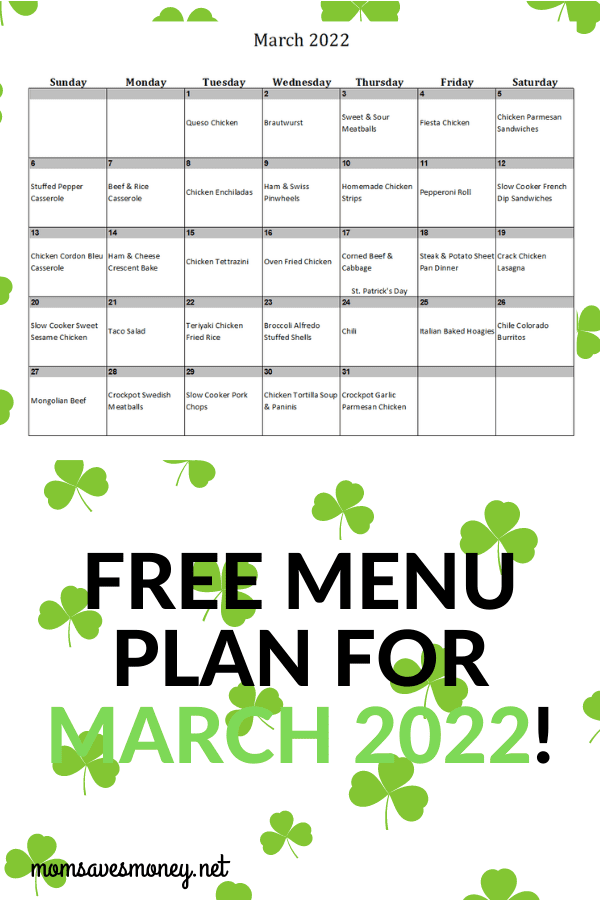 Recipes in this menu plan:
Queso Chicken
Brautwurst
Sweet & Sour Meatballs
Fiesta ChickenChicken Parmesan Sandwiches
Stuffed Pepper Casserole
Beef & RIce Casserole
Chicken Enchiladas
Ham & Swiss Pinwheels
Homemade Chicken Strips
Pepperoni Roll
Slow Cooker French Dip Sandwiches
Chicken Cordon Bleu Casserole
Ham & Cheese Crescent Bake
Chicken Tettrazini
Oven Fried Chicken
Corned Beef & Cabbage
Steak & Potato Sheet Pan Supper
Crack Chicken Lasagna
Slow Cooker Sweet Sesame Chicken
Taco Salad
Teriyaki Chicken Fried Rice
Broccoli Alfredo Stuffed Shells
Chili
Easy Italian Hoagies
Chile Colorado Burritos
Mongolian Beef
Crockpot Swedish Meatballs
Crock Pot Pork Chops
Chicken Tortilla Soup and Paninis
Crock Pot Garlic Parmesan Chicken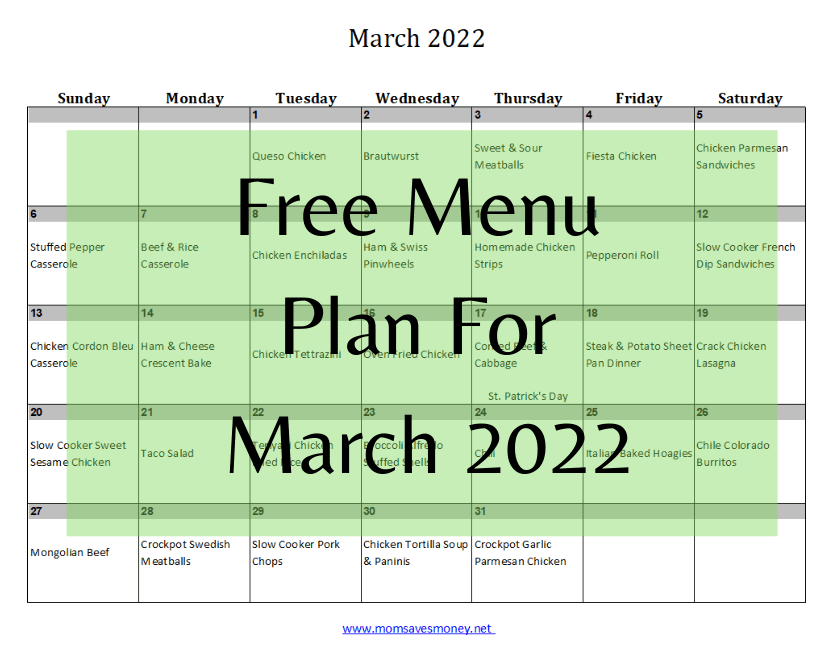 Jayme is a wife to 1 and a mother to four boys. She tries to save money in the kitchen by building a smart stockpile and meal planning. While she likes to cook, she's in the stage of life where simple is usually better – she never knows how crazy it'll get at dinner time. You can find her on Instagram.