Enjoy this July 2021 meal plan with a printable calendar and easy, family-friendly recipes.
The long, hot days of summer are here! We've packed quite a bunch into June – visiting a farm, sleeping outside in a tent, blowing bubbles, going to a Storm Chasers game, trying a new ice cream store, making popsicles and going paddle boating.
July will bring some new adventures – watching fireworks, doing tie dye shirts, going bowling, making cookies, riding a roller coaster, and maybe going fishing. We're quickly filling up our Summer Fun Bingo cards!
I also want to try some new recipes. We haven't had tons of variety in our kitchen life lately and I've been yearning to find some new winners in the kitchen. If things pan out well, I'll share them! That's one of the things that I like about menu plan – I can intentionally try new things just by putting them on the menu and use that to build my shopping list. New to menu planning? Try this one. But want a menu plan that includes shopping list? Try this one: 'Incredibly Easy 5-Ingredient Meal Plan and Cookbook' available on Amazon!
Oh – and need lunch ideas to feed the kids this summer? Try these 35+ easy lunch ideas for kids or these 30+ recipes for kids.
Available Formats: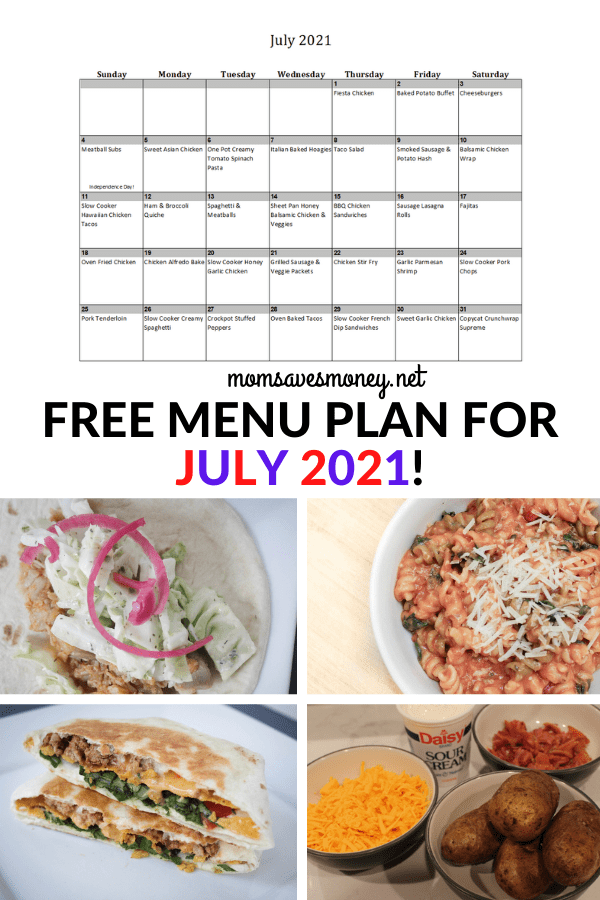 Recipes in this menu plan:
Fiesta Chicken
Baked Potato Buffet
Cheeseburgers
Meatball Subs
Sweet Asian Chicken
One Pot Creamy Tomato Spinach Pasta
Italian Baked Hoagies
Taco Salad
Smoked Sausage & Potato Hash
Balsamic Chicken Wrap
Slow Cooker Hawaiian Chicken Tacos
Quiche
Spaghetti & Meatballs
Sheet Pan Honey Balsamic Chicken & Veggies
BBQ Chicken Sandwiches
Sausage Lasagna Rolls
Fajitas
Oven Fried Chicken
Chicken Alfredo Bake
Slow Cooker Honey Garlic Chicken
Grilled Sausage & Veggie Packets
Chicken Stir Fry
Garlic Parmesan Shrimp
Slow Cooker Pork Chops
Pork Tenderloin
Slow Cooker Creamy Spaghetti
Crockpot Stuffed Peppers
Oven Baked Tacos
Slow Cooker French Dip Sandwiches
Sweet Garlic Chicken
Copycat Crunchwrap Supreme
Jayme is a wife to 1 and a mother to four boys. She tries to coupon, builds a smart stockpile, and always meal plans. While she likes to cook, she's in the stage of life where simple is usually better – she never knows how many hands she'll have free at dinner time! You can find her on Instagram.