Welcome Fall! So glad to meet you. So glad for soup weather. And sweater season. And cozy nights spent inside after mild days outside. And an easy-to-follow meal plan.
Fall. I'm a fan of it. I don't enjoy the SUPER HOT days of summer, so when fall gets here, it's a welcome change. And this year, in particular, I'm glad to see the changing of the seasons – as it means that time IS marching forward and maybe things will get more settled soon. In just 6 weeks, the Presidential Election will be over and I'm definitely looking forward to an end to that battle. #enoughallready

We don't have a whole lot of outside activities – compared to some families. Our boys are still young and my husband and I are kind of "homebodies", if you will. But we do have a couple nights each week that have activities – church and swim lessons and piano lessons. They don't prevent us from eating dinner as a family, but we may eat a little earlier or later than on the other nights. And that's a-okay. Since I menu plan, I can accommodate that. Especially on days that use a slow cooker – I can just start it a little earlier or later than normal.
If that following a menu plan sounds like a relief to you, try this menu plan! Take what you like about it and leave the rest alone. Just fill in recipes that your family will like.
This one doesn't have a shopping list, but I know of one that does – try our latest cookbook and menu plan – 'Incredibly Easy 5-Ingredient Meal Plan and Cookbook' available on Amazon!
Available Formats: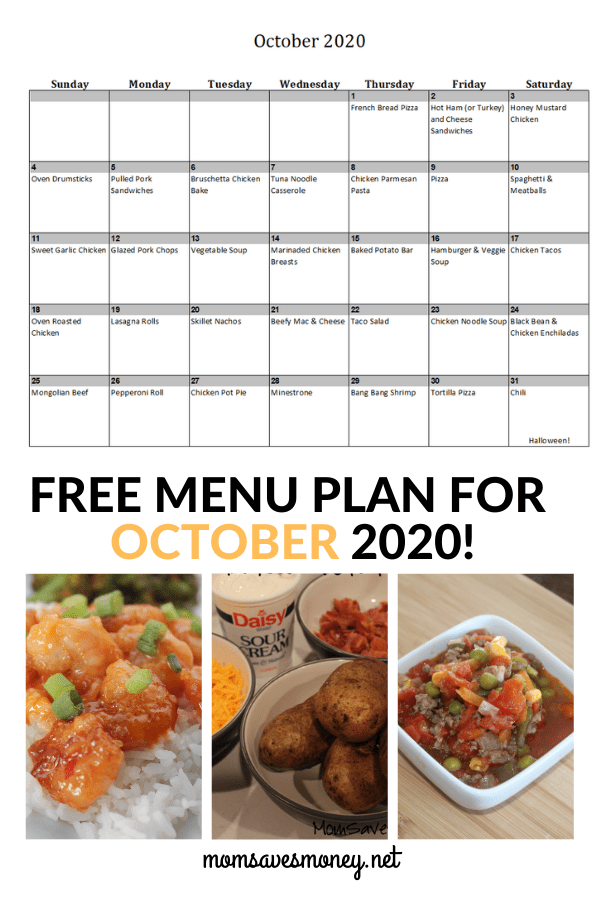 Recipes in this menu plan:
French Bread Pizza
Hot Ham & Cheese
Honey Mustard Chicken
Oven Drumsticks
Pulled Pork Sandwiches
Bruschetta Chicken Bake
Tuna Noodle Casserole
Chicken Parmesan Pasta
Pizza – Order out or make your own pizzas
Spaghetti & Meatballs
Sweet Garlic Chicken
Glazed Pork Chops
Vegetable Soup
Marinaded Chicken Breasts
Baked Potato Bar
Hamburger & Veggie Soup
Chicken Tacos
Oven Roasted Chicken
Sausage Lasagna Rolls
Skillet Nachos
Beefy Mac & Cheese
Taco Salad
Chicken Noodle Soup
Black Bean and Chicken Enchiladas
Mongolian Beef
Pepperoni Roll
Chicken Pot Pie
Slow Cooker Minestrone
Bang Bang Shrimp
Tortilla Pizza
Chili
Jayme is a wife to 1 and a mother to four little boys. She tries to coupon, builds a smart stockpile, and always meal plans. While she likes to cook, she's in the stage of life where simple is usually better – she never knows how many hands she'll have free at dinner time! You can find her on Instagram.
If you love this, check out more posts: